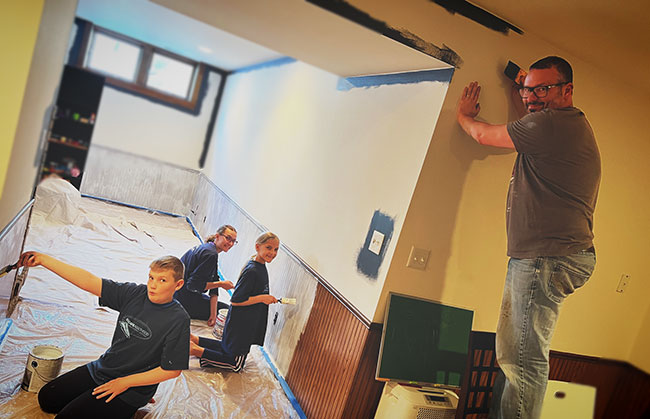 We recently renovated the rec room in our basement. The transformation mostly consisted of several gallons of paint and some key new decor purchases. In the past, I would have been tasked with the paint job, but this time, we decided to make it a family affair. It was a great idea, mostly because I'd still be working on it — the bead board required four coats alone — but also because it gave us a shared sense of accomplishment and excitement for the finished product.
The kids weren't token helpers, either. I managed the trim, but they were involved in everything else. 
Lucy is fourteen years old and rides and cares for horses. She can direct a 2,000-pound animal with ease. My eleven-year-old son Ben can make a loaf of banana bread from scratch without any guidance.  Nine-year-old Ginny recently designed, measured, cut, and sewed a new kitchen apron all by herself, complete with a Bluey patterned pocket. 
It's not magic. My kids are talented and capable, but so is every child who hasn't been limited by low expectations. One of the hallmarks of our homeschooling philosophy is the belief that kids are capable of way more than society gives them credit for.  
The default mode of Western culture has children being talked down to and underestimated. We act as if they are idiots until they get out of school. Rather than give them reasons for our decisions (if we even know them ourselves), we say "Because I said so."
"Because I said so."
It's a phrase designed to end the argument, serving as the last word for the person in power. 
The thing is, kids are the only people we underestimate. We underestimate ourselves, too, with that very phrase limiting our own potential.
"I could never do that," is the stock reply anytime the dreamer within us imagines accomplishing something cool, or a friend suggests making a change that would improve our life. 
I can't learn that skill. I can't get that degree now. I can't handle a transition that bold.
Yes, actually, you can. 
But do you know the main reason you think you can't? 
Because you said so. 
You're the person in power. You told yourself it's not possible, so it isn't. End of argument. Ultimately, your opinion is the only one that matters. 
Of course, it may be daunting. Difficult. Scary. It might cause you to feel uncomfortable or risk embarrassment. But none of those things make it impossible. 
Rather than telling yourself you can't do something that might feel overwhelming, at least be honest with yourself. The truth is you've simply decided you don't want to, maybe for reasons you don't want to admit or perhaps haven't even thought about.
We usually get from our kids what we expect of them.
The same thing is true of ourselves.
This isn't magical "all you have to do is think positive" nonsense. You still have to do the work. But believing something is possible is always the first step toward making it happen. When it comes to your life, you are the one in control. You hold all the cards.
If you think you're stuck in a bad situation and there's no hope for your future, you're right.
If you believe you can go from where you are now to where you want to be, you're right.
If you believe you are capable of great and amazing things, you're right. 
How do I know?
Because you said so.