An Adultitis Fighter is someone who rallies against rules that don't exist and engages in ruthless, senseless acts of silliness that undermine Adultitis and its unadventurous version of adulthood. Once a month, we shine a light upon the most remarkable among us, holding them up as a dazzling example of what we should strive for in this epic battle against a formidable enemy.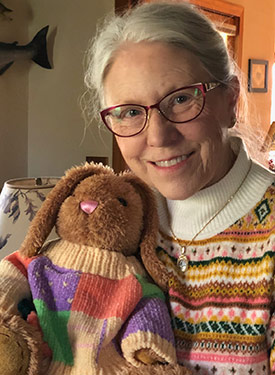 This month's worthy recipient of this prestigious honor is Linda Todd!
In recognition of their efforts, Adultitis Fighters of the Month receive a special limited edition print created by Jason, along with a certificate of honor, a sweet patch, and other Adultitis-Fighting tools. We asked Linda some questions about how she fights the Big A and what advice she has for others…
---
What are some of your favorite ways to fight Adultitis?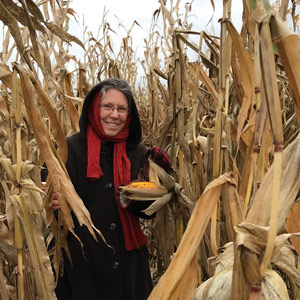 Some of my favorite ways to fight Adultitis have been, especially this time of year, to dress up for Halloween. Enjoy doing the corn mazes in the Fall. I like to wear something to work that is definitely out of the ordinary for me. My favorite has been my one-piece PJs with my teddy bear and his matching PJs. I like building snowmen in Winter and making snow angels.  I just try to look for fun things happening and attend them.
Who or what has been the greatest influence in your own fight against Adultitis?
The Koteckis have been the greatest influence when it comes to fighting Adultitis. They have such a positive attitude and great ideas. I appreciate the whole idea of moving forward despite what life may throw your way. If you have lemons, make lemonade!
What is something you loved doing as a child that you still do in some form today?
I loved ice skating as a child and tried it again two years ago. It brought back so much joy and I hope to do it again this winter. I used to ride bikes as a kid and still enjoy it now. Being outside in nature has always been a great thing to do. Goofing off with my brother was fun and we did it again when I visited. I also love my collection of animals. I always had stuffed animals as a kid and still have a collection now. 🤗
What is your strategy for dealing with people who are obviously infected with Adultitis?
I don't truly have a strategy per se for dealing with others. We are all different. I just try to care.
What advice do you have for someone who is feeling overwhelmed by Adultitis?
When I am overwhelmed I remind myself, " The Lord is my strength and my shield; my heart trusts in Him and I am helped" ~Ps 28:7.
---
Congrats to Linda, September 2023 Adultitis Fighter of the Month. Thank you for making the world more awesome!