"My kids are growing up so fast. We're busy, but we're not doing anything fun. We're just existing."
This is a direct quote from a woman who was at one of Jason's speaking programs. Sadly, she's not the only one who feels this way. Not by a long shot.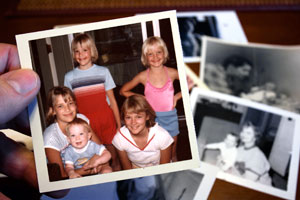 You love your family. You want to create a treasure chest of memories you all can look back on with joy. Your intentions are good, but life is fast. You get busy doing all the stuff that needs doing, and one day you wake up and you're sitting at your kid's high school graduation wondering, "Dang, where did the time go?!"
One thing that the recent economic meltdown hasn't changed is this: family is still number one. Money can come and go, but our relationships and the memories we make with the people we love — that's priceless.
Of course, you know that you don't NEED money to have fun with your family, but let's face it, sometimes it makes it a lot easier. Attending a sporting event or a water park is a surefire prescription for family fun. However, it costs an average of $164.43 for a family of four to attend a major league baseball game, and about $150 to attend a water park for just one day. (Let's not even talk about the bajillion dollars it takes to spend a day at Disney World.)
If you're like most people, you fall into one of two camps: Either your current budget makes outings like these harder to afford, or you don't exactly have the time (or perhaps the creativity) to dream up a bunch of no-cost alternatives.
That's where the Kim & Jason Guide to Cheap Family Fun comes in.


We're parents who have lived on a budget for our entire marriage. As we were building our business from our cramped apartment while living off Kim's teaching salary, we got pretty dang good at having fun on the cheap. We had to.
Meanwhile, we've spent a big chunk of the last decade traveling the country speaking to audiences about living with less stress and more fun amidst the never-ending onslaught of busyness. During our programs, people often scramble for something to write with so they can jot down the memory-making ideas that we share. Not only are they fun, but they are extremely simple and very easy to implement into your already hectic week. In fact, we've had people say they wish they could bring us home, sit us down at their kitchen table, and get us to tell them all our best ideas.
We do have a lot of them. We've come up with many on our own, and have been blessed to have audience members share some of their favorite ideas with us.
We decided the time was right to compile the best ideas into a unique and affordable product for families looking for cheap and easy ways to have big fun. While creating stronger bonds and the types of memories that last forever.
The truth is that these memorable moments — we call them scenes — are the stuff that life is made of. The stuff that really matters in the end.
In today's modern world, it's really easy to have a week jam-packed with activities and yet emerge having collected very few — if any! — of these scenes with the people we love most. The sad part is, creating a great scene is not very hard at all.
Sometimes all you need is a reminder and an idea.
A reminder to take a break from your hectic pace.
And an idea that's easy and simple and actually fun.
Now this is not some wimpy list of lame ideas you can get from any ho-hum web site or boring book at Barnes & Noble. These are 52 rock-solid ideas that are simple, easy, cheap — and very, very fun.
So how does it work?
You get 52 short and entertaining videos (less than three minutes!) of us sharing an idea for a completely free (or dirt cheap), easy-to-implement, and outrageously fun activity that will involve the WHOLE family. We give you the step-by-step instructions you need to get rolling right away, share several alternatives that allow you to customize the experience, and leave room for you to add your own dash of creativity. Oh, and you probably already have everything you need lying around the house.
In short, we've taken out all of the thinking and most of the expense, but kept in all the memory-making fun.
This product is PERFECT for families who:
Realize that kids grow up fast and want to build a storehouse of memories before they leave home.
Are working within a budget.
Would like to incorporate entertainment options that don't involve computers, television, and video games for a change.
Want to grow closer together by creating common experiences that involve everyone in the family.
Want to stress less and have a LOT more fun in their lives.
Have kids ages 4 and up — even college!!
This product is NOT perfect for families who:
Like it when every member of the family is in separate rooms doing their own thing.
Believe that the amount of fun is equal to the amount of money spent.
Enjoy the relentless busyness that accompanies most modern lives.
Have more money than God. (Or Donald Trump.)
Pricing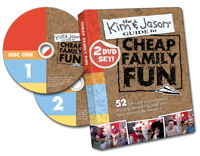 We realize you could probably spend several thousand dollars on a number of experiences that could accomplish many of the same benefits. But we don't think you should have to. Our goal was to make sure you could have just as much fun and create just as many memories for a sliver of the cost so that you could put the rest in the bank for a rainy day and some peace of mind. We went round and round trying to figure out a fair price for this thing. We spent a TON of time putting it together, but we couldn't charge an arm and a leg for a product that has the word "cheap" in the title. Ultimately, we decided that $25 — less than fifty cents a week! — is a pretty good deal.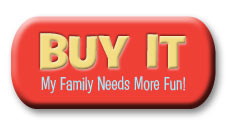 P.S. If you're in the camp that would like to create more fun experiences with your family but find yourself too cash-strapped, time-deficient, or creativity-depleted to make it happen, maybe Cheap Family Fun will be right for you. Isn't it time to turn all those good intentions into family memories before it's too late?
---
Q&A
How can I buy this right this instant?
Easy peasy lemon squeezy. Just click this link. (Or the giant red button above.) All major credit cards and Paypal accepted.
What if I don't like it?
So here's the deal. We think this is a great product and we believe you'll love it. That said, we still want to offer you a 100% money back guarantee. We think that even if you only implement a few of these ideas, you'll not only save at least $1,000 worth of money in entertainment but you'll create memories that will last a lifetime. If we're wrong, we'll give you your money back. Simple as that.
Why this format? Why not just make it into a book?
We have written several books on the subjects of being more childlike and bringing more fun into your life. We could have just written another one, specifically geared toward families looking to have fun on the cheap. But we decided to do something different instead.
You see, video is all the rage these days. And these videos we've created? Well, they're short, bite-sized little nuggets of our best ideas, perfect for squeezing in whenever you have a spare three minutes. And since they come spaced out once a week, they also serve as the little reminders you need to come up for air from the busyness of life to keep your commitment to more family time.
Is this only for families with young kids?
Relying on our years of experience with intergenerational audiences and Kim's background in early childhood education, we've made sure each idea is doable and interesting for families with children of a variety of ages (even high school and college). As with most family activities, young toddlers and preschoolers may not absorb the desired objective of every idea, but we've found that they have a blast being with their family, especially when the family is pursuing fun and togetherness — the goal of each of these 52 activities. 
Um, what if I don't have any kids at all?
Although it's officially titled "The Kim & Jason Guide to Cheap FAMILY Fun," you actually don't need a full-fledged "family" in the traditional sense. You and your spouse, significant other, or best friend will have just as much fun as a family of seven. Pretty much all of the activities will work just fine with as few as two people or without ANY kids at all. (The others may require a few minor adjustments.) And, best of all, if you pull the trigger and eventually decide it's not what you'd hoped for, feel free to take advantage of our 100% money back guarantee. (See above.)