When you hire Jason the "speaker" you also get access to Jason the "artist" and that opens up a whole new world of possibilities. You might even consider it your secret weapon!
Booking Jason gives you automatic access to the Art Vault. An opportunity that more than doubles the value of your investment, you can use one or many of his paintings to breathe life into your theme and create a cohesive and sticky message for your event. With hundreds of his pieces of art at your disposal, for use in a variety of print and digital applications, such as:
Pre-event marketing materials: promotional emails, postcards, website, Facebook page, etc.
Centerpieces, table settings, and favors.
Conference branding: Event signage, staging elements, programs, name badges, PowerPoint slides, etc.
Post-event follow-up: recap emails, and surveys.
The possibilities are endless! We love teaming up with creative, smart organizations and meeting planners who are eager to create a truly memorable multi-dimensional experience for their people! Here's an example of what we did with one client:
There are so many options to further extend the full-circle experience and make the most of your investment. Check out some highlights below!
🏢 Art for Your Organization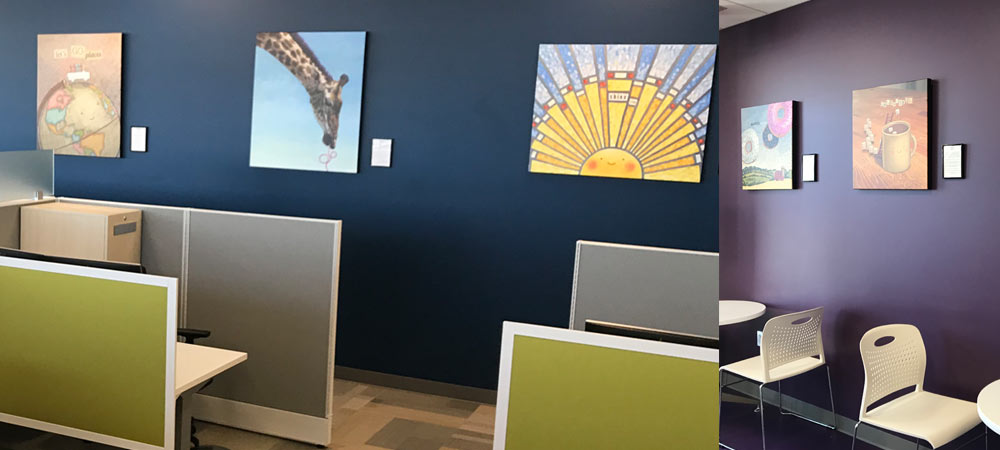 When you choose from the wide variety of canvas reproductions of Jason's art for your workspace, you'll reinforce your organization's culture and the themes from Jason's presentation every day, all year long!
---
📣 Pre-Conference Marketing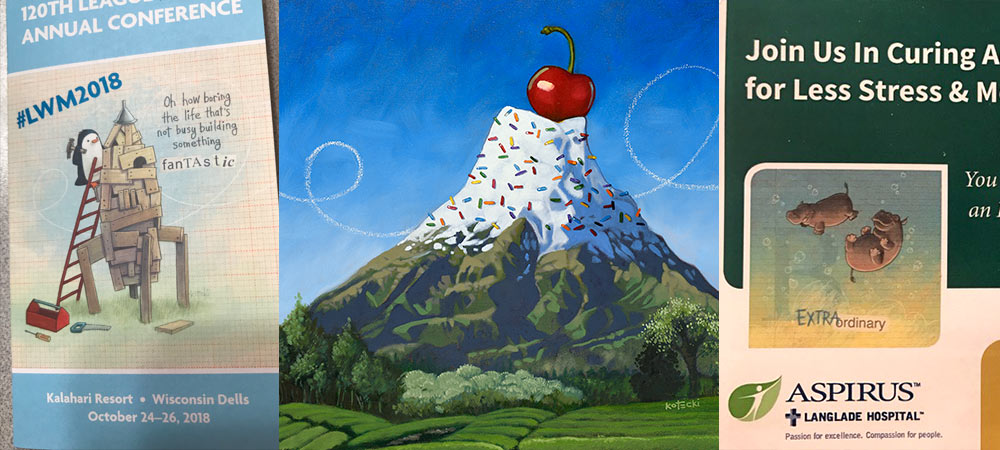 Imagine a scenario in which your pre-event marketing materials feature Jason's art and send the message to your members that this event is something special…
---
⚓️ Conference Branding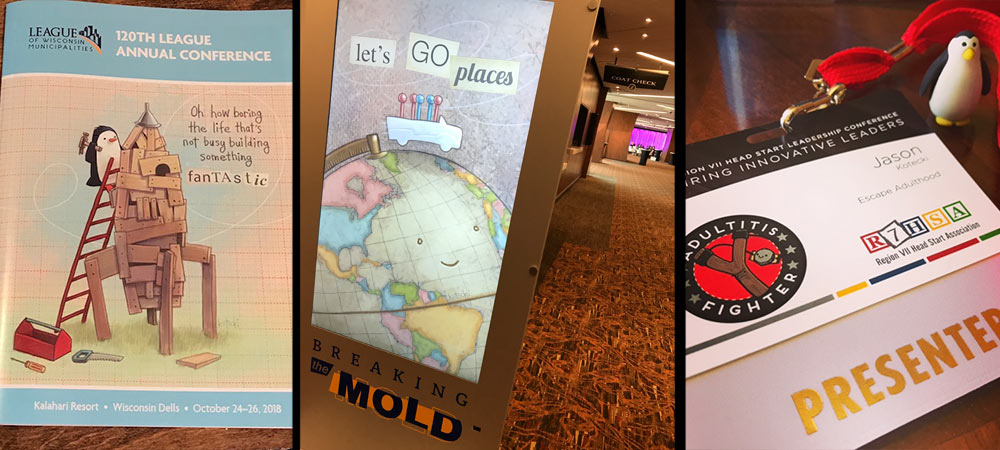 …and when attendees arrive they notice the program, signage, and name tags utilize Jason's art, serving as a powerful anchor for your theme in their minds.
---
🍭 Table Decor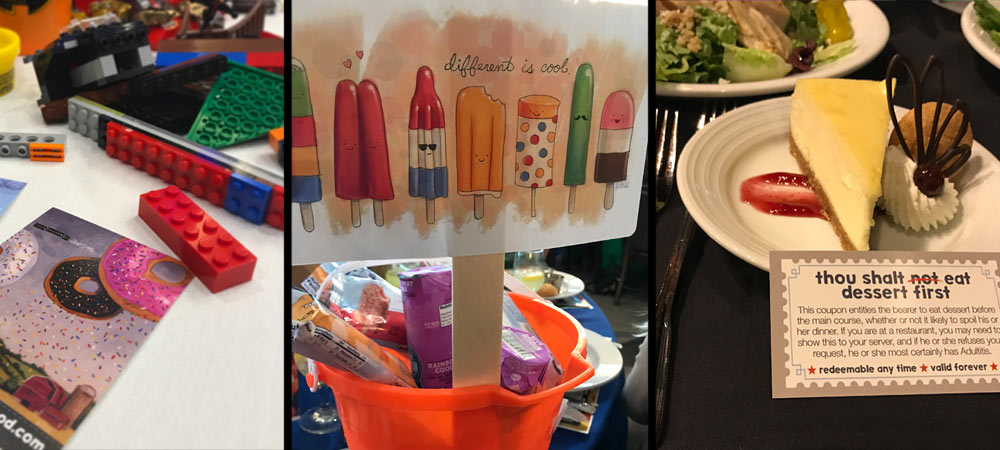 Jason's colorful art and whimsical themes lend themselves to unlimited inspiration for centerpieces, table settings, and even an opportunity to encourage your attendees to eat dessert first! Let your imagination run wild! If you need an assist, Kim has a treasure chest of ideas to get you started and this Pinterest board might provide a spark.
---
🎭 Staging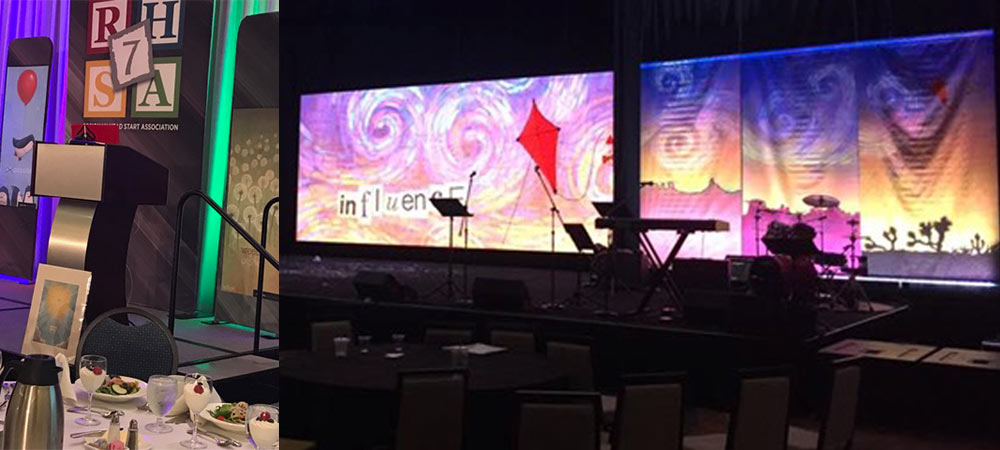 Use Jason's breathtaking art in the staging elements to create an amazing, one-of-a-kind look for your event. We will work with your production company to get them the graphics in the size and format they need so you won't even have to lift a finger!
---
🎁 Door Prizes & Swag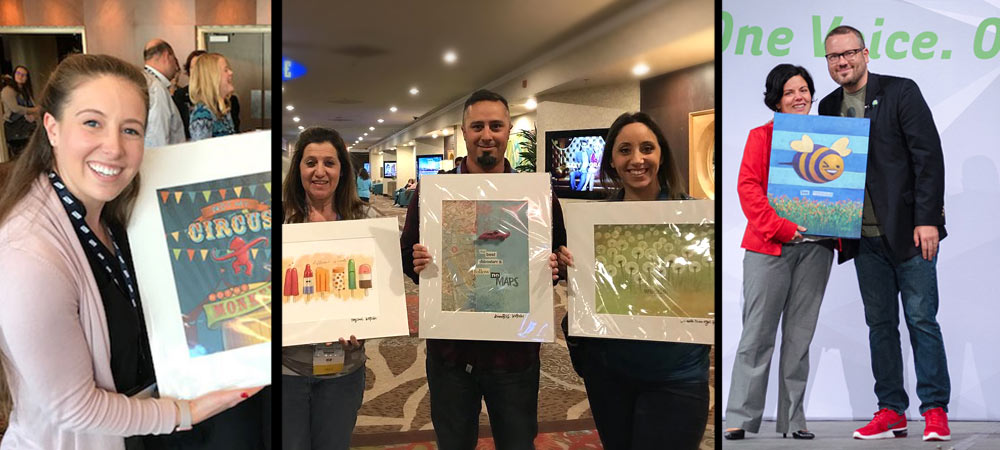 Think of the impact that will be made when you use Jason's artwork, gifts, and books as thank-you and recognition gifts, as well as door prizes and after-event communication, making a full circle with your messaging and theme.
---
👕 Team Shirts
Many groups purchase matching shirts for the day of the event, creating a sense of unity amongst your team and setting them apart so attendees know who to turn to for help. We don't require any minimums and can hook you up with sweet discounts on our growing collection of t-shirts!
---
🔎 Art Drops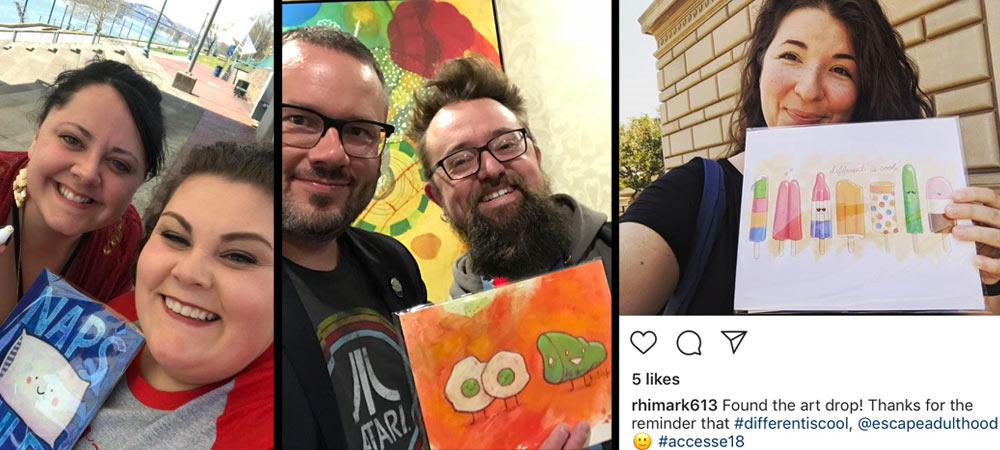 You can arrange to have Jason orchestrate an Art Drop: a fun, interactive scavenger hunt in which attendees race to find a hidden piece of his art. It adds excitement to your event and encourages your people to generate buzz on social media.
---
🎨 Live Painting
Imagine your opening networking social buzzing as your keynote speaker draws a crowd and spurs conversation as they watch a painting come alive! Jason's colorful, whimsical style and personable, friendly approach really draw people in, creating memorable interactivity with guests of all ages and backgrounds. When he's working on a painting, Jason becomes a magnet, capturing the short attention spans of passersby. He can start and finish a painting in just a few hours, giving your guests the satisfaction of seeing it come to life. Plus, the subject of the painting can incorporate a theme that is meaningful to your people, company or event.
Plus, you have the option to purchase the finished art to give away, present it as an award, auction it off, or serve as the coolest door prize ever!
oh, the possibilities…
Imagine a scenario in which your pre-event promotional materials, featuring Jason's fresh, compelling art, captures the attention of your potential attendees and send the message that this event is not to be missed. Your opening networking social starts with a buzz as Jason draws a crowd and spurs conversation as he paints live amongst your guests. Meanwhile, the event program, signage, and name tags also feature Jason's art, serving as a powerful anchor for your theme in the minds of attendees. The next day, your people are captivated by this artist who combines his brilliant visuals with well-crafted stories to deliver inspiration and insight in the keynote. And think of the impact that will be made when you are able to use that painting — the one everyone saw come to life — as a one-of-a-kind door prize, silent auction item, or award to a VIP or top sponsor.
If you have questions about these or any other ideas you have for incorporating Jason's art into your organization or event, reach out to Kim. She can't wait to brainstorm with you!