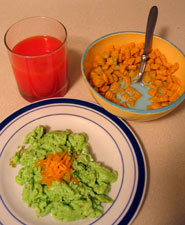 One particularly good low-cost way to escape the "same old, same old" of modern life is to dig out a box of food coloring from the recesses of your kitchen cabinet. Most people have a box of the stuff somewhere, but it's usually only used to color cookie frosting around the holidays. Rather than sitting forgotten in a pantry, we believe its rightful place might be right next to the salt and pepper shakers that get used every day.
I fell in love with the stuff during my first ever attempt at the Escape Plan. I made myself some green eggs (thanks for the inspiration, Dr. Seuss!), red orange juice, and enjoyed Capn Crunch in some blue milk. I can't think of anything that made me feel like a five-year-old faster than mixing in a few green drops to the eggs I was whisking.
Kids love stuff like that, and your inner child still does, too! Some people get weirded out by food that comes in strange colors, but considering that the taste is left unchanged, we think that any apprehension might just be Adultitis talking.
So here are some ideas to make food coloring more of a staple in your home:
1) Celebrate holidays. Think green yogurt smoothies for St. Patrick's Day, pink pancakes for Valentine's Day, or orange eggs for Halloween.
2) Dye white food. You haven't lived until you've had blue mashed potatoes or green cottage cheese.
3) Make Ugly Cakes. Food coloring has traditionally been used in cake decorating. But who says your creations have to be pretty? Some friends of ours have a tradition of trying to make their cakes as ugly as possible. Check it out and let your creativity run wild!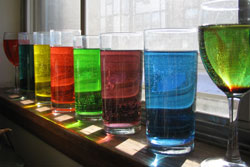 4) Brighten Your Day. On particularly grey wniter days, Kim likes to brighten up her workspace by adding a few drops of food coloring to glasses of water lined up by her window.
5) Paint Monster Faces on Toast. Use paint made from a mixture of milk and food coloring to draw a face on a slice of bread, then stick it in a toaster oven. (Check out this video series for ideas.)
6) Color Your Flowers. You can easily tint fresh white flowers like daisies or carnations by adding a few drops of the colored stuff into the water in the vase. (from makeandtakes.com)
7) Paint the Snow. Still have snow on the ground? Do some snow painting with spray bottles filled with water and a touch of food coloring.
8) Make Omelette Art. Take the food coloring and eggs thing to a whole new level with this unusual technique for making omelette art (from paulano.wordpress.com):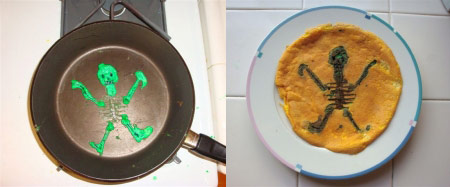 Heat skillet.
Whisk eggs.
Separate eggs into 2 or more bowls.  One bowl should contain a majority of the eggs, and should be used as your "background color."
Use food coloring to tint the egg mixtures in each bowl.
Paint the skillet with egg mixture, using whatever utensils you think will make a cool "brush."
Cover drawing with your "background color."
Add cheese, cook, flip and serve.
9) Punk Out. If you're very adventurous, you could even try safely dyeing your hair with food coloring. Here's how. (Be warned: the color can last for up to four weeks!)
10) Pyschedelic Milk. Science dude Steve Spangler has a neat experiment you can try involving milk, food coloring, and some dish soap.
11) Easter Eggs for Halloween. Who says Easter is the only time you can enjoy some festively colored eggs? You could design scary ones for Halloween or add hearts for Valentine's Day. Here's a simple recipe from familycrafts.about.com:
Materials Needed:
Hard Boiled Eggs
Food Coloring
Vinegar
Instructions:
In a coffee cup, mix about 20 drops of food coloring with 1 teaspoon of vinegar. Add 1/2 cup hot water. Before you color your eggs let the water cool to room temperature. If necessary you can add a bit more water. You want the coloring to completely cover the egg when put in the cup. Repeat the steps above to make different colors.
Gently lower eggs in the cup. The longer you leave the eggs in the dye, the darker the colors will be. Once the egg reaches the desired color, remove from the cup with a spoon and pat dry with a paper towel. Hint: Wipe with vegetable oil (with paper towel or a rag) to make a glossier egg.
To add designs to your colored eggs try one of these ideas:
For a tie dye effect, wrap rubber bands around the eggs before dying.
Write your name or draw a picture on your eggs using light colored crayons and then dye as usual.
Place shaped stickers on your eggs before dying!
Cut small strips of masking tape and stick on eggs before dying.
12) Mix It Up and Taste the Rainbow. Of course, you can always mix your colors to make new ones. You probably know that yellow and red make orange, while blue and red make purple. But what about black, which is extra handy for Halloween? Just mix 3 parts red, 3 parts blue, and 2 parts green!