This exhibition is a collection of winning combinations, an exploration of relationships, and how sometimes, joining forces can make something greater than the sum of its parts.
It began as part of my 2016 Tinker Project. Frustrated with having ended the last three years wishing I'd spent more time in the studio making art, I decided 2016 would be different. I committed to setting aside one studio day a week, period.
Other than making a goal of creating 100 new pieces of art (I'd made just 29 the year before), I had no other real objectives. I just wanted to play and make art, just because. It's one of the few things I do in which time speeds up and stands still all at once.
Meanwhile, I found these neat miniature canvases and tiny easels, and thought of putting together a series of some sort. I was eager to pull out my tubes of paint. Much of my work is done digitally, which has its own benefits, but I'd begun to miss the tactical feel of real, juicy, goopy paint on real, unforgiving canvas and all the happy accidents that ensue. And since digital art doesn't really produce "originals" per se, this collection was the first opportunity to make some.
Further embracing the spirit of tinkering, I decided to put them up for sale at the 2016 Escape Adulthood Summit in what would be the first public exhibition of the series. (Some are still available for purchase!) I hope you enjoy this online exhibition and may you reflect upon those special people in your life that bring out the best in you. In fact, feel free to leave a little story or tribute about them the comments below — I'd love to hear them!
Stay young and stay fun,

All paintings are made with acrylic paint on 4″ x 4″ canvas.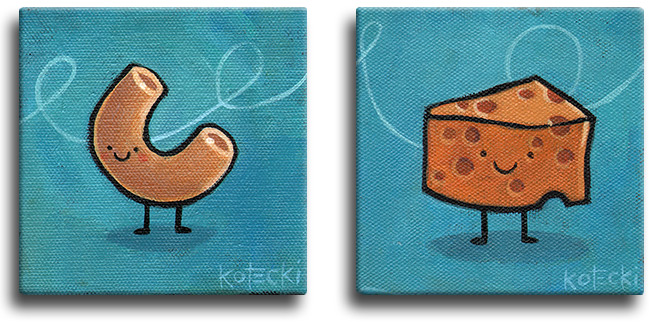 Macaroni & Cheese


Sold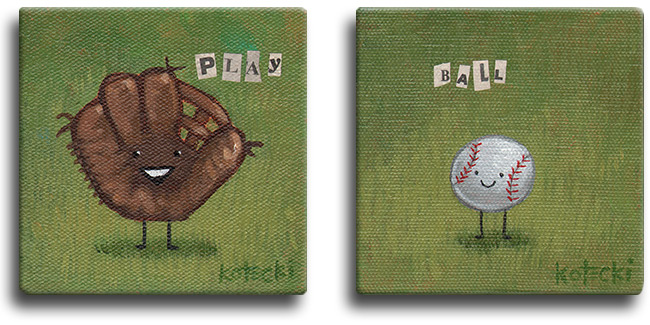 Play Ball


Sold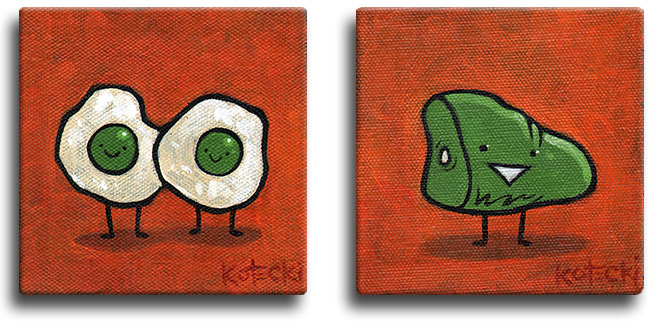 Green Eggs & Ham
Buy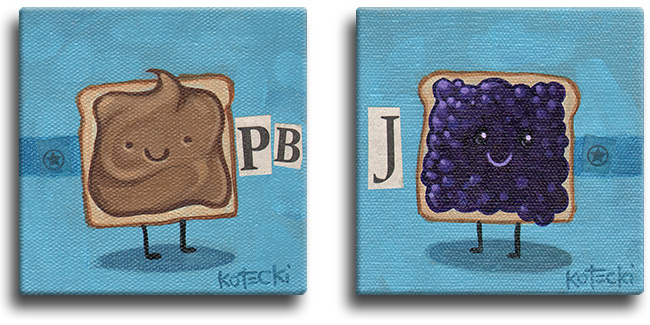 Peanut Butter & Jelly


Sold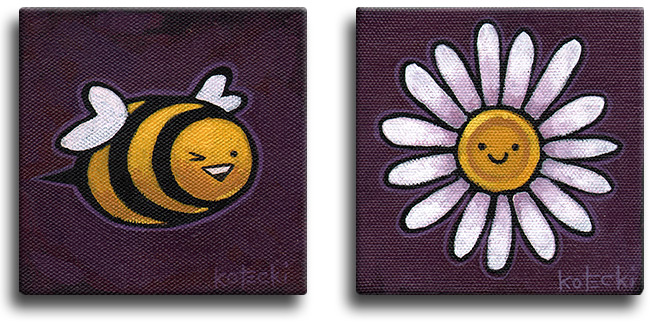 Bee & Flower


Sold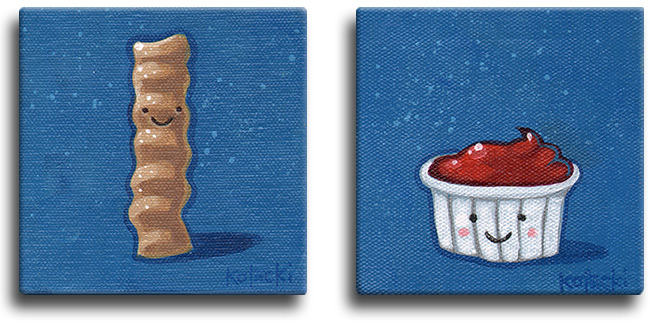 French Fry & Ketchup


Sold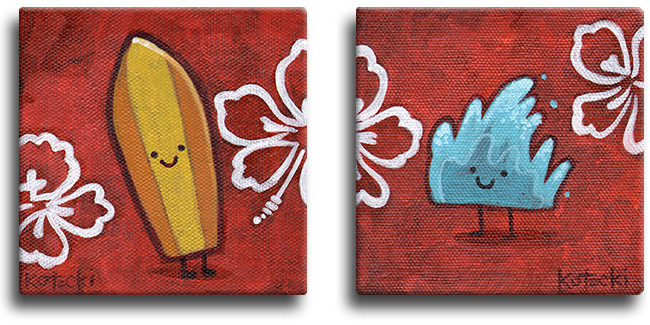 Surfboard & Wave


Sold
Meat & Heat
Buy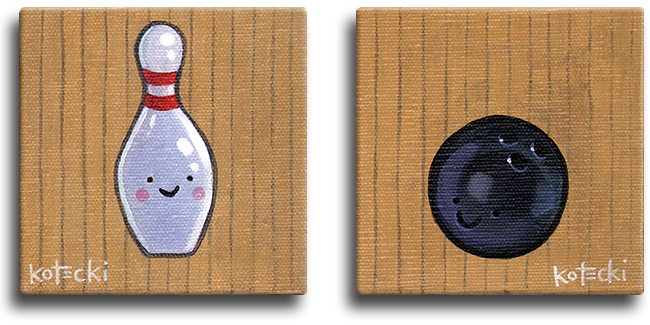 Bowling Pin & Bowling Ball
Buy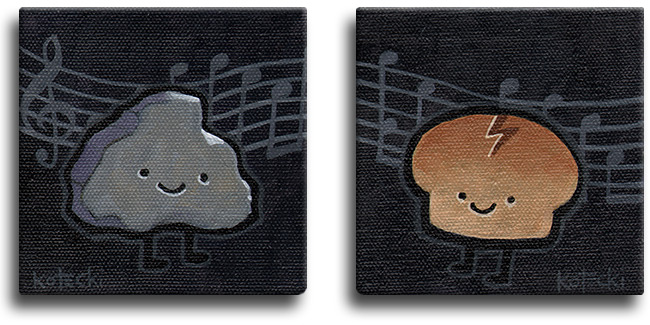 Rock & Roll


Sold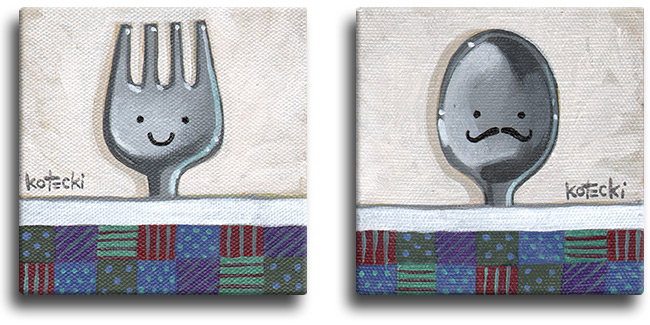 Fork & Spoon


Sold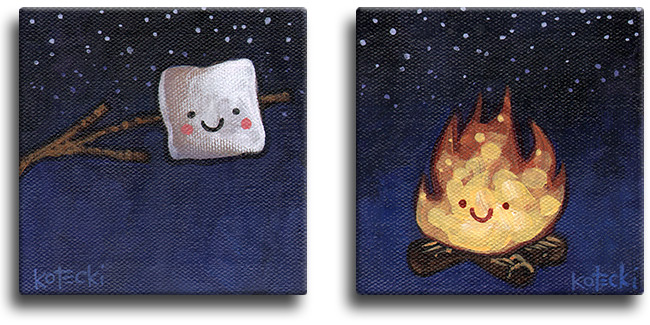 Marshmallow & Fire


Sold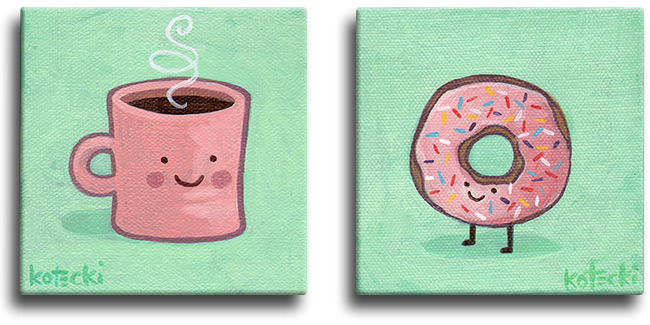 Coffee & Doughnut
Buy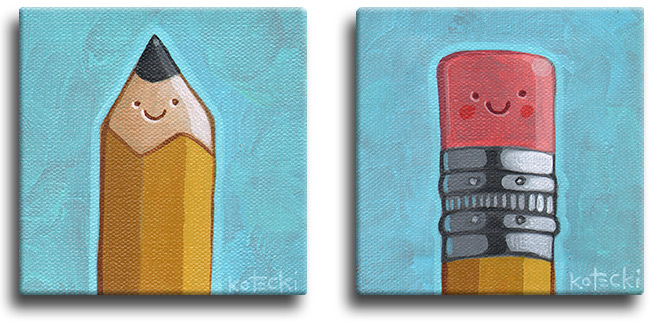 Pencil & Eraser


Sold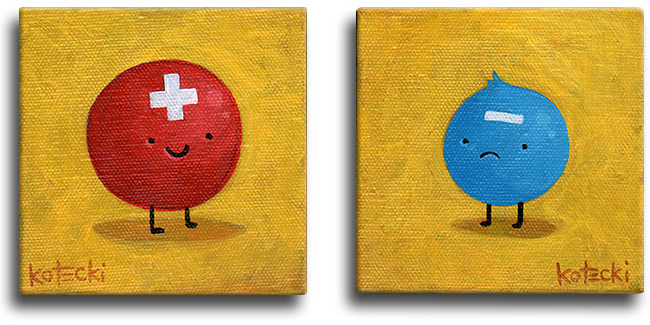 Proton & Electron
Buy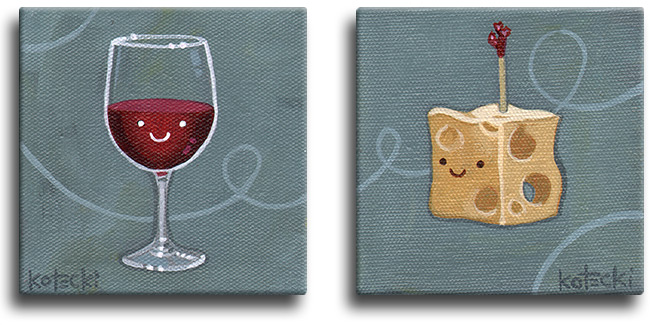 Wine & Cheese


Sold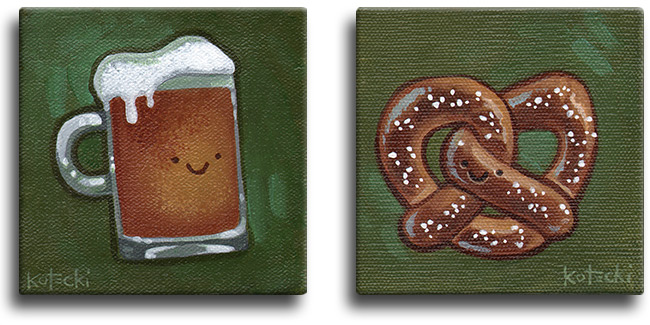 Beer & Pretzel


Sold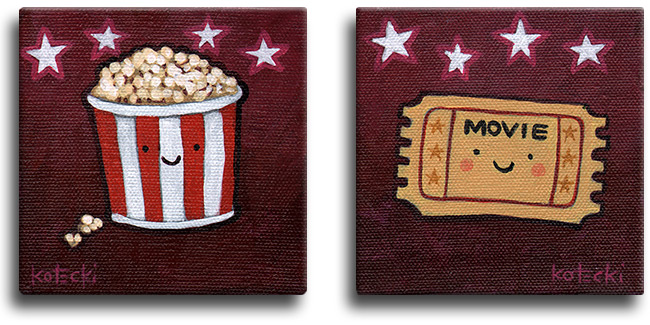 Popcorn & A Movie
Buy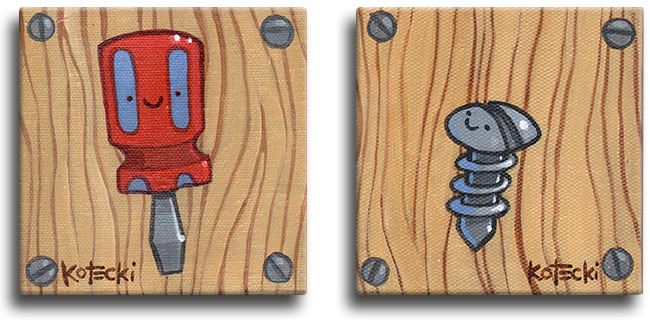 Screwdriver & Screw
Buy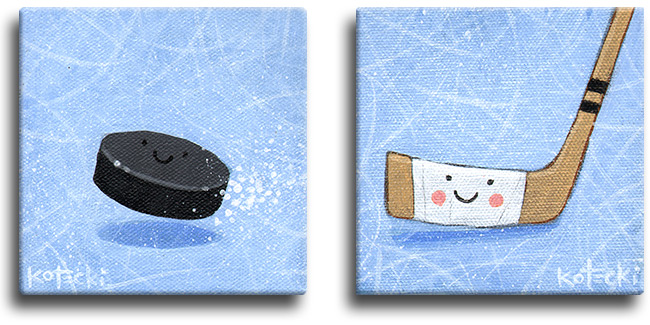 Hockey Puck & Stick


Sold
---
Behind The Scenes
Here are some photos of my process. I primed most canvases with a grey gesso, compliments of Mr. Bob Ross. I use Liquitex acrylics and love my Raphaël Kolinsky Red Sable brushes.