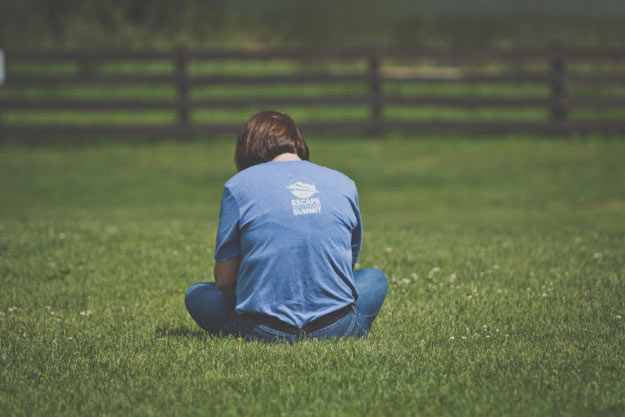 The theme for the 2016 Escape Adulthood Summit was "Up, Up, and Away." Our aim was to help people rise above the noise of the everyday and look at their life from a new perspective.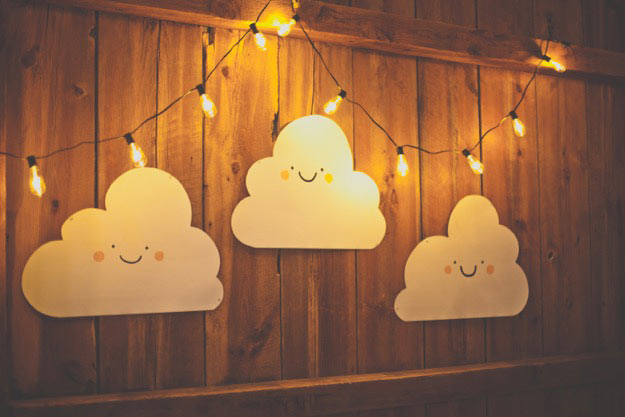 Inspired by superheroes, our theme worked on two levels. The first was to help people identify their own superpowers and empower them to share them with the world. We reminded them that our best superpowers are often the things about us that we most take for granted, and while it's easy to think they are insignificant, they can have a giant impact.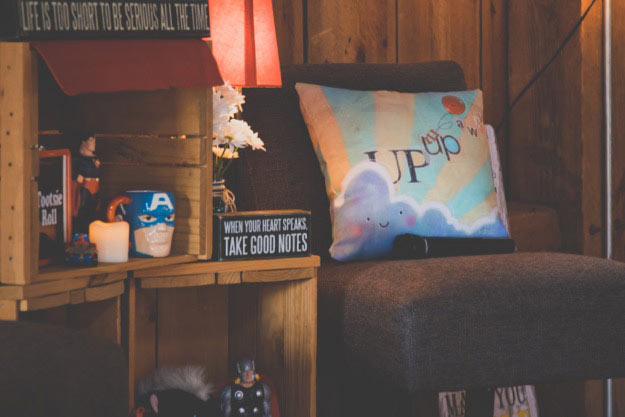 While previous Summits have been held in Madison, this time we opted for a more remote location about 20 miles away, nestled among the cornfields of south central Wisconsin.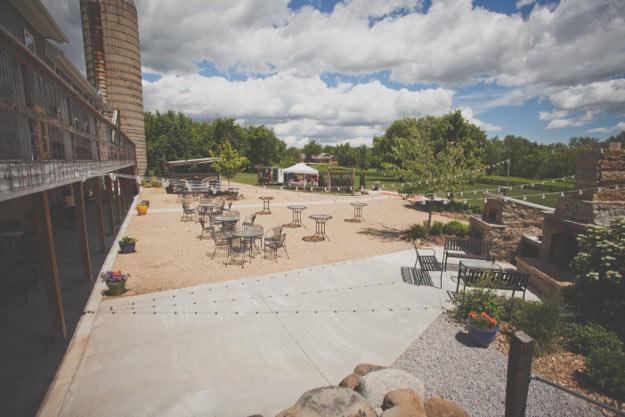 We were inspired by a scene in the second Avengers movie, when Captain America, Iron Man, and friends made Hawkeye's farm their safe house. We figured that a secluded location was perfect for underscoring our own need to recharge our batteries, hammer the dents out of our armor, and come together to draw support from one another so we can return to our lives stronger.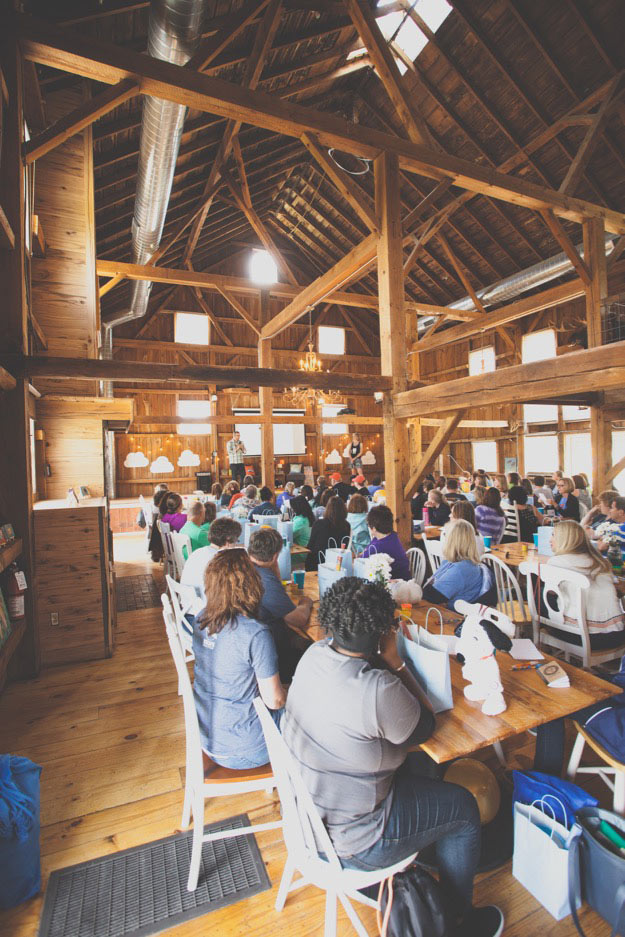 We are in a hard fight against Adultitis, and it is bigger than any one of us. Like the Avengers know, some enemies are too strong to defeat alone, and there is power in community.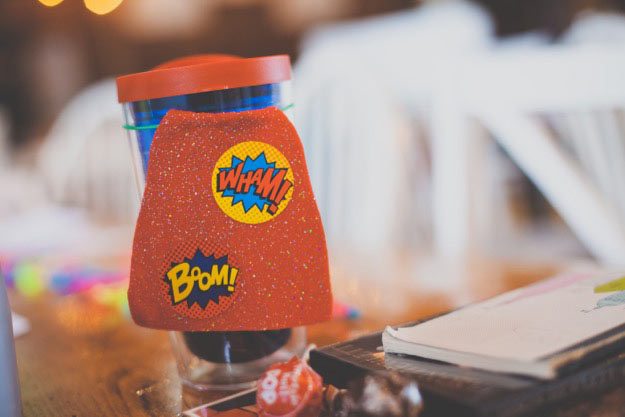 Golden Tickets were sent out in the form of gold balloons. Guests had to blow up the balloon to read the event details and instructions for attending!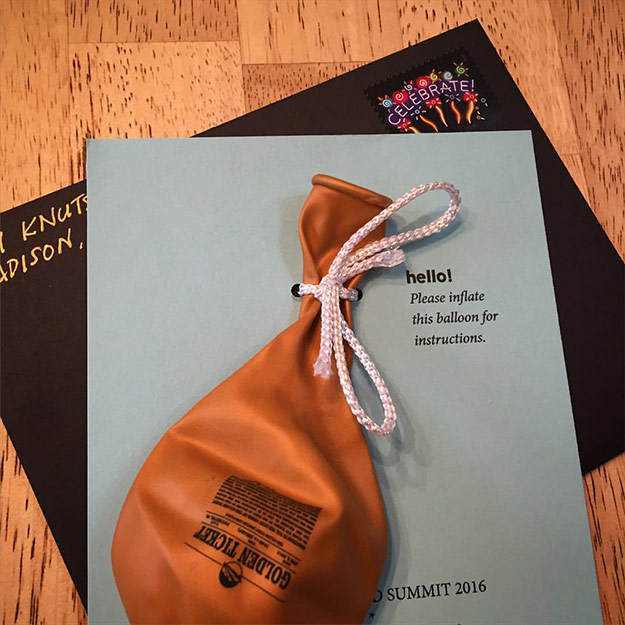 We opened the doors at 12:30 sharp to a line of nearly 80 attendees who ranged in age from 25 to over 65, hailing from 15 different states.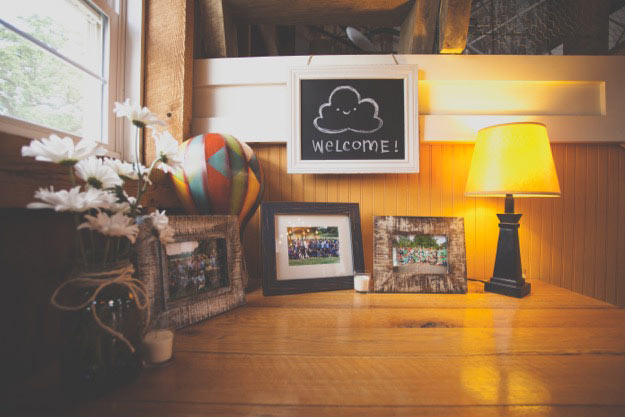 Everyone got a goodie bag, filled with all kinds of fun things, including a special edition t-shirt, frisbee, and one of our brand new Adultitis Fighter Handbooks.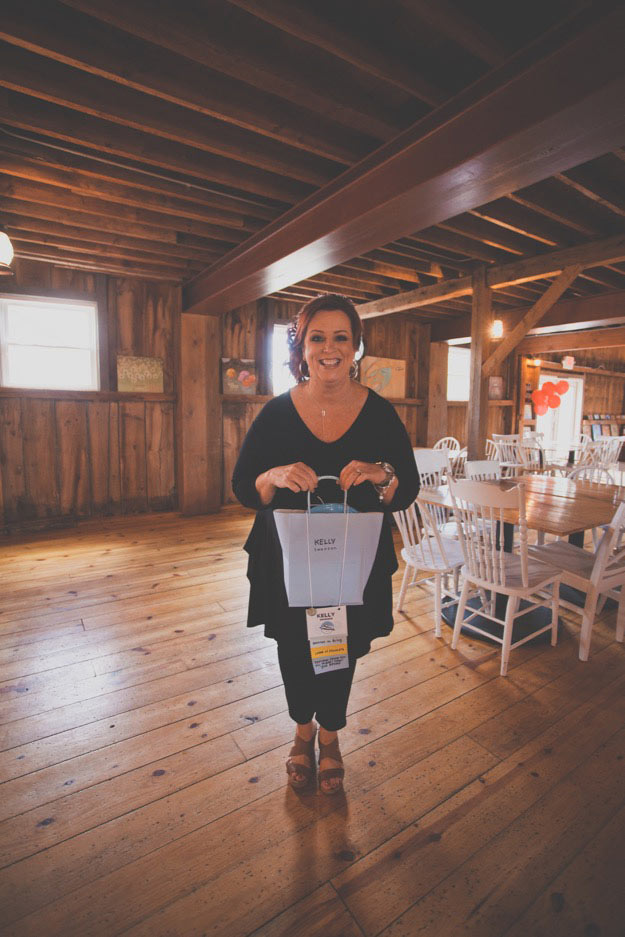 One of the first surprises that greeted our guests were a trio of cosplayers dressed up in some sweet superhero costumes. Kim put in many hours trying to find the right people, and she hit the jackpot.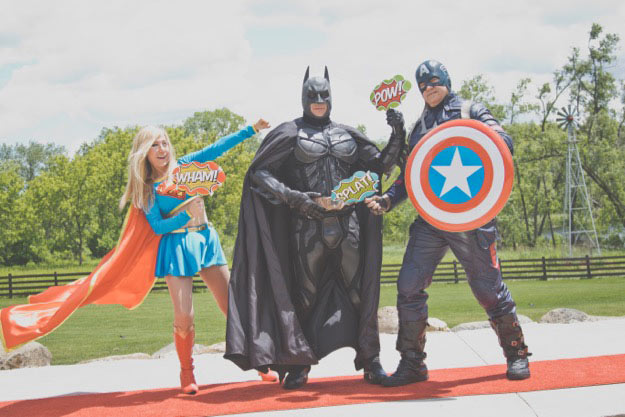 Everyone got a chance to step up to the red carpet to get their photo taken with our super friends.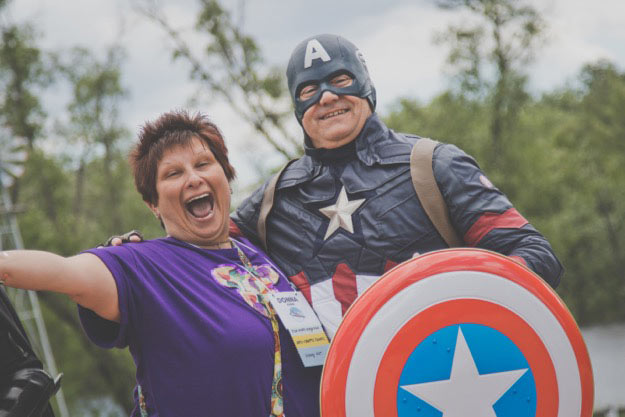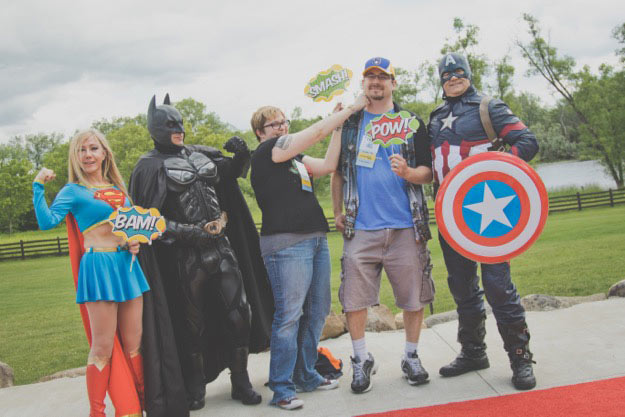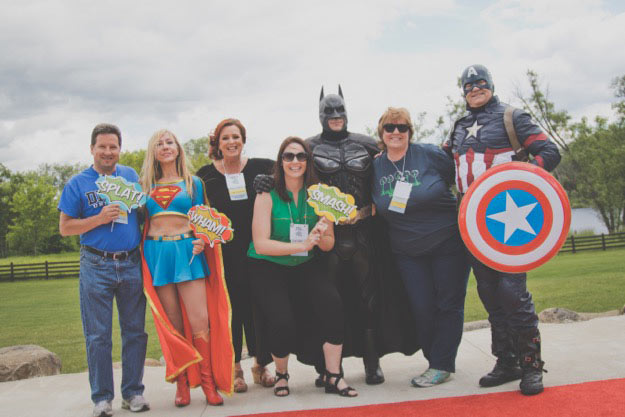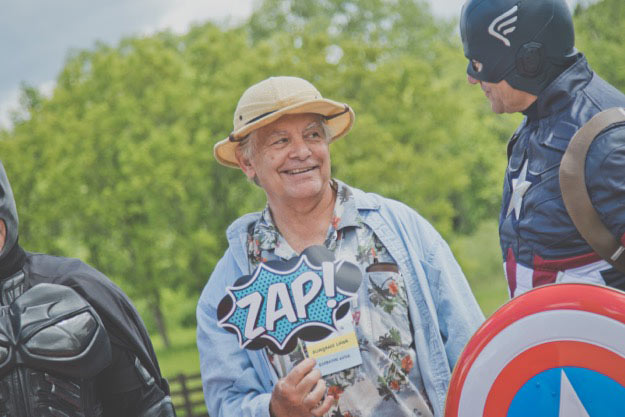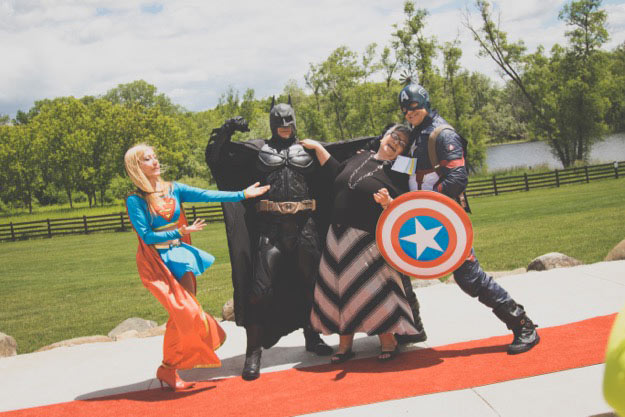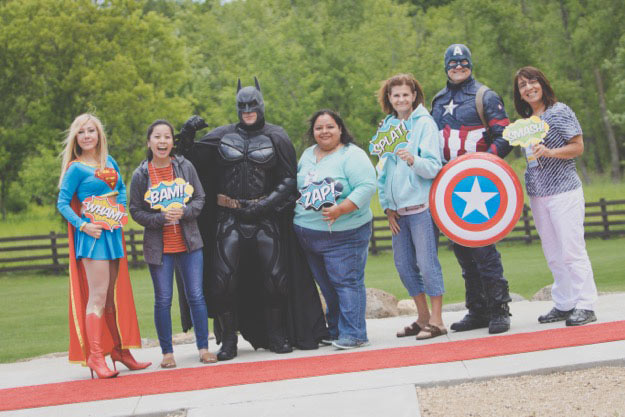 Meanwhile, lunch was provided by two amazing food carts we stole away from their normal spot on Madison's Capitol Square.
Attendees could choose between Bulgogi Korean Taco or Melted, the gourmet grilled cheese cart.
So yummy!!!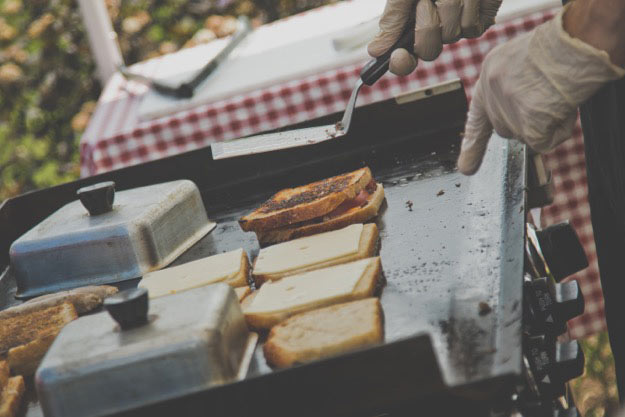 Everybody's name tags featured three interesting personal characteristics that they shared in their registration form. Some examples were "Aspiring Donkey Owner," "Glitter Enthusiast," and "Lucky Charms Connoisseur."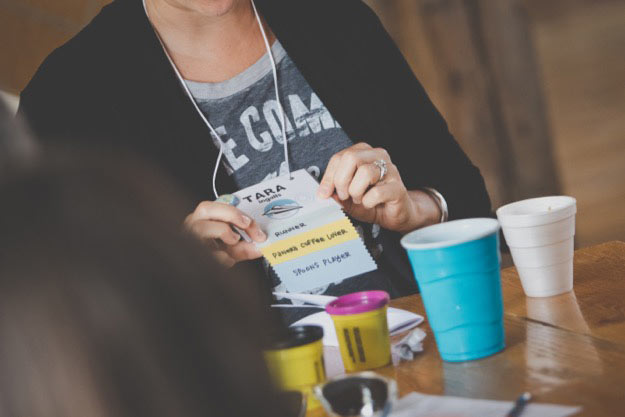 Another highlight was Show & Tell, where everyone gets to share something they brought with them. It's always so fun to see the variety of treasures people unveil.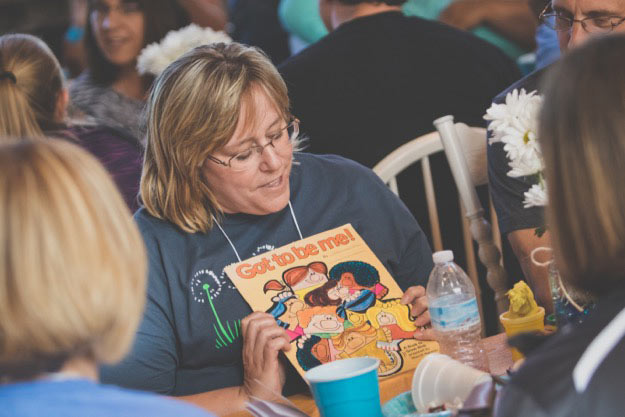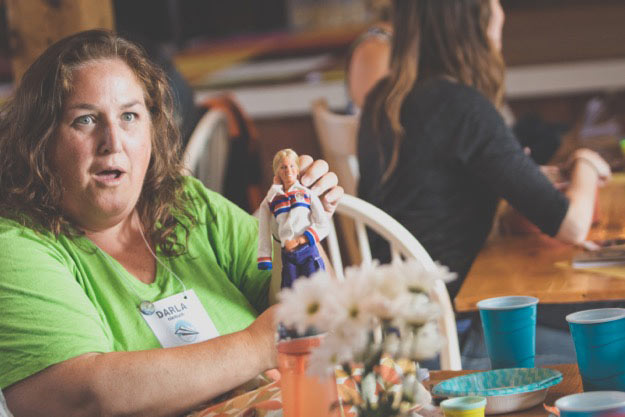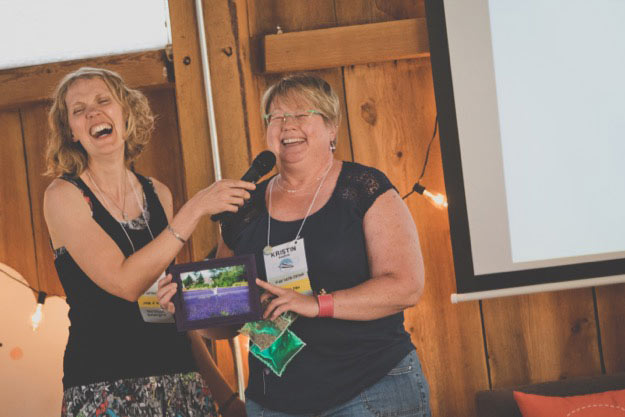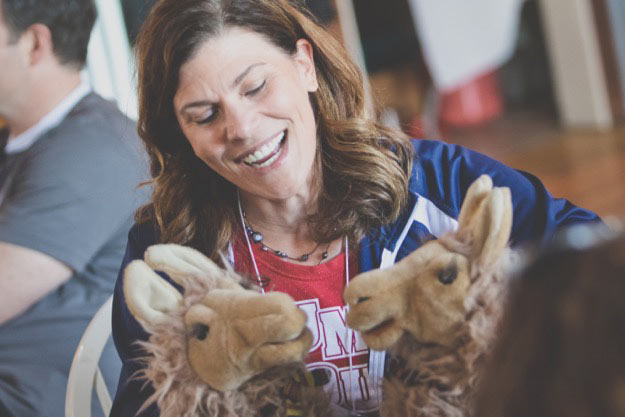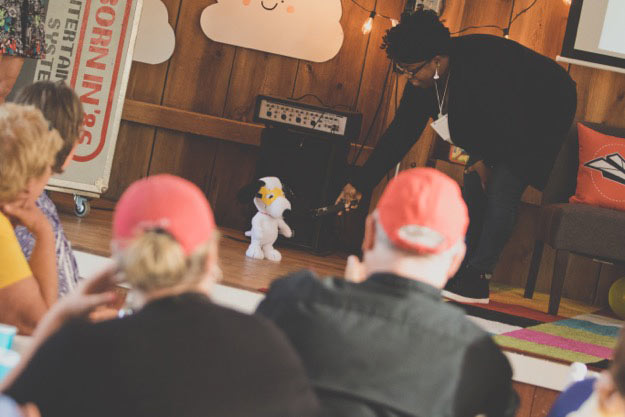 We even had a few guys bring a portable Nintendo Entertainment System, with a collection of classic games that people had fun playing during breaks.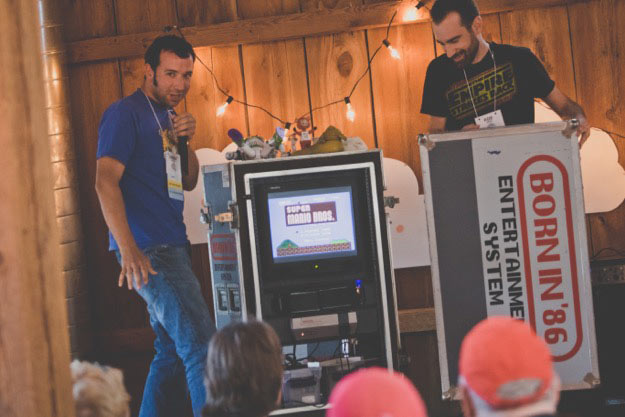 The group craft project serves as a great ice breaker and laugh generator. This year, special guest "Jenna Mode" (allegedly a distant relative of Edna Mode) joined us to give each table the task of inventing their own Adultits-fighting superhero and instruct them on how to construct an appropriate supersuit.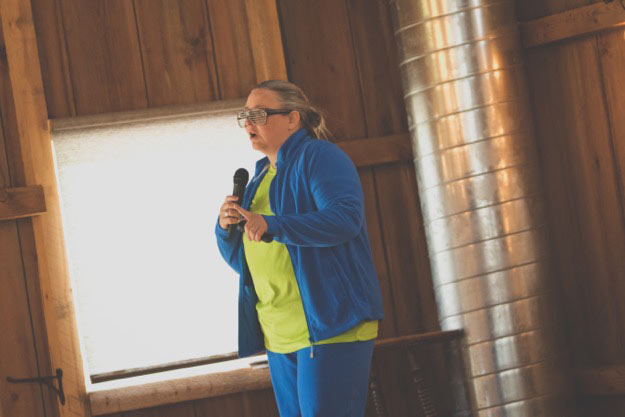 There were a ton of supplies available to get the creative juices flowing.
It helped that we raided our kids' dress-up trunk.
The super teams quickly got to work, as superhero theme music filled the air.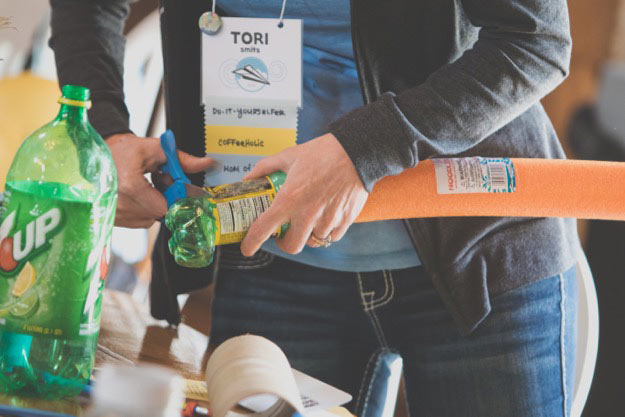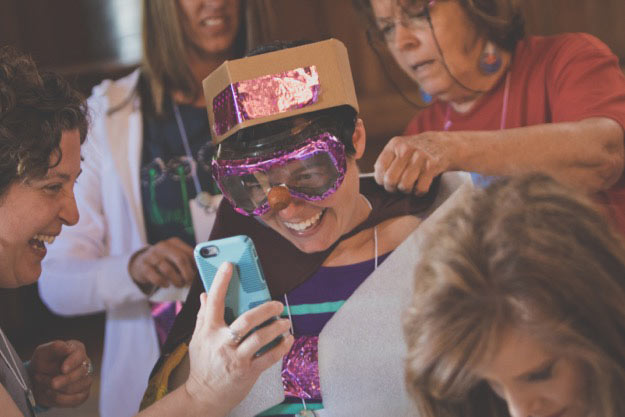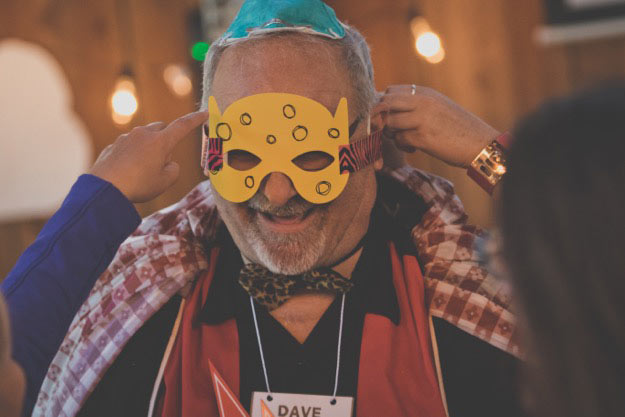 Finally, each group got on stage to present their superhero to Jenna Mode, and the results were as inventive as they were hilarious!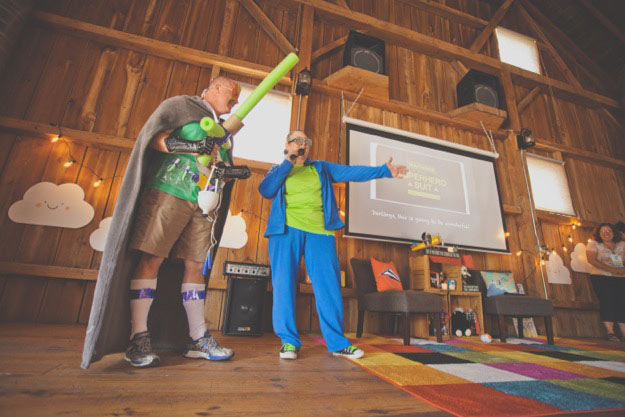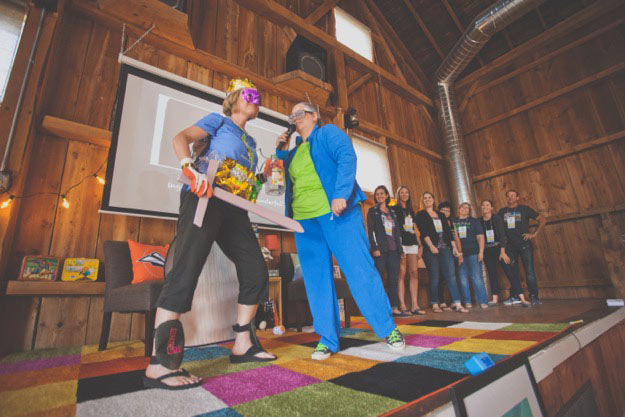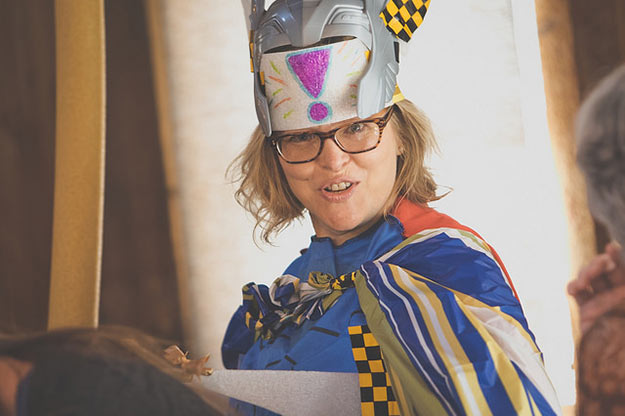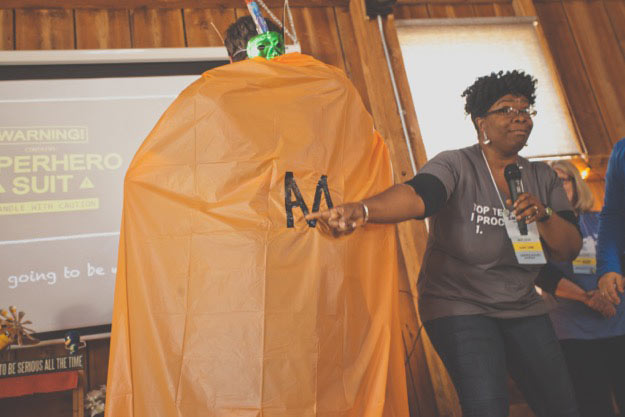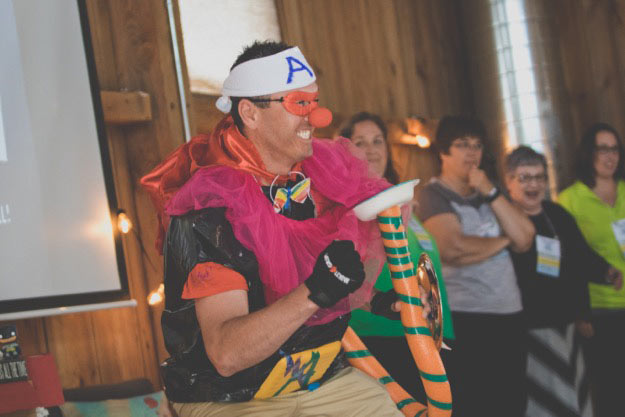 Of course, it's not all fun and games at the Summit. We spend a lot of time talking about how we can keep Adultitis from running rampant in our lives while uncovering rules that don't exist.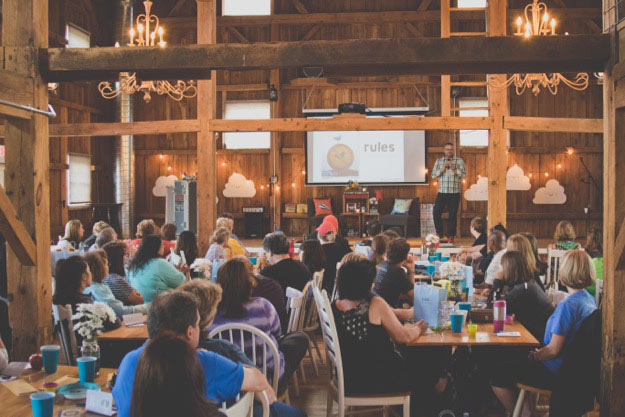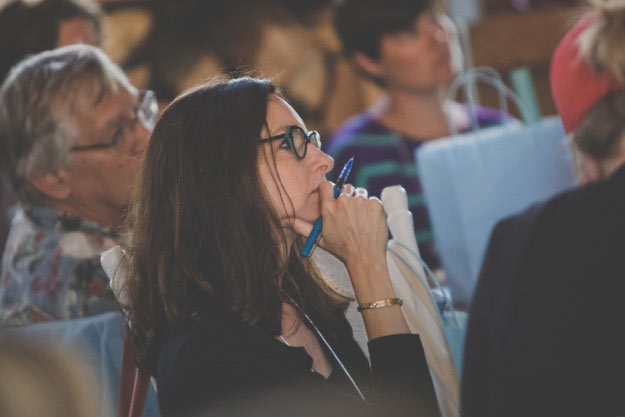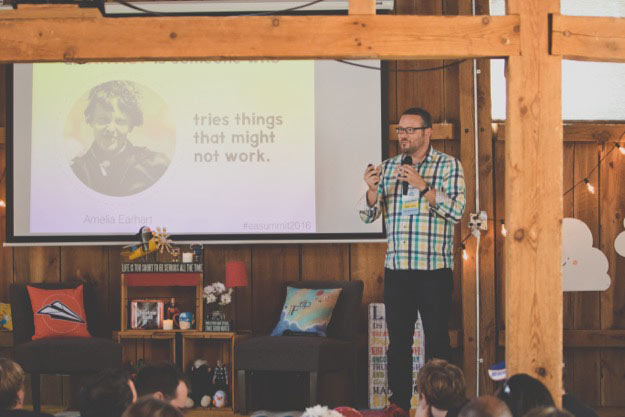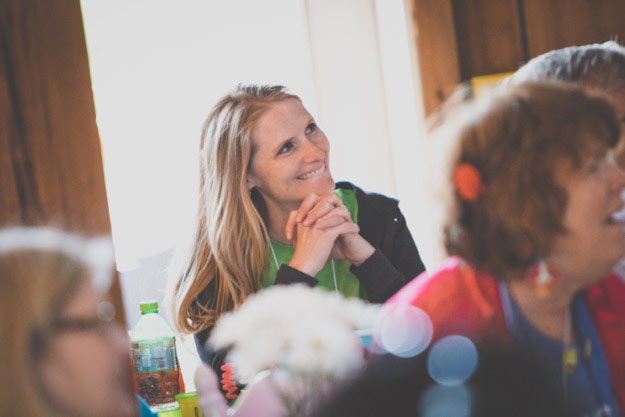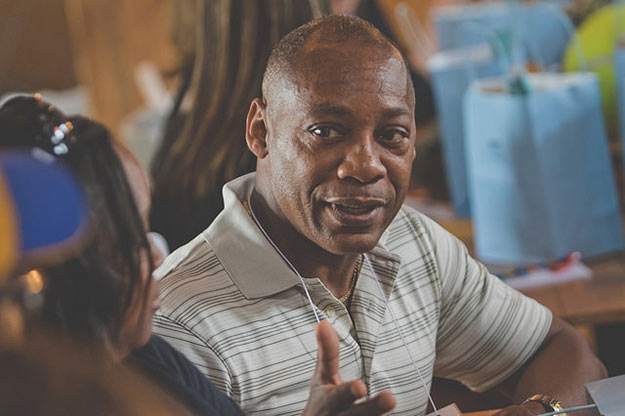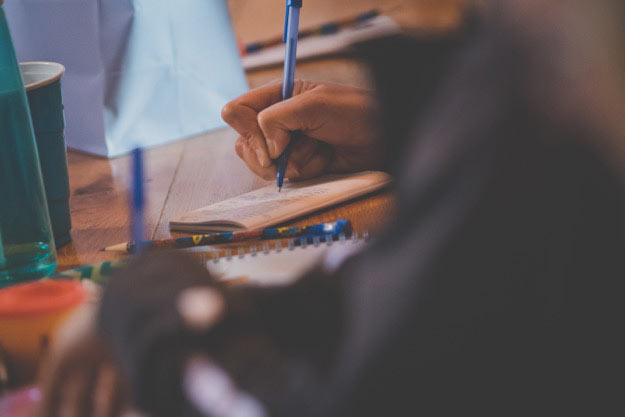 Since I do most of the speaking these days, Kim and I enjoy the opportunity to share the stage together at the Summit.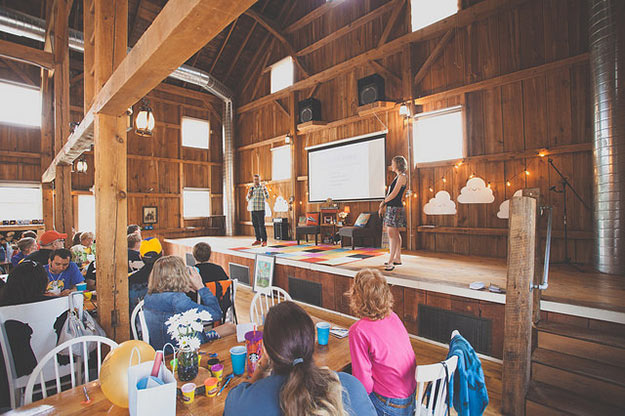 Shenanigans often ensue.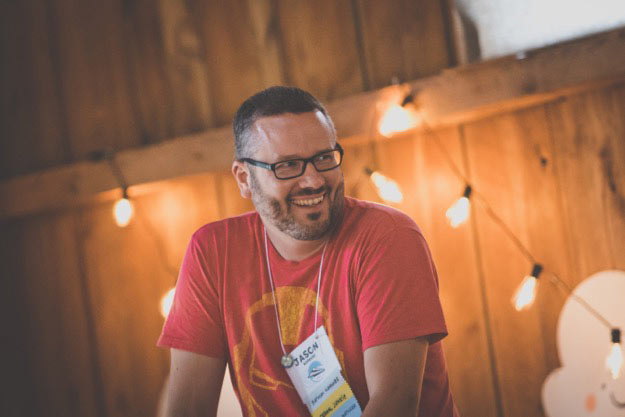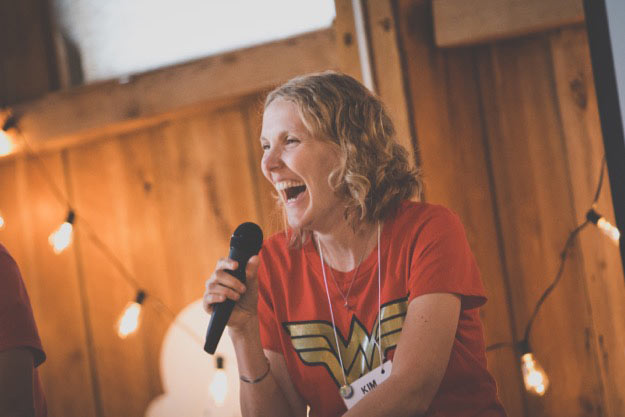 This year, we had a variety of breakout mastermind sessions, where attendees could share with and learn from each other. Topics included how to be a fun parent without getting walked all over, and tips for making the workplace more fun.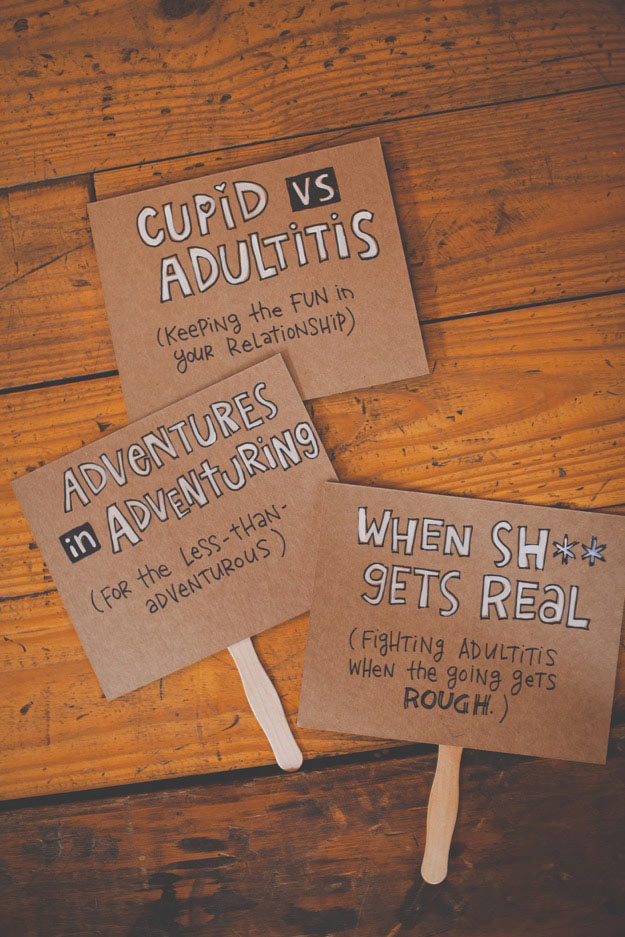 We always give people time to reflect on some of the powerful insights they've gained over the course of the Summit experience.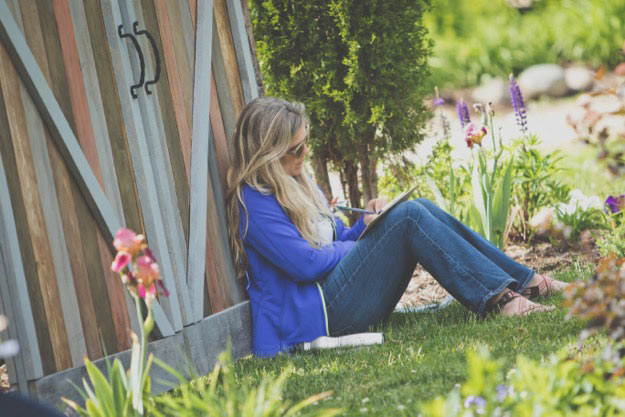 This is one of the main reasons we refuse the hold the Summit in a stuffy hotel.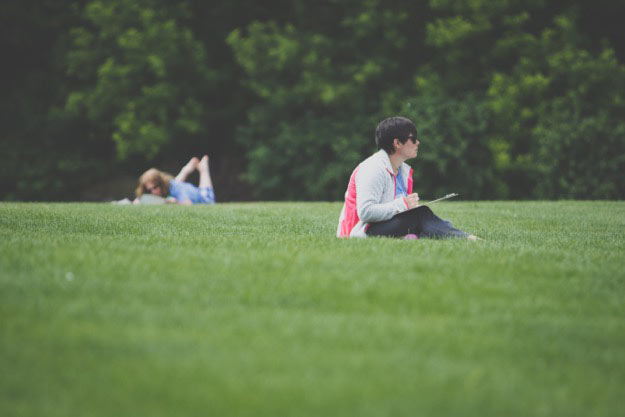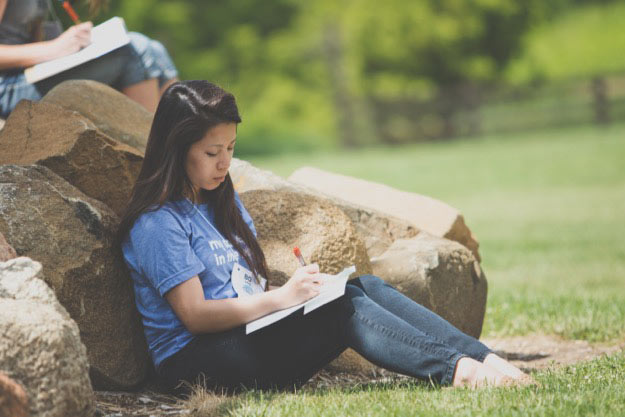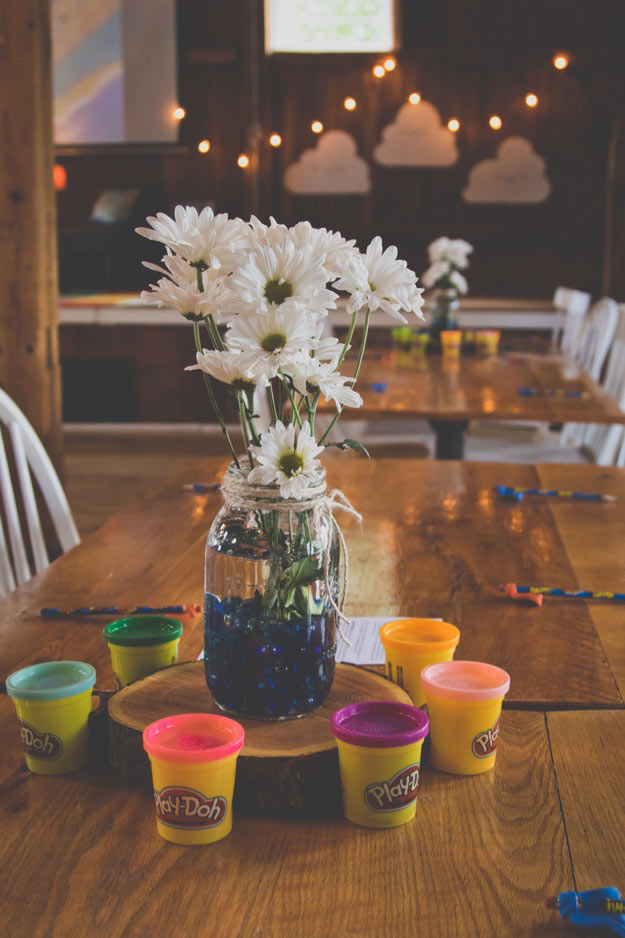 We love bringing in a special guest speaker to add a unique perspective and flavor to each Summit. This year we welcomed TWO dear friends that blew everybody away!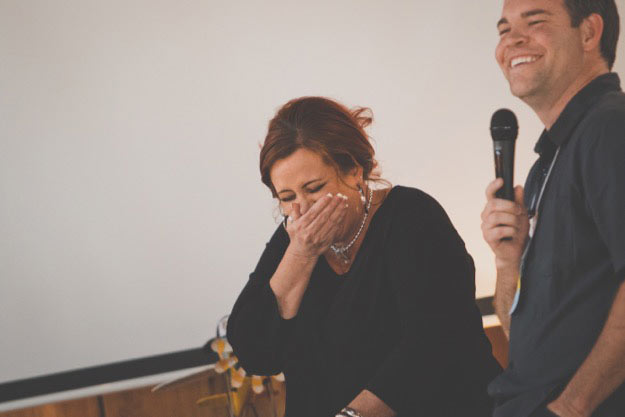 Kelly Swanson is a motivational speaker, comedian, award-winning storyteller, and creator of Prides Hollow and the wacky cast of southern characters who have charmed audiences from coast to coast for over 20 years.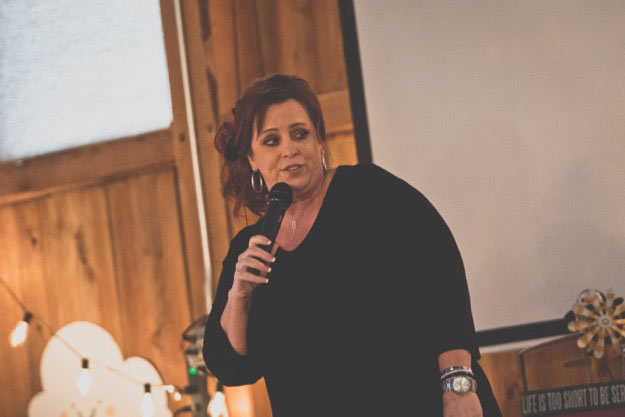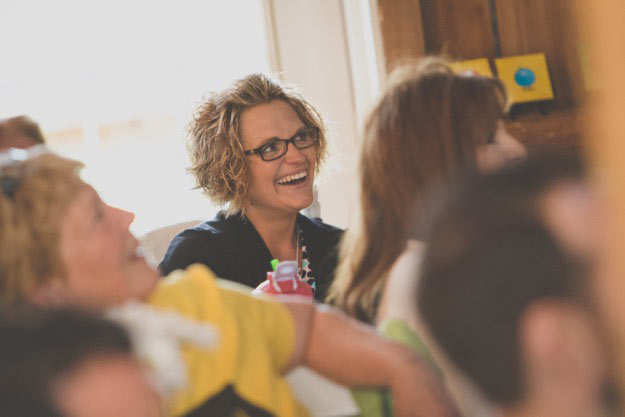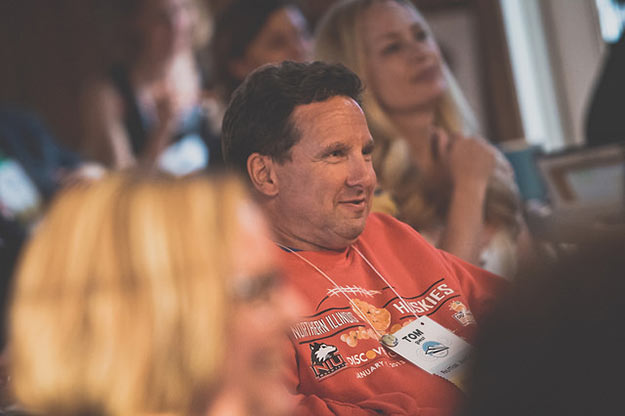 With wacky wit, powerful stories, and a relevant message, Kelly helped us to discover the superpowers we often take for granted.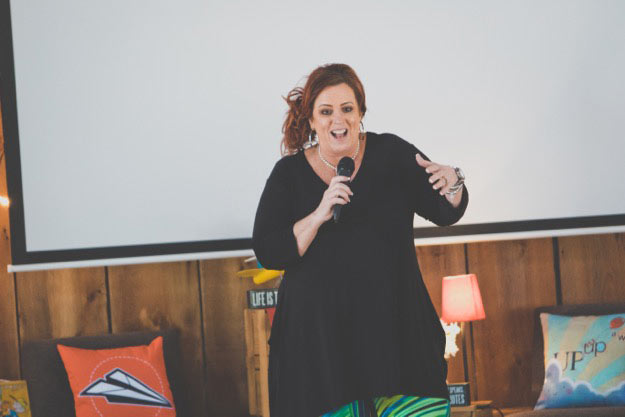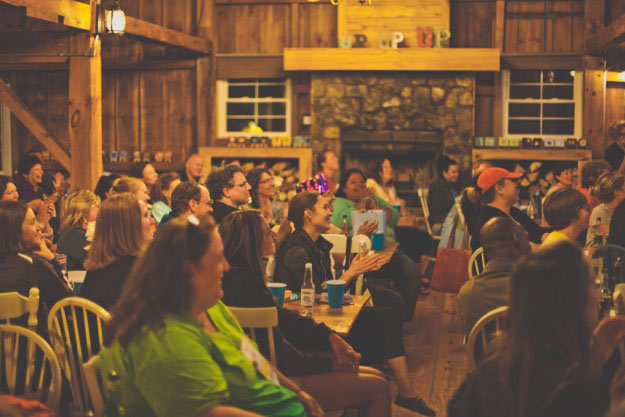 Jason Hewlett has performed in every major casino in Las Vegas and is one of the country's premiere corporate event headliners.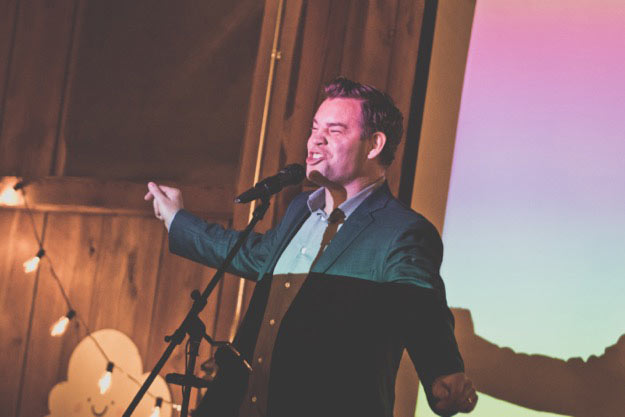 His show is a combination of comedy, music, parody, and over-the-top hilarious impressions, including Michael Jackson, Axel Rose, and ALL FOUR voices of the Temptations.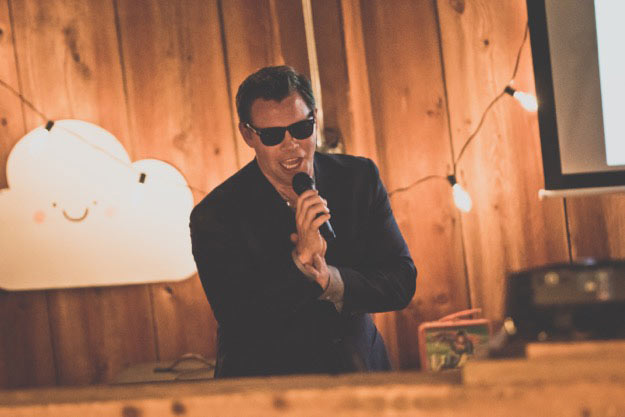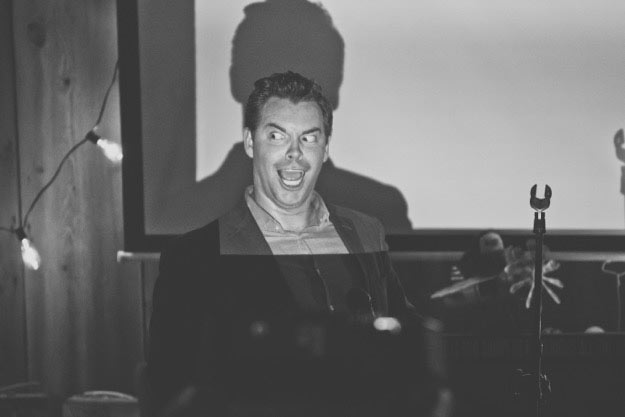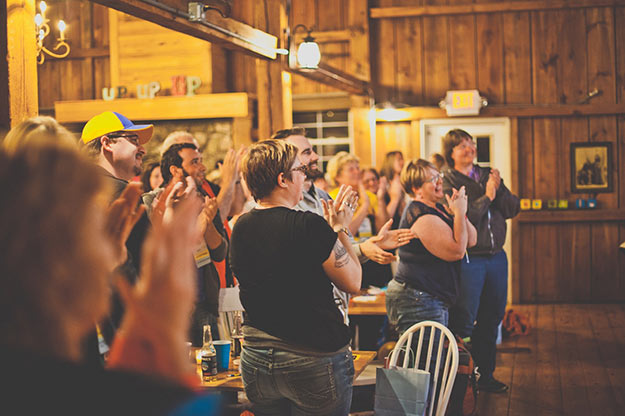 He also does the best Jurassic Park velociraptor you've ever seen in your life.
Disturbingly good. With extra disturbing.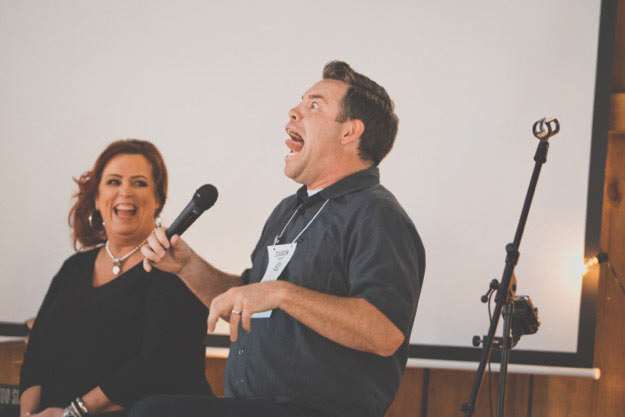 During the intermission between Kelly and Jason, we served up Wisconsin cheese curds and everyone got a special Escape Adulthood Summit edition bottle of Jones Soda.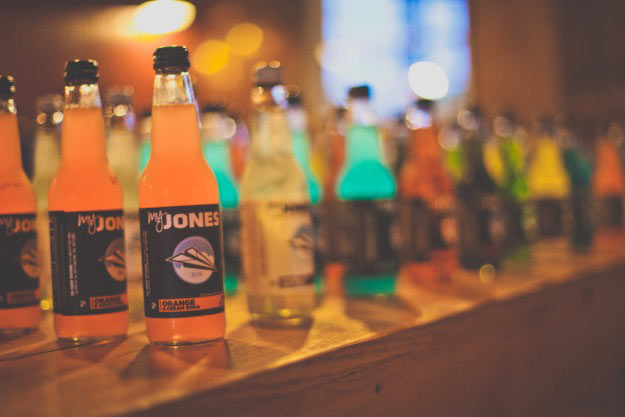 We always love having fun at dinner time! For one meal, we ate dessert first (peanut butter & jelly shakes!) and had an "accent dinner." Each table was given an "accent" to speak in, along with some props for inspiration.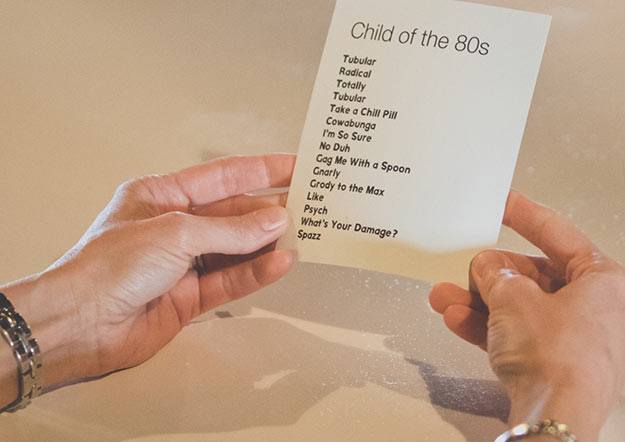 Some of the accents included royalty…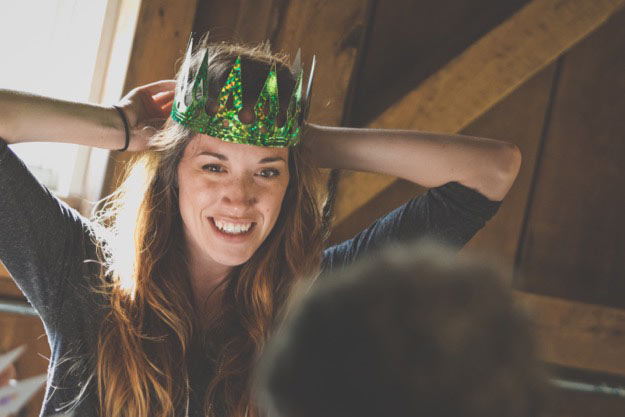 …robots…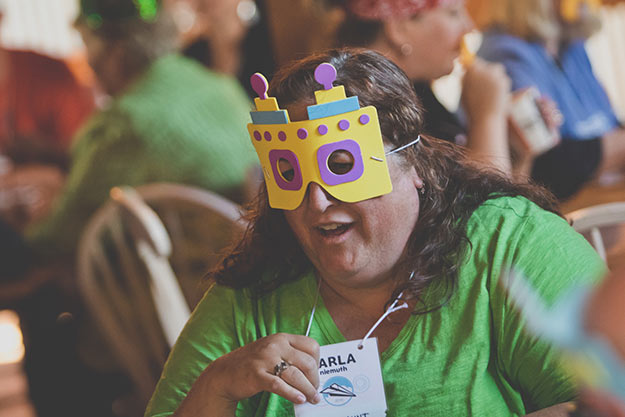 …space aliens…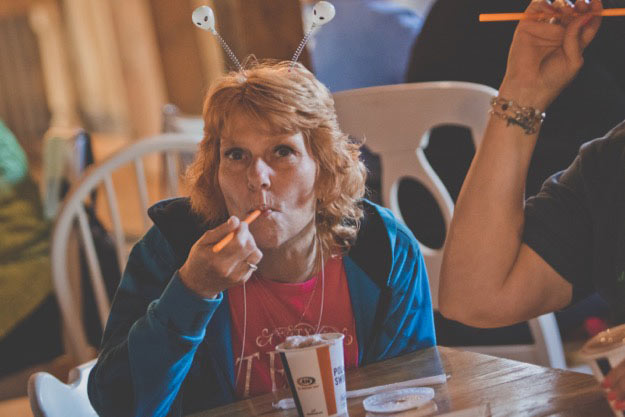 …and wrestlers!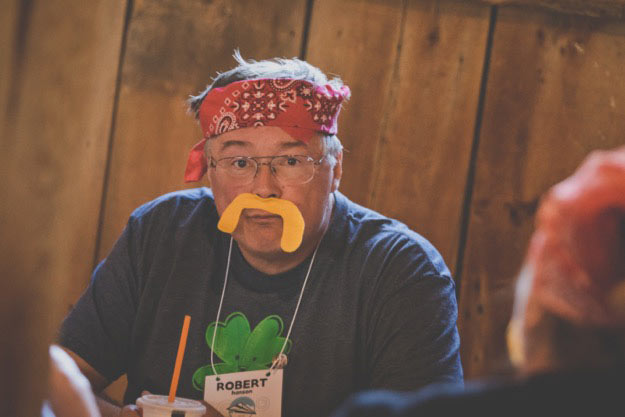 "Whatcha gonna do, brother??"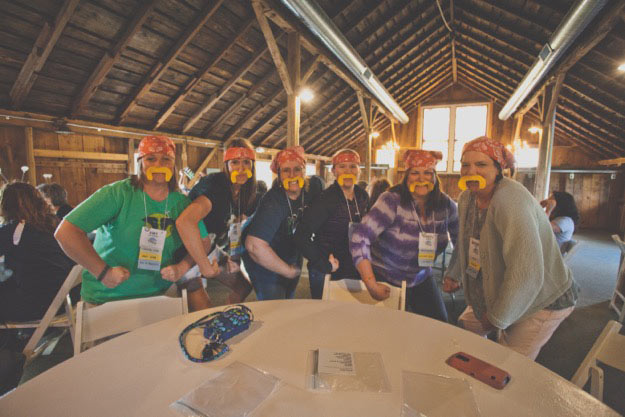 We served up a good 'ol fashioned country dinner, complete with pork chops, red potatoes, corn on the cob, and homemade applesauce.
And thanks to the outdoor fireplace, we were able to offer s'mores!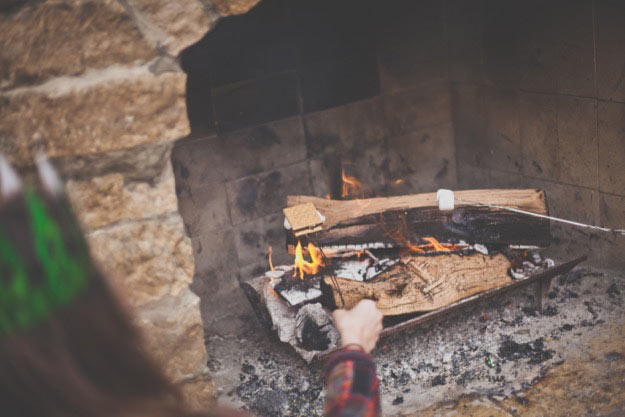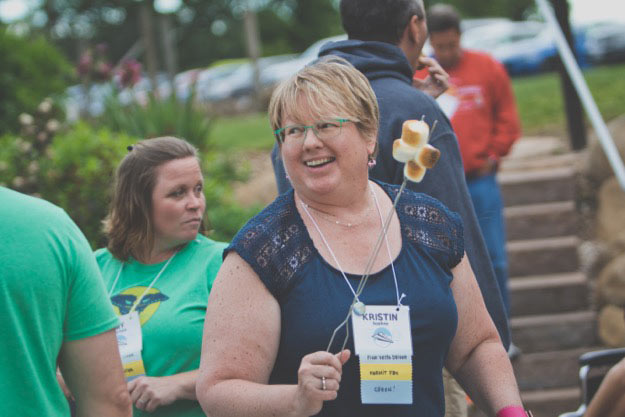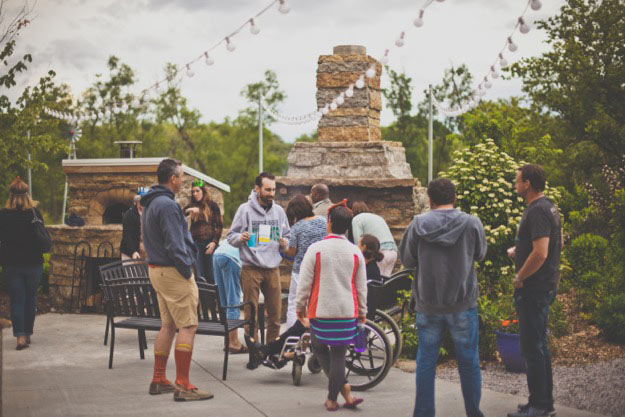 For the other dinner, we put a grown-up twist on a childhood favorite by offering lobster mac & cheese.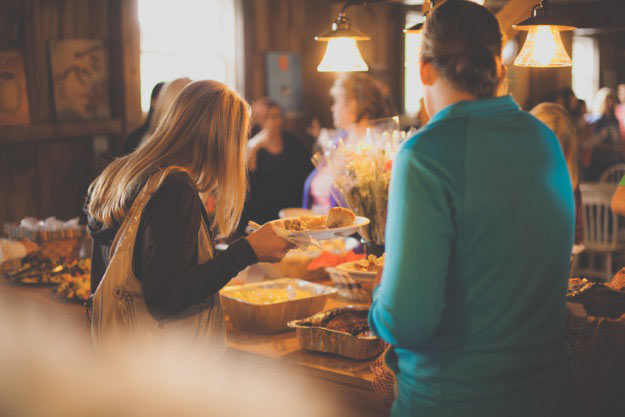 And we sprinkled in some fun by handing out tiny spoons to eat it with!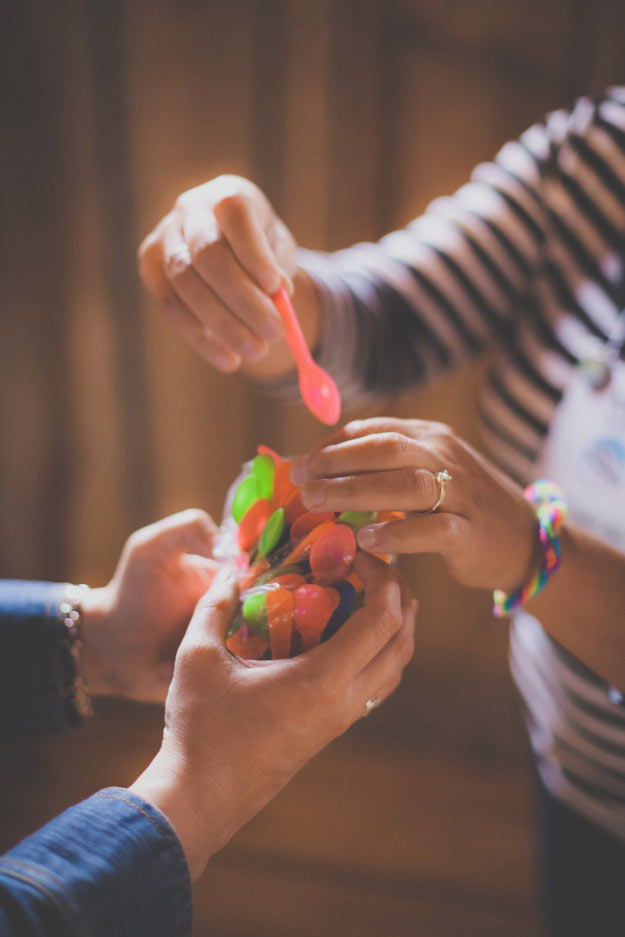 Many were adventurous enough to try. :)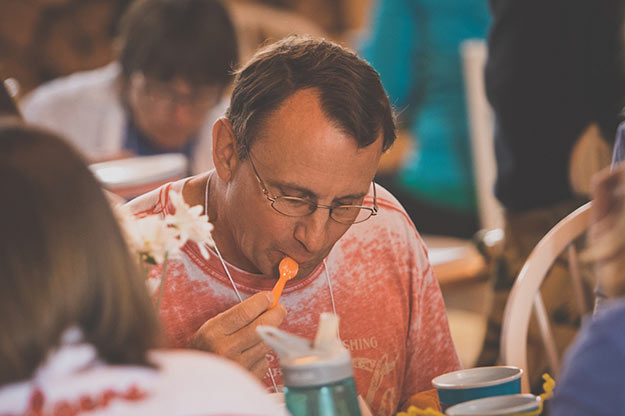 Of course, recess is a given, with a number of options available to just get outside and have some fun!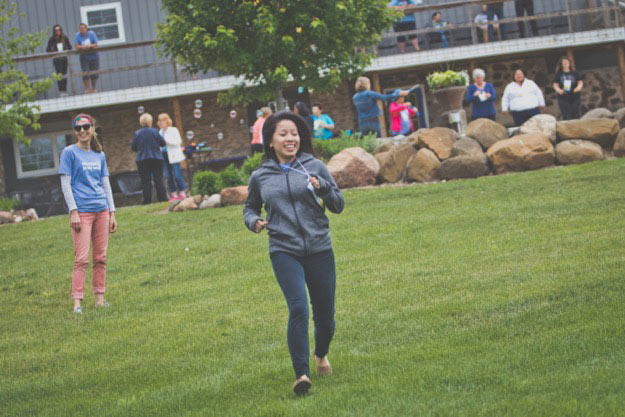 From bubbles…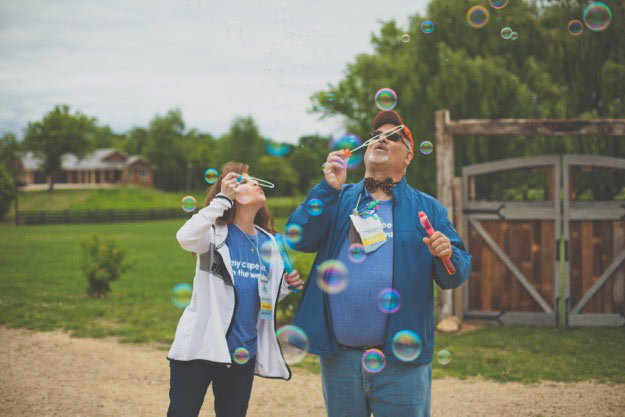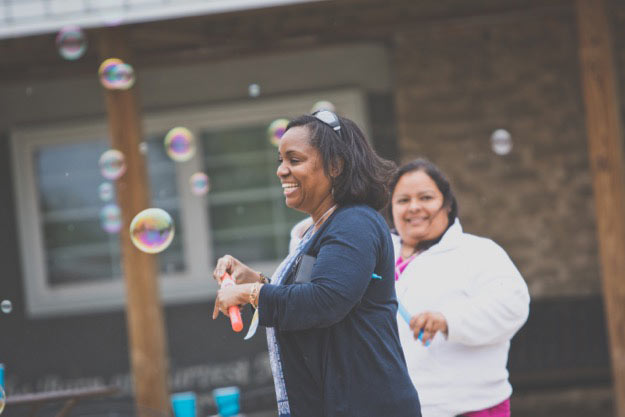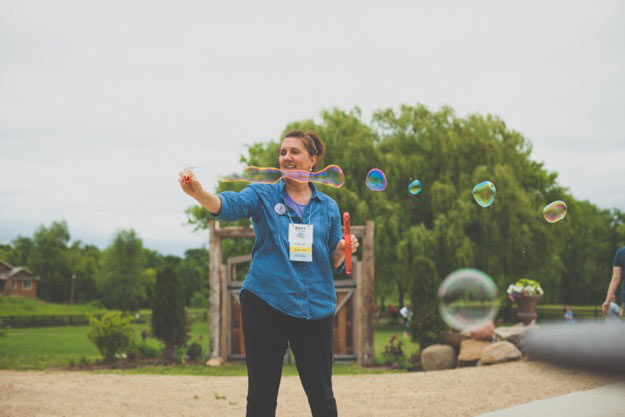 …to kites…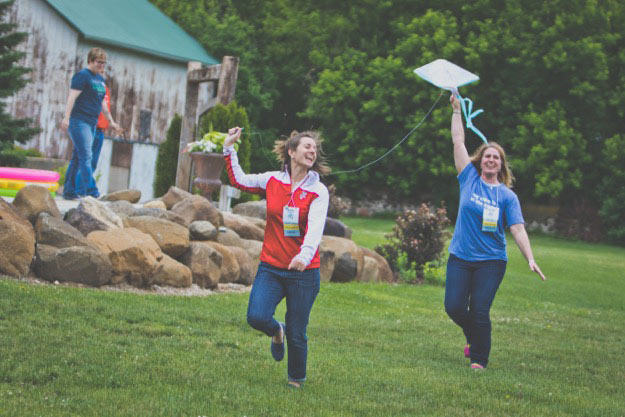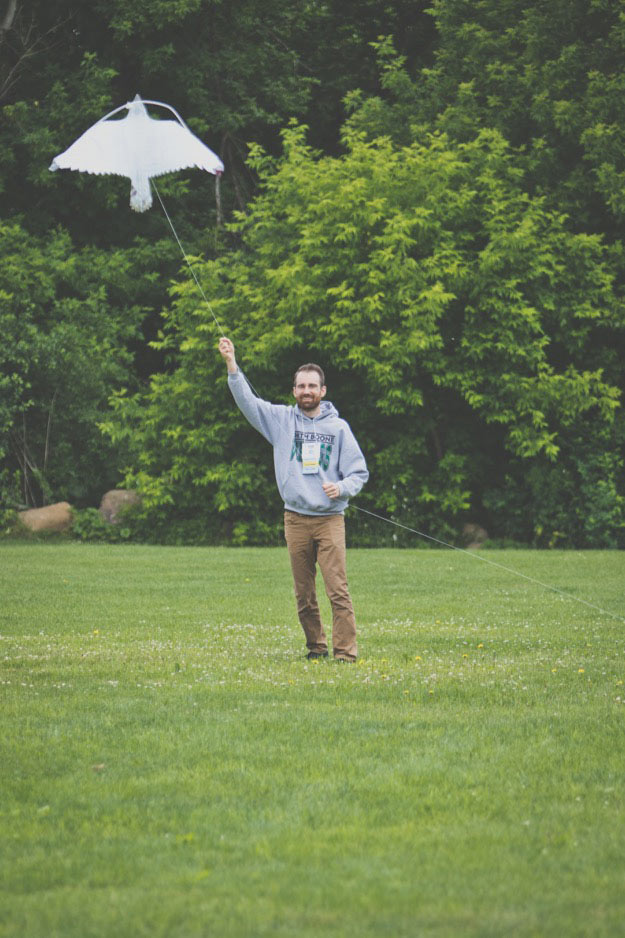 …and from kickball…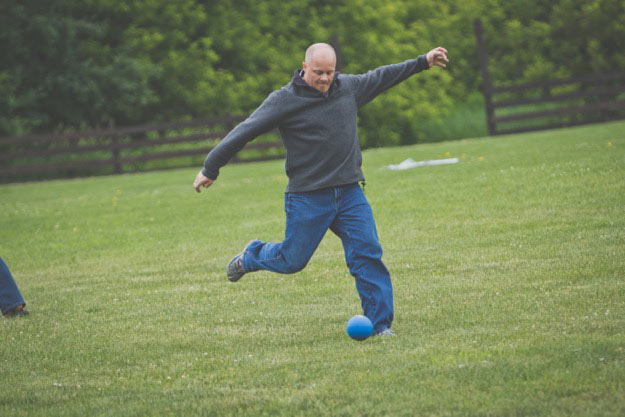 …to playing with little rubber duckies.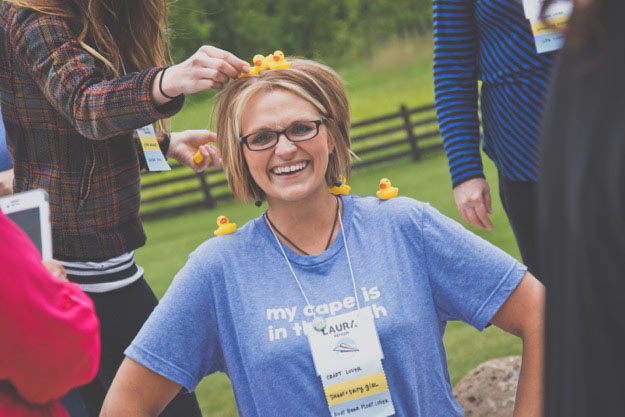 Meanwhile, the Summit seemed like a perfect opportunity to have a little art show. Literally. I unveiled some tiny originals that I'd been working on as part of my 2016 Tinker Project.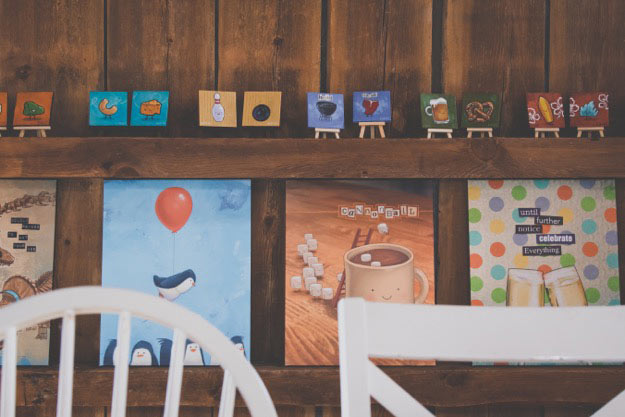 The Best Friends Forever Show was a big hit, with half of the sets selling over the course of the two days!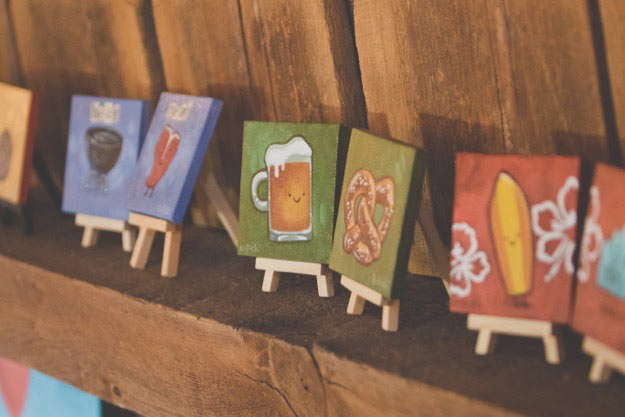 Speaking of art, another fun new thing we did was an art project. In a feat of technical prowess that I am especially proud of, we were able to project an overhead view of my demonstration on the screen behind me, using an iPhone, my laptop, a projector, and FaceTime over the WiFi. My brain hurt trying to figure out how it would work, but it did!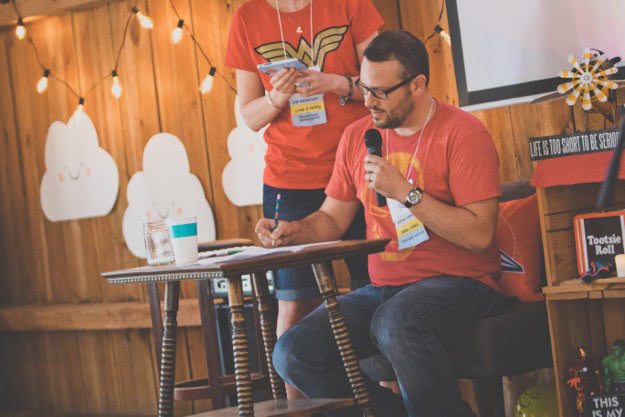 Every attendee got a paintbrush and a neat set of watercolors, and I demonstrated a few simple techniques.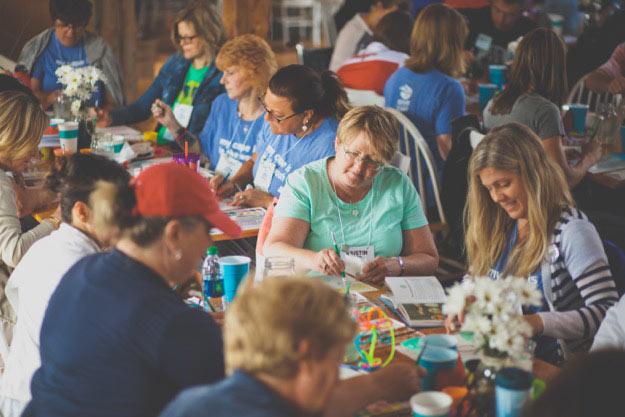 The sun was shining so beautifully through the barn windows, and it made my heart sing to see everyone thoughtfully creating their masterpieces. One attendee said it had been fifty years since he'd done something like that.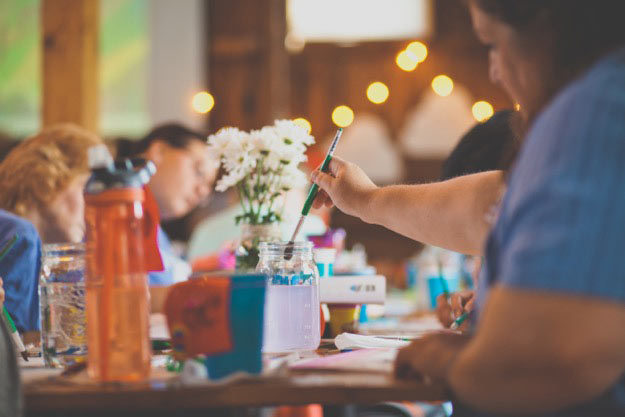 There was no pressure to mimic some other picture or master any particular technique. The only point was to play.
Near the end, everybody got a signed limited edition print featuring art I made specifically for the event.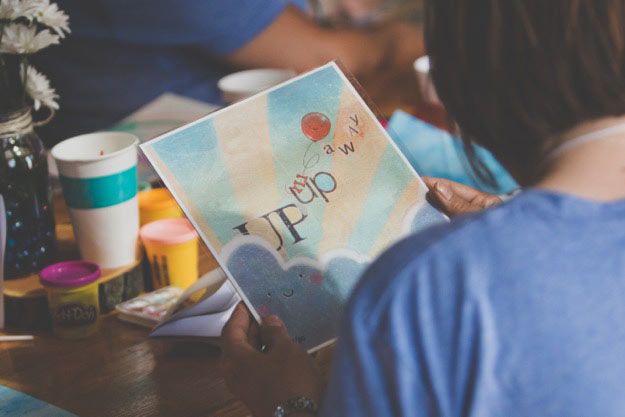 But we saved the best surprise for last.
Kelly told a wonderful story about the time her son was running around the house wearing a cape.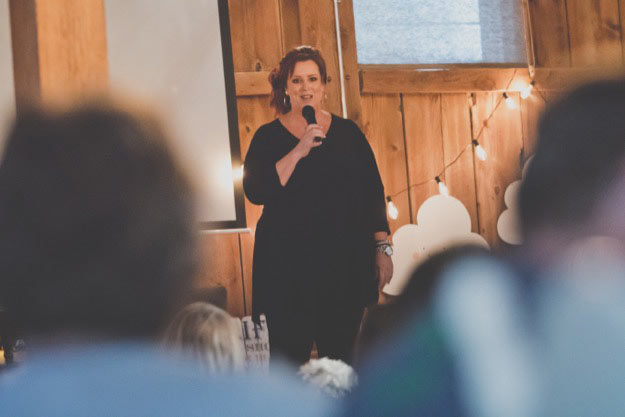 She scolded him as he was about to leap from a precarious position, when he calmly replied, "Mom, sometimes you just have to trust the cape." With that, we handed out white boxes to each attendee…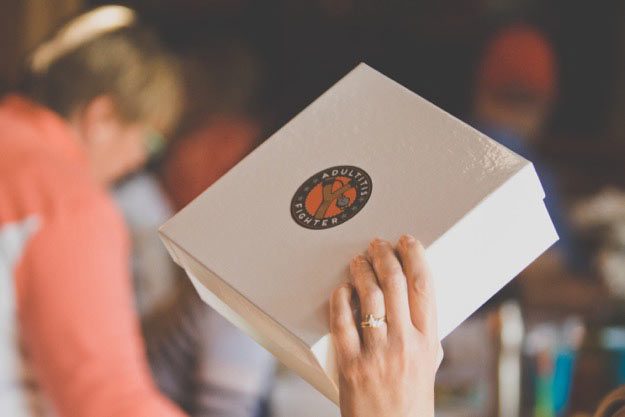 …each one containing a custom-made superhero cape!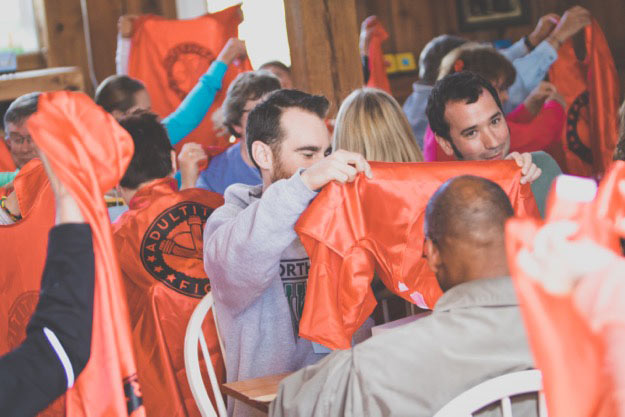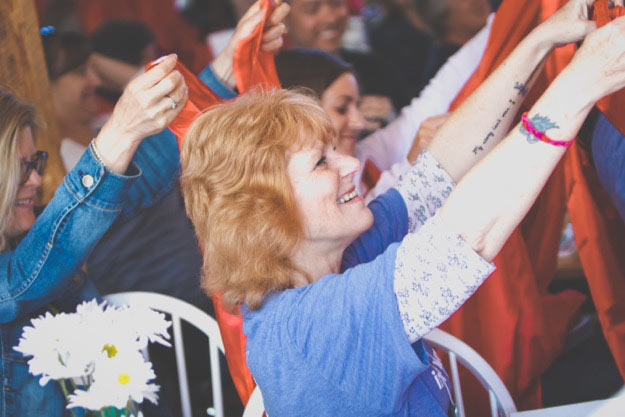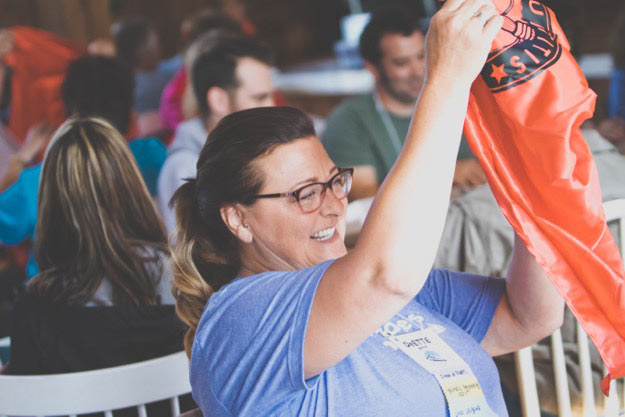 It was such a magical moment as everyone squealed with delight and eagerly tried on their capes. We suddenly had a room filled with five-year-olds!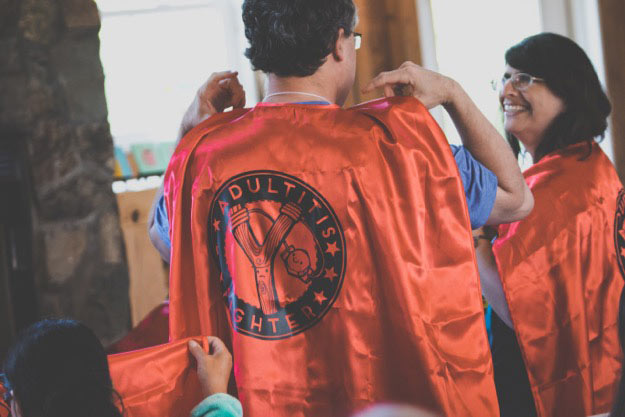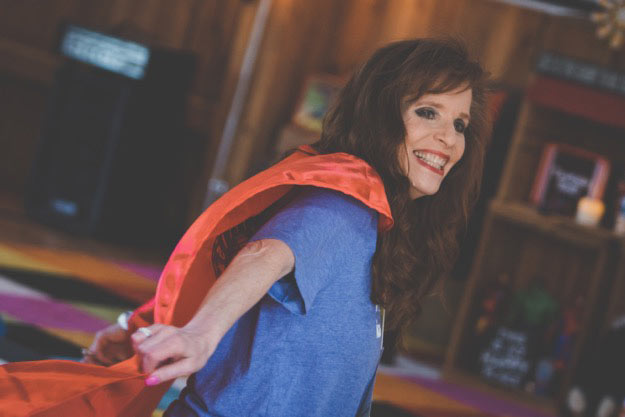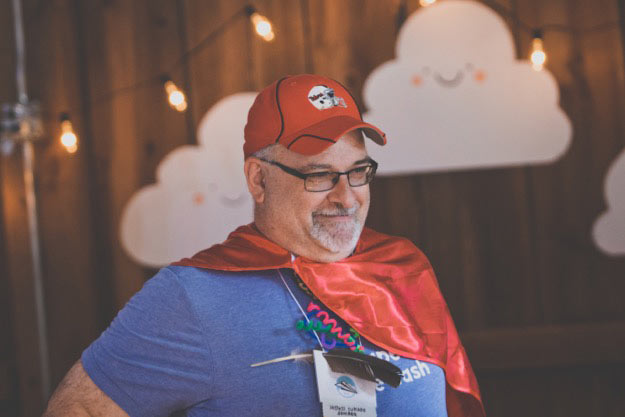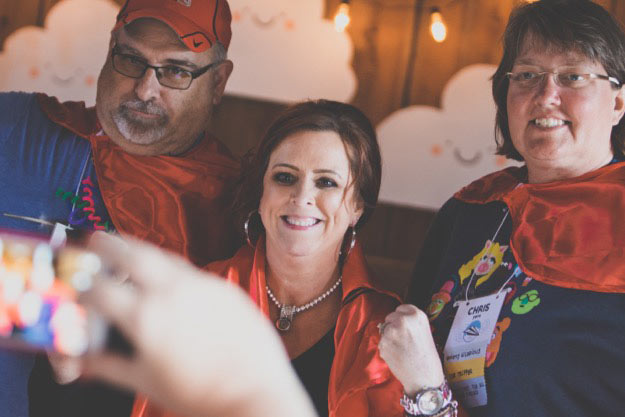 So many great memories! It's a close call, but for me, the best thing about an Escape Adulthood Summit are the smiles…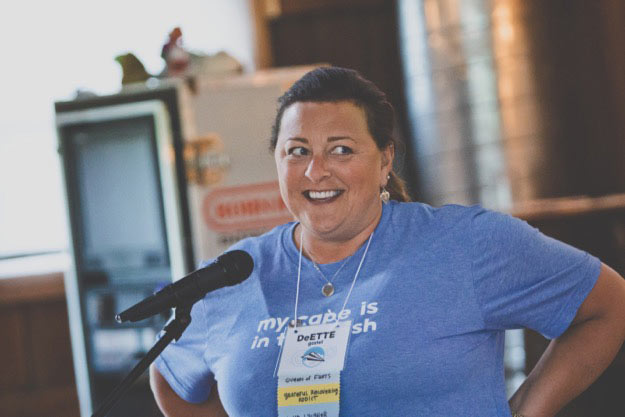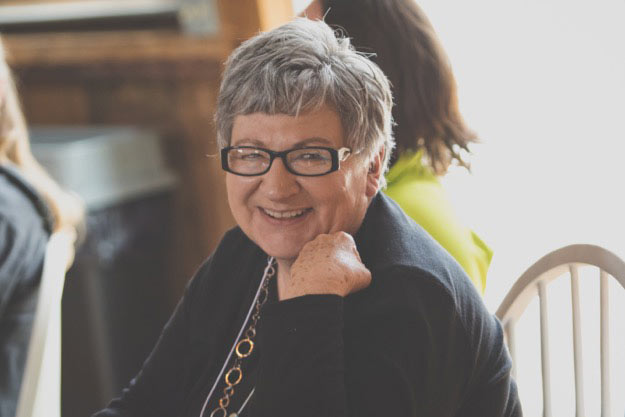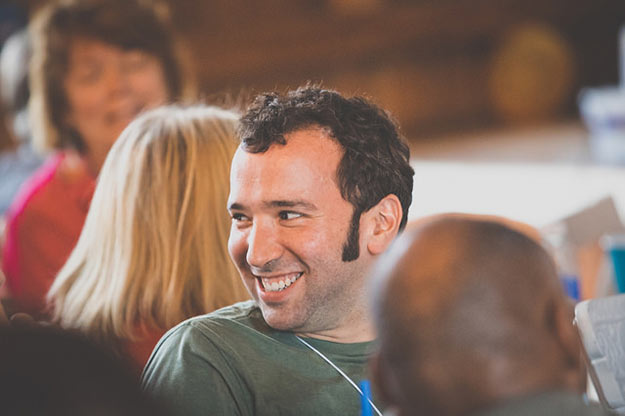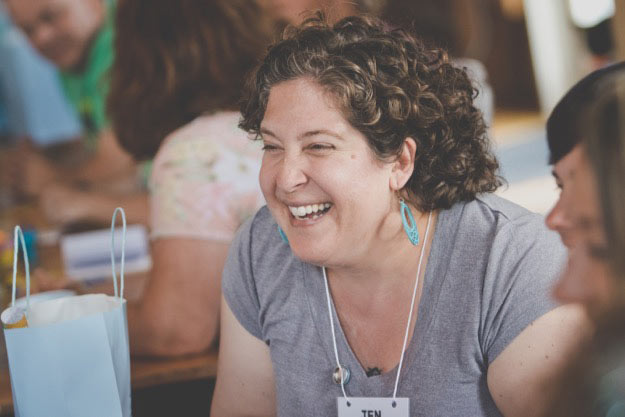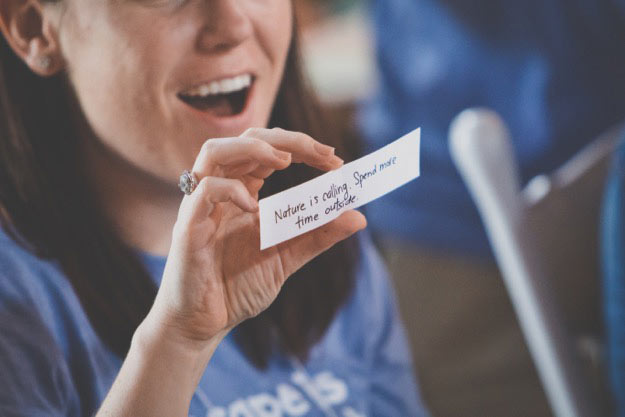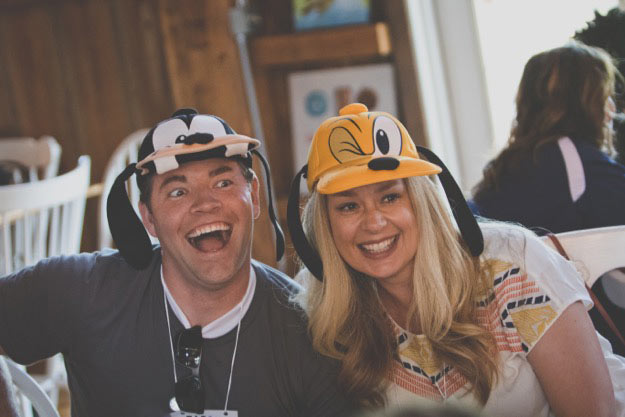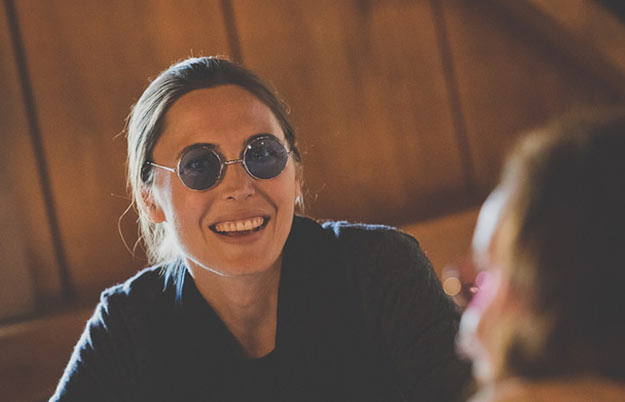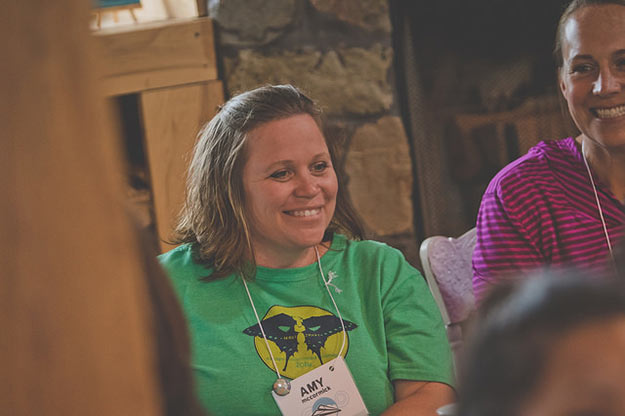 …and the hugs.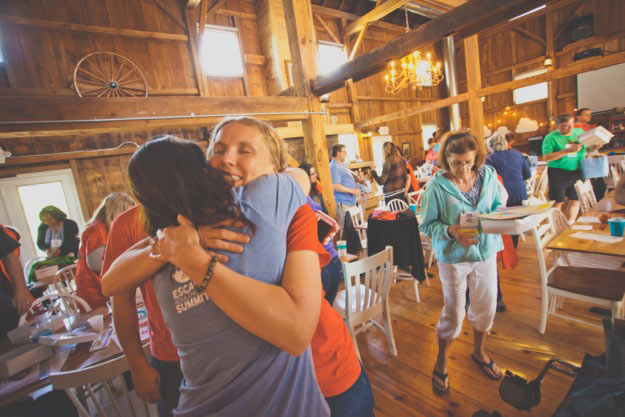 This has been one heck of a long post. Believe it or not, I've only covered a fraction of the fun and inspiration and magic that went down. But before I close it up, I have to give a special shout out to four people whose behind-the-scenes work helped make the Summit go as smoothly as it did. We couldn't have done it without you, Sara, Sue, Lynn and Jenna!!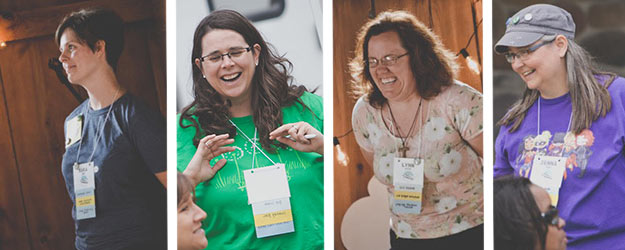 This was our fourth Summit. We have no idea how to top this one, but we did come away feeling that all the work is worth it.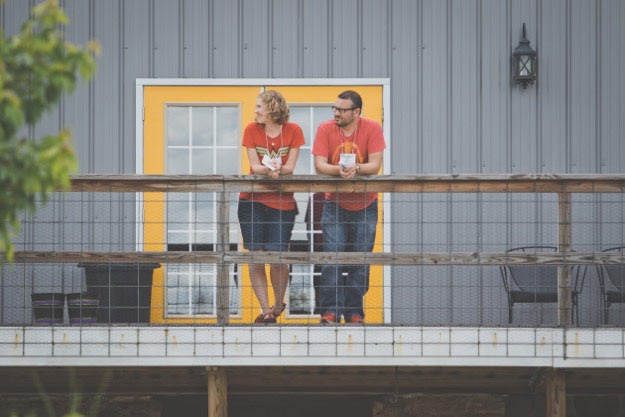 We also discovered that as much as we try our hardest to infuse this event with magic, it's really the people who attend that bring it, with their willingness to be open, vulnerable, and silly. We are just honored to be able to throw the party they deserve.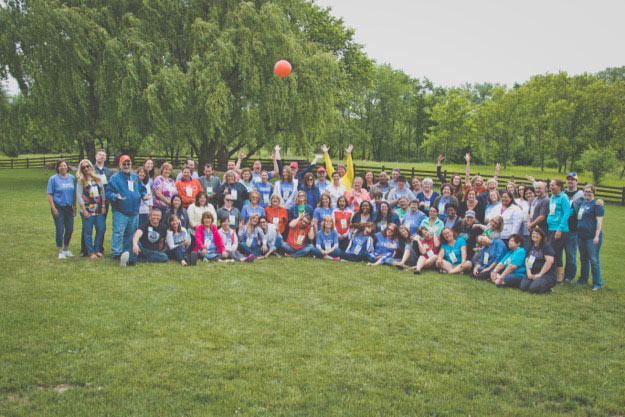 [ Here's a link to all the photos from the 2016 Summit, taken by the amazing Quinn Paskus. ]