My dad recently had to put our dog to sleep. I say "our" as if I still live there and ever really contributed much to the dog's welfare. I didn't have quite as much animosity toward the dog as my mother did, but then again, I didn't pay for the carpet Odie liked to pee on.
Yes, our dog's name was Odie, and Odie was a she. We had two dogs in our household, and for some reason, both were females that we named after male cartoon characters. (Snoopy was a black mutt that looked nothing like her namesake. And for the record, Odie was not a slobbering yellow pooch with puffy ears, but rather a spitting image of Toto from The Wizard of Oz.)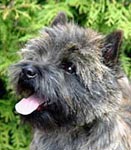 Anyway, Odie was with us for about 15 years. I never could figure out the whole dog year conversion thing, but as best as I can tell, she would have been the senior member of The Golden Girls. Towards the end, she had a lot of problems: arthritis, hearing loss, and strange lumps in strange places, just to name a few.
Odie was a pretty good as far as dogs go. When she met me at the door upon returning from school, she acted like she had won a car on Wheel of Fortune. Now maybe it's because I'm not what you'd call a big dog person, but I never once thought of Odie as being "stressed out." And it certainly didn't cross my mind to book her at a day spa. But perhaps my book should have included a special section just for dogs…
The Des Moines Register points us to a licensed massage therapist that caters to canines:
"Everyone likes to be touched, and pets are really the same as people," Eklund said. She said the technique she uses is different than just a typical petting, where she carefully feels for the tight muscles and stress knots that she would in a people massage.

"Your dog benefits from massage, and there are some really good long-lasting effects," she said. General wellness, muscle stimulation and strengthening, pain relief from arthritis or cancer, and reduction in behavioral problems such as hyperactivity or separation anxiety are some ways canines may benefit from massage.
An interesting concept, to say the least. I know that my wife Kim would definitely attest to the relaxing and rehabilitating power of massage. But I can't help but wonder: what does it say about our country when even our dogs are stressed out?
I can see the sequel already: 8 Secrets from Puppyhood for the Stressed-Out Dog. If only dogs could read.
Something tells me Snoopy and Odie would have liked the comics.