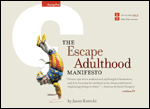 A big, fat, juicy thank you to everyone who voted for my manifesto at ChangeThis.com. The happy news I have to report is that it garnered enough interest to be published on their web site. Basically, it is a summary of my book, an overview of why and how to escape this thing called "adulthood." The manifesto itself is free to download, and you can even e-mail it to your friends to pass along. If you really, really like it, a more in-depth version was printed on dead trees in book format.
Read the manifesto. Spread the word. And cure Adultitis.
Thank you and good night.