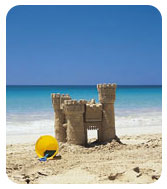 It's amazing to me. At one time or another in our lives, we've all been experts at playing. I'd even go so far as to say that a vast majority of us were playaholics.
And yet, how is it possible that so many of us can grow up and completely forget how to play? Is it possible for a dentist to retire and then forget how to brush his teeth? Or for a kindergarten teacher to forget the alphabet? Of all of the secrets from childhood that we once knew so well but have since forgotten, play might be the one disregarded trait that befuddles me the most.
I spend a lot of time encouraging busy, overworked moms to free up some time for bona fide episodes of frivolity. But guys are far from perfect in this area. They're pretty good at squeezing in Monday Night Football and a game of backyard bocce, but as an article from Great Britain's Times Online notes, they are also well-known for "trudging round resorts with personal organisers and mobile phones, making regular calls to the office."
Hooray to the German Holiday Academy for taking up the daunting task of (re)teaching grown-ups how to play. Special courses have been set up in five German cities to help guys become better playaholics:
The sessions cost £200 and provide expert instruction on "holiday skills" from dressing casually to dancing, applying a partner's sun lotion to building sandcastles with the children.

The instructors of the German Holiday Academy have been inundated with applications. Wives are sending along husbands who have grown accustomed to trudging round resorts with personal organisers and mobile phones, making regular calls to the office.

The instructors are skilled in persuading tired adults to scrabble in sand with a bucket and spade, and they jazz it all up with a little meaningless jargon. Sandcastle building comes under the description "social integration".

In Düsseldorf, where the academy has set up a huge sandpit next to the Holiday Inn business centre, Axel Zundler, one of the instructors, explained his philosophy.

"Releasing the inner child is heartily encouraged," he said. "It is amazing how quickly grown men and women revert back to childlike behaviour once their shoes and socks have come off and they feel the sand between their toes."
As frustrated as I get with the propensity of adults to forget the art (and importance) of play, I am relieved to hear that rehabilitation is as simple as a little sand between one's toes. So, while there is still a bit of summer left, grab a friend, find a beach – even an open grass field will do – and give your feet a treat. Just leave the cell phone and PDA at home.