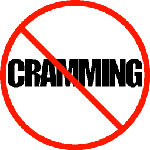 Have you ever read something that immediately makes you feel sick to your stomach? This is how I feel right now after having read the article entitiled 'Cramming For Kindergarten,' featured recently on CBSnews.com. I think the title gives you an idea of what road I am going down. Yet another example of adults, and in this case parents passing on their Adultitis to their little ones. Tragic! The article talks about parents who have chosen to seek out tutors for their pre-schoolers, in order to help them 'be ready' for the academic demands of Kindergarten.
Christine Califano, one of the parents shares:
"It wasn't that she (her four-year-old daughter Haley) had any kind of limitations. It was that she really wasn't interested, and she needed to be motivated a little more. It is unfortunate that you have to do all this preparation for kindergarten, but you really do."
Really? Do you? …Why? How many 'motivated' four-year-olds have you seen lately? Not every child wants to read at age four or even shows interest in letters, numbers or writing this early. Sure, Haley may have a little catching up to do with her ABC's when school starts, but I would like to see if she needs a tutor to help her run on the playground or imagine in the house area or dig a tunnel in the sand table or laugh with a friend?
One may argue that this parents cannot be faulted for wanting what is best for her child. I would argue that the best thing for a preschooler to do, in order to 'be ready' for school is to BE A KID.
The homework looks like this: catch bugs, sneak some cookie dough from the bowl, jump in the biggest puddle you can find with your 'good' clothes on, play hide-and-seek and scream when someone finds you, let a dog lick your face until you can't stop laughing, hide out in a tent made of blankets and couch cushions, master the art of the Kool-aid and milk mustache, make play-do snakes, grow a bubble beard in the bath, loose your way in a wild story, get goose-bumps when your parents kiss you good-night, get muddy, fly a kite, enjoy the scratchy sound of your training wheels, finger-paint, play 'house', and my personal favorite – swing!
Heck, I'm trying my hardest to get back to this life now. The creativity, the innovation, the imagination, the perspective– so pure and innocent. It is a true tragedy to see this stolen from the little ones who teach us so much about life.