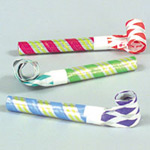 My family assembled this past weekend at my brother's new apartment here in Madison for my Dad's 52nd birthday party. We all chipped in for a brand new DVD player. His old one was out of commission because "someone" inadvertently put two DVDs in at once. DVD players don't like that. When the disgruntled DVD player refused to eject the discs, my Dad decided to take matters into his own hands and disassemble the thing. And as life will teach you, taking something apart is much easier than putting it back together. Thus, the need for the new DVD player.
But I digress.
I was exceptionally surprised by a gesture my parents made shortly after dinner. They said that they had been thinking about my book, which led them to think about the birthday parties of childhood. When a kid has a birthday party and invites his or her friends, they reasoned, usually the guests get some type of party favor. So they decided that in an effort to "return to childhood," they would provide favors for all of their guests. (Originally, the party was supposed to be back home, so they had to lug the bags of goodies with them once plans changed.)
From a rather large cardboard box, my father began pulling out little Darth Vader bags jammed with colorful treasures: gummy candy in the shape of cafeteria food, a Star Wars Pez dispenser, Razzles, and long candy necklaces for the girls and foam disc guns for the boys. Everyone got one–me and Kim, my brothers and their wives, and my two nieces.
And I'll tell you what: it was one of the funnest (I know, not a word) birthday parties I've been to in a long time. The gesture may seem cheesy to an outsider, but it was fun digging into the bags to survey the loot, trading Pez dispensers, and biting into gummy pizzas. It was a little thing, but it really added a lot to the evening. I highly recommend it for your next party, particularly if there aren't any kids around. People may give you strange looks at first, but it won't be long before the five-year-old inside them starts puffing excitedly on those cheap–but fun!–paper blowout thingys.
Way to go, Mom and Dad.