Got back from Seattle yesterday. A full day of speaking engagements on Sunday wore me out, but they went really well. I'd like to welcome all of the new Kim & Jason readers in the Pacific Northwest…thanks for the warm reception!
I'm glad to be home for a sense of "normalcy" before Kim and I are off to Rhode Island and Boston in a few weeks, but I can't wait to go back to Seattle for another visit. Great city, great people. It reminds me of Madison on steroids.
Kim and I had Saturday off, and we crammed in as much sightseeing as we could. We drove west to see Snoqualmie Falls, which reminded me of two things: The way down reminded me the awesomeness of God's creation; the hike back up reminded me that I will not be confused as a competitor in the Ironman World Championship anytime soon. Then we headed back to the Seattle waterfront, where we got to watch feeding time for the otters at the Aquarium. (To watch a little video of this ordeal, click here and then turn your monitor on its side:)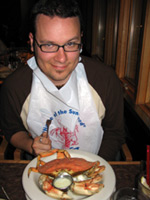 We had to head back to the Pike Place Market, where we discovered the extremely childlike "Gum Wall," which is a brick wall under the market featuring many, many wads of discarded gum from locals and tourists all over the world. Perhaps it's my artsy side coming out, but I found it to be quite beautiful. Kim thought it was cool, but even though she is smiling in this picture, she was pretty much disgusted by it.
After a ferry ride across Puget Sound, we finished our day at Anthony's at Pier 66 for dinner. Thanks to some cajoling from Kim, I went ahead and ordered the fresh dungeness crab, which, I am happy to report, was pure heaven in an exoskeleton. I got an official bib, too.
All in all, a great trip and a great opportunity to help people Escape Adulthood. It was nice meeting some new friends.
And eating others.