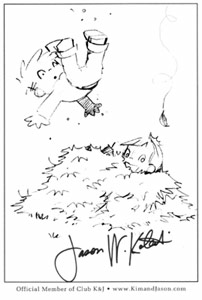 We've batted the idea for a paid subscription around for a long time here at Kim & Jason Headquarters. We finally and officially launched the new Club K&J last week, and I'm pretty excited about it. I've always wanted to keep the daily strip free. I think that's very important, not only to help spread the word about Kim & Jason, but also for the kids and other folks who don't have any money to shell out to read the strip (even though it IS only seven cents a day.) But as the web site has continued to grow, it's become pretty cost prohibitive to keep it all going. So we've come out with a pretty cool package of benefits to help defray the cost of maintaining everything while offering some nice perks for the people who love Kim & Jason.
So far I have been very happy with the response. In fact, I'm exceptionally blown away by the number of readers who have elected for Level 3, which includes some cool merchandise and a custom drawing from yours truly. This enthusiasm has led to a wrist cramp as I churn out sketches with a busy ferocity (Jocelyn Erickson, the one above is on its way to you!) And my brain is also pretty busy, abuzz with ideas for the upcoming exclusive Christmas premium we'll be sending out (all subscribers receive this little goodie) and thoughts on more benefits to add for members. (There has been talk of putting together a Kim & Jason magazine, possibly in digital format at first, featuring comics and articles about Escaping Adulthood.)
The whole idea of doing a Christmas premium came to me when I was talking to my brother, who is a dedicated member of the Pearl Jam fan club. The band produces a special Christmas single each year and sends it — on vinyl! — to their members. They have become quite coveted as collector's items. My goal is to come up with something similar for Club K&J. Like I said, my noggin is filled with ideas, but I'm always open to more (just leave a comment:)
Didn't mean to drag on and on, but I'm excited about the direction we're headed and grateful to all the new subscribers. Welcome aboard!
As for the rest of you, we'd sure love to have you along for the ride!