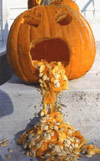 Happy Halloween! I found this picture over at BigPinkCookie.com and it inspired me to write the following post:
Mounds. Popcorn balls. Good N Plenty. Circus peanuts. Black licorice.
That's my vote for the top five worst Halloween candy (candies?) of all time. And candy corn, you just missed the cut.
What are yours?