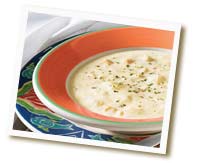 Kim and I are just outside of Boston this morning. I'm almost at the end of a busy 3-day speaking tour here on the east coast. We were in Portsmouth, Rhode Island on Sunday, Boston last night, and we're on our way back to Portsmouth for another presentation tonight. We've been able to sneak in a little sight-seeing, but this nagging head cold is really bringing me down. It's the story of my life.
Back when I was a kid, I would always get sick around big holidays: Halloween, Christmas, birthdays. Just too much excitement for my little body to take. Well, my body is a little bigger these days, but apparently it's still too small to handle all of the excitement 
Kim and I had a chance to take the blue line subway train into downtown Boston yesterday and had just enough time to grab a bowl of yummy New England clam chowda and walk around a bit. We saw Paul Revere's house, Old North Church, and Copp's Hill Burying Ground. My highlight of the day was last night, when a little girl, probably in fourth grade, came up to me and said, in a thick Boston accent, "You draw wicked good."
I plan to blog a little more on some of the sightseeing highlights, especially in Newport, Rhode Island, but for now, here's a link to an article that ran in The Newport Daily News yesterday.