Now that I'm back from the East coast speaking jaunt (next up: Fort Worth, Texas) here are a few curious facts and thoughts:
Most of our time was spent in (or should I say on) Rhode Island. Fr. Gray informed us that the actual name of the state is Rhode Island and Providence Plantations, which simultaneously makes it the smallest state with the longest name. Newport, the southernmost town on the original Rhode Island, was beautiful.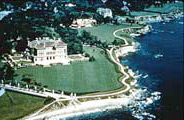 Kim and I got to tour a few of the famous mansions in Newport, namely Rosecliff and The Breakers. Rosecliff was featured in a few movies, such as The Great Gatsby and True Lies. The Breakers, built by the Vanderbuilt family, was simply breathtaking. The craftsmanship was truly remarkable and much delight and attention was paid to the little things. Originally built as a summer "cottage," The Breakers features 70 rooms, 20-something fireplaces, and a panoramic ocean view. My favorite story from the tour was of one Vanderbuilt who fortuitously canceled his plans to sail on the maiden voyage of the Titanic, only to later book himself on the ill-fated Lusitania.
Boston was pretty cool, from what we saw. We didn't have much time there, but did get to eat more chowda and see Paul Revere's house. The history and folklore of the area is so fascinating — it's brings out the curious little boy in me. I have always liked history in general, but I was struck that I am so much more interested in it now than when I was in school. Maybe it's because no one is forcing me to remember stupid dates. Maybe it's because textbooks can only go so far in bringing the past to life. Maybe it's because you need a little life perspective for history to mean something.
Maybe like a fine wine, our curiosity becomes richer and more valuable the older we get.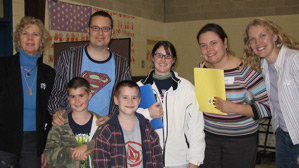 Here's a link to some of the photos my curiosity urged me to take.
Finally, thanks to Nancy, Fr. Gray, and everybody at St. Anthony's in Portsmouth and Sacred Heart in Lynn. Kim and I had a wonderful time meeting you all. We had a "wicked" good time and can't wait to visit again.