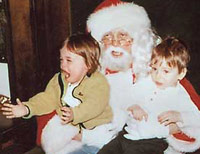 Hopefully you've been enjoying the comics this week featuring Kim and the Mall Santa. I know I had a blast writing them. Jason stayed home this year — too scared, I mean sick. The Mall Santa really freaked me out when I was a kid. It is comforting to know that I wasn't alone.
SouthFlorida.com has put together a gallery of screaming toddlers, scared silly by the big guy dressed in red and smelling of, um, chimneys. The first few photos are from Chicago Tribune's "Scared of Santa" contest, and the rest of them were submitted by readers of SouthFlorida.com.
You definitely need to check them out. They are HI-larious.
ALERT!! Shameless Plug: Meanwhile, don't miss out on all the fun of Club K&J. Read all the Mall Santa strips in the Episode Vault and catch up on Kim's Mall Santa tips as seen in INDIGO this week.