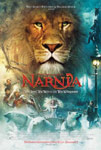 This past weekend, Kim and I did our part to contribute to the $65.5M opening of The Chronicles of Narnia. Great, great movie. I must admit, I haven't read the books (although I just bought the entire collection
and I'm partway through the prequel to The Lion, The Witch, and The Wardrobe.That being said, you definitely don't have to read the book to get the movie. For those who have, I understand that they were very true to the original story, written by C.S. Lewis. I'm glad the movie went well, because I'm a big proponent of supporting the good stuff that comes out of Hollywood. There's a lot of junk on TV and movie screens, but it frustrates me that the same people who protest what's wrong with the entertainment biz often don't support the stuff that it does right. While I think Hollywood has its share of ulterior motives, I really think it comes down to the almighty dollar. For better or worse, they make what sells.
Anyway, the story is great, the young actors do a wonderful job, and the special effects are breathtaking. I heard someone mention that C.S. Lewis never wanted his stories made into movies. I can hardly blame him, when you look at the quality of movies in his day. Even George Lucas has expressed that due to technical restraints, it was difficult to fully achieve his vision when he was making the first set of Star Wars movies in the 1970s and 80s. But Peter Jackson, director of The Lord of the Rings and the upcoming King Kong, has stated that we are now in the age of film making in which it is possible to do anything on screen that one's imagination can conceive.
Good thing for Mr. Lewis, because his imagination was as wild as a four-year-old boy's. The handling of the lion, Aslan, is spectacular, not to mention the stunning battle sequence featuring a myriad of real and fantastical creatures. The movie offers a positive message, drawing on the timeless theme of good versus evil, but it's not preachy. It is violent at times, but not really gory at all.
Sometimes movies of this type offer up glamorous special effects as the star, leaving the story to fall flat. I was hoping that wouldn't happen. Thankfully, Disney DID stick to Lewis's time-honored story, and the actors did a fine job. I especially liked the performance of Tilda Swinton, who played the White Witch.
I heartily recommend this movie to everyone (except maybe really little kids — it can be a bit scary at times), especially any Adultitis-stricken grown-ups who would like to get swept away in a fantastical, thrilling tale of childlike wonder and imagination.