One more take on Kris Kringle. Reveries magazine reports on a new way for the kiddies to chat with Santa. Maybe the thought of sitting on Santa's lap is a tad too terrifying for little Jason…but what if Santa made a phone call?
"She didn't want to have anything to do with the big fat man," says Cindy Richards, referring to her 3-year-old daughter's response to a real, live, retail Santa Claus. It was another reaction entirely when Santa rang her up by phone, however. Little Cassidy Richards "froze in giddy shock, the phone locked to her ear … 'I love you Santa,' she whispered."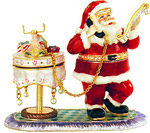 It's a growing business and a popular alternative to standing in line at the overcrowded malls. Parents can hook up with Santa online at web sites like Santa Calls Kids and Santa Speaking. What's especially neat is that the big guy is fully briefed before every call. He gets the 411 on the child's wish list, siblings, teachers, and what was under the tree last year. Sometimes Santa even adds a bit of bonus realism to the conversation, by asking "the child to hold while they scold Rudolph for coming into the house with wet hooves."
If Santa called me up, I'd be sure to ask him why he insisted on always bringing me socks.