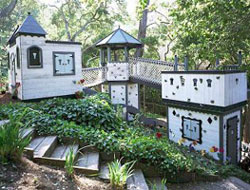 Now this is just plain cool. I know that "cartoonist" ranks pretty high on the list of fun jobs, but "play fort designer" is right up there too. If you have about $100,000 to burn — and who doesn't? — you can have Barbara Butler custom design a backyard play structure. (Non-custom designs will run you about $80,000 less).
I especially like her philosophy: 
Create a great backyard play structure that's an outdoor playroom.  Make it beautiful to look at and strong enough for the whole family to play on.  Spark the imagination and encourage kids to turn off the TV and computer, and go outside to play!
I'm not sure how big this market is, but it's big enough for at least one person to make a living doing it. During my talks, I often reminisce about those tests they make you take in high school to find out what careers you should consider.  I could never have imagined — let alone written — my present-day job description when I was in high school. It's not one of those cookie-cutter jobs that attract resumes that all look the same. It's custom-designed; built around me and the unique gifts God gave me.
These types of personalized career paths are the way of the future. The days of staying with a company for 50 years are over. With outsourcing and technological advances on the rise, the future job market will be anything but secure — except for those people who follow their passions and aren't afraid of change.
Something that describes kids quite well.