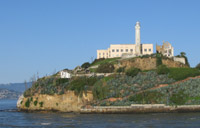 Kim and I are back from San Francisco. What an excellent trip it was. Both speaking engagements went splendidly. The family program was a blast. I always love how the dads sheepishly come up to me afterwards saying how much they got out of it. (Including references to superheroes and Star Wars helps, I'm sure.)
By the way, thanks to Sabrina and Victor for the outstanding culinary experience!
We had a capacity crowd for the talk in Pleasanton — they had twice as many people as expected and just about ran out of chairs — which required some last-second adjustments on my part. (I was expecting to do an activity that required certain amount of floor space, which evaporated as the audience grew bigger.) The energy and receptiveness was really strong, and everything turned out swell. The staff at St. Augustine was out of this world; I could tell they really love what they're doing.
Happily, we were able to steal a few chunks of time away to get a feel for the city; just enough to make us want to come back. We got a glimpse of the Golden Gate Bridge, and spent a morning touring Alcatraz. The touristy Fisherman's Wharf offered up a dizzying array of childlike glee, especially from the creative panhandlers (see Kim's blog). A highlight for me was riding a cable car through the city, which offered welcome relief from walking the hilly terrain. Seriously, Kim and I did more than our fair share of walking, and my shins and calf muscles are still upset. Some sidewalks seemed more like ladders they were so steep. I began to wonder if I should've packed my grappling hooks.
I feel so blessed to have the opportunity to travel to such neat places and meet such nice people. And I'm thrilled to have a platform to encourage others to fight Adultitis. If life has taught me one thing, it's that the rewards for following your passion — although not always financial —  are always priceless.