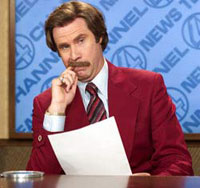 The entertainment award season is upon us. Question: Why don't more comedies get nominated for the big awards?
Answer: Because the people voting for the awards are stricken with Adultitis.
The Golden Globes actually consider comedies (maybe that's colored by the fact that they also include television shows in the mix) but most of the funny movies never stand a chance when it comes to the biggest prizes. That's why Jim Carrey, Robin Williams and Will Ferrell have to take on dramatic roles in order to even be looked at for major film awards. But even then there's a prejudice because of the comedic background. Just once I'd like to see a movie like Dumb And Dumber, There's Something About Mary, or Anchorman mentioned in the list for best picture.
But that will never happen. The voters, in their Adultitis-laced clouds of pretension, are above such a consideration. They like their films serious. Artsy. Dramatic. Nuanced. High-brow. To them, comedies are the bubble gum on the shoe of great cinema.
What's interesting is that many dramatic actors (like Robert Deniro, Meet The Parents) will tell you that comedy is harder to pull off than drama. Not to mention that funny movies are actually better for you, at least according to the University of Maryland Medical Center. The study found that funny films increased the flow of blood to the heart, creating a result similar to a bout of aerobic exercise.
Hmmm…so laughing is good for you. Maybe the Academy should try more of that. It's too bad we can't acknowledge more of the films that expertly pull those heart friendly laughs out of us.