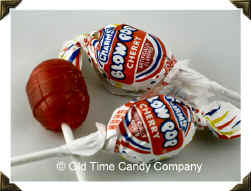 I'd wager a bet that you probably have a list of favorite candy from your youth. Between Little League games and swimming lessons, my family spent a lot of time at the park, patronizing concession stands. (In fact, I was co-manager of the Peru pool concession stand one summer.) I remember being a master at stretching my allowance, claiming an assortment of Pixi Stix, Blow Pops, and Laffy Taffys for just 50¢. I've wondered if they still make any of these treasured candies, or if they're only available on the shelf of my memory.
The other day I found OldTimeCandy.com and was delighted to see that they've gone through the trouble of locating most — if not all — of the candy you remember feasting on as a child. From Red Hot Dollars to Super Ropes to Slo Pokes, they've got it. What's especially neat is that they offer gift packages that contain an assortment of candy from your childhood, whether you're 30, 40, 50, or 60 years old! The store is run by a couple of baby boomers — Karen & Donny Ray from Olmstead Falls, Ohio — who have a love for candy and a passion leading people down memory lane.
More proof of success being found by folks with an over-sized childlike spirit. Pretty sweet.