Today I had an excellent opportunity to exercise some old fashioned childlike curiosity. Kim and I are in Atlanta this weekend for a speaking engagement tomorrow. We arrived this morning and after checking in to the hotel, rode the train into the city. We ended up at the World of Coca-Cola, for an interesting immersion into the storied history of the first truly global brand.
With my interest in art and marketing, I enjoyed seeing the timeline of advertisements, but the highlight of the tour is Club Coca-Cola. The "Taste of the States" area offers servings of many of the different soft drinks Coke distributes in the U.S. The "Taste of the World" section featured 18 different drinks distributed around the world and not available in America. Of course, Kim and I tried them all. It was fascinating.
Some of the beverages, such as Beverly (from Italy) were truly…terrible. It is fascinating to think that people from other parts of the world can have such different tastes. It's hard for me to believe that somewhere in Italy, people are craving an ice cold Beverly. But then again, I remember learning in my high school French class that many people in France find root beer to be completely unpalatable. Go figure. While I can't exactly describe the horrible taste of Beverly, Kim nailed the description for the passion fruit-flavored Fanta from New Guinea: Gummi Bears.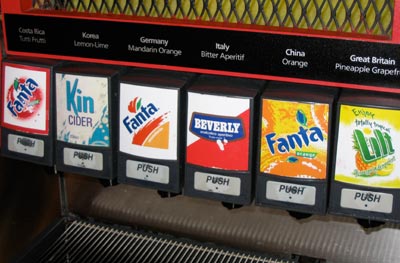 She was right; that stuff tasted like liquified Gummi Bears. Uncanny. All in all, it was a neat little tour. It reminded me once again just how diverse this world is.
And it renewed my appreciation and admiration for Cherry Coke.
[tags]curious, curiosity, Coke, Coca-Cola, World of Coca-Cola, Cherry Coke, gummi bears[/tags]