Writing for Kim & Jason is one of the most challenging things I do. I've got to come up with a joke for every day of the year, rain or shine, sickness or in health. One of the hard parts is just being "on" all the time. When it's time to write, whether I'm in an airport, an airplane, a coffee shop, or just sitting at my kitchen table, the on demand directive of "write something funny!" can be a tad overwhelming at times. Most of the time I think that this is the week I finally run out of ideas. (How did Charles Schulz do it?) I have more self-confidence in the drawing part of the job than the writing part of the job. The writing is just so important. Everything depends on it. No one ever said, "That is one HILARIOUS comic strip, but the bad art kept me from laughing."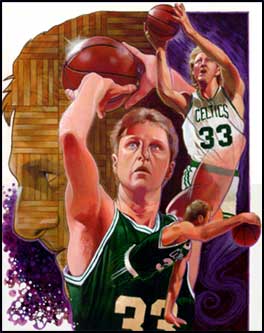 I always feel I should be spending more time on writing, but when it's forced into two-hour windows in a crowded terminal, just getting it done can be cause for a hip hip hooray. A few years ago, I think the strip took a big jump forward when I decided to come up with twice as many jokes per week, and select the seven best from the batch. Lots more work, but a higher percentage of strips still make me chuckle when I look back at them.
So the writing is what haunts me. I've been in kind of a parched spell lately (much more dry and desperate than a regular 'ol dry spell.) Then yesterday, sitting at the kitchen table, I was in The Zone. Like Larry Bird draining threes from different zip codes, my mind opened up and out came jokes that would make a mute laugh. Of course that's a bit of an exaggeration, but that's how you describe being in The Zone (i.e. the baseball seemed like a beach ball in slow motion.) As I wrote gag after gag, I said to myself, "Self, that one's really good. Nice job." I was excited to be a cartoonist again.
The strips in question will be published the week before Easter — the kids get busy coloring Easter eggs — so we'll see how enthusiastic I am about them then. And I'm not-so-secretly hoping that The Zone will show up again next week, and the week after that, and the…
The reason The Zone is The Zone is because it's fleeting. You can't control it. But I like to think of it as a a reward for working hard day after day after day; a sign that you're doing what you're meant to be doing.
When was the last time you were in the zone?
[tags] Larry Bird, writing, comic strips, humor, purpose, the zone[/tags]
P.S. Yes, that painting of Bird was done by moi.