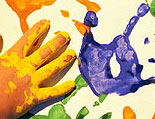 Who says finger-painting is only for kids? Not the folks who live in Fort Walton Beach, Florida!
The Arts and Design Society is putting on a finger-painting workshop this week. This is a good thing.
But the $185 registration fee intrigues me. Oh sure, supplies are included. However, I remember doing a LOT of finger-painting as a lad, and I'm pretty sure it didn't set my teacher back 185 clams. On the other hand, you do get to learn a high-level Impressionist technique (even though it seems to me that pretty much all finger-painting done by kids is Impressionistic.)
Maybe grown-ups just don't feel right — or comfortable — doing something this childlike unless they throw a lot of money at it. Oh well, at least they're finger-painting.
[tags]fingerpaint, finger-painting, Impressionism, Fort Walton Beach[/tags]