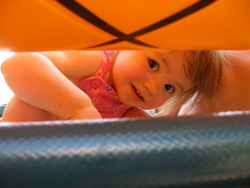 Tonight Kim and I had the privilege of babysitting our goddaughter Isabella. We took a field trip to the park. Upon arriving, I did the typical grown-up thing: scope the playground equipment in search for the most fun, unique, "big budget" installation. We grown-ups are naturally geared to skip past the things that appear ho hum. We have this "been there, done that" thing going on.
Of course I expected that Belle would follow suit and make a beeline for the big multi-slide, suspension bridged plastic edifice.
Nope. Belle went straight for the pebble gravel. Crouching down, she stroked her hands through the tiny rocks, feeling the texture with her outstretched fingers. Then she grabbed a handful, stood up, and let the cool stones rain through her fingers. That occupied her for several minutes. Eventually, she did make her way to all of the playground equipment — including the gigantic structure o' fun — but the little things that impressed her along the way were similarly unorthodox.
Sometimes it takes a child to remind us to snap out of our preconceived perceptions and notice the little things in life. The little things we are so quick to skip by can be the most interesting things of all.
[tags]playground, park, little things, children[/tags]