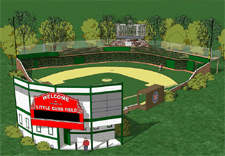 Now here's a story that will warm any baseball fan's — and especially a Cubs fan's — heart. I got an e-mail the other day from Dennis Garkey, the president of a non-profit group called Build Little Cubs Field. The aim of the group is to build a wiffleball-sized replica of Wrigley Field in Freeport, Illinois. The project, which has been supported by Ron Santo and the Chicago Cubs, will feature brick walls, the famous ivy (some supplied by the Cubs), the basket over the wall, and even a replica scoreboard. It will be used for Little League (7-8 yr old boys and girls), kickball, wiffleball, rentals, and as a tourist attraction. It sounds like the whole community is behind it.
I would have died for a field like this when I was a kid. No doubt the people involved have not lost their childlike spirit. In his e-mail, Dennis shared "I am one of those people who refuse to grow up–I have a 50 year old wiffleball bat that I have used 50 straight years."
And because of Dennis's refusal to grow-up, lots and lots of kids are going to benefit. And a field trip is in my near future.
[tags]Chicago Cubs, baseball, Wrigley Field, Little Cubs Field[/tags]