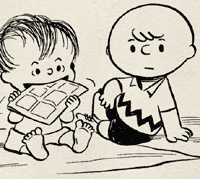 Today was a swell day. After much anticipation, Kim and I finally had a chance to head to Milwaukee to check out the Masters of American Comics exhibit at the Milwaukee Art Museum. It showcased the original artwork of comic legends like E.C. Segar (the creator of Popeye), Chester Gould (creator of Dick Tracy), Jack Kirby (Captain America and The Fantastic Four), and the guy who brought us Charlie Brown, Charles Schulz.
If you're a cartoonist, and you go to an exhibit like this, I'm pretty sure you're bound to come away with two distinct thoughts. The first is, "I completely suck." And the second: "I can't wait to go home and draw."
The biggest highlight for me was seeing the original Peanuts strips. Awesome. It was so cool to see the progression of Schulz's work over fifty years — fifty years! He is simply the master at minimalism. He gets so much mileage out of so few lines. I was sort of giddy about the whole thing. I mentioned to Kim that I felt like I was meeting famous people; treasured characters that I've seen so many times, but here they were, looking like they were freshly inked by the hand of the master. "Look, there's the real Lucy! There's the real Linus!" And I took some solace in seeing smudge marks and blotches of white out on the strip. Even Charles Schulz wasn't perfect, I was relieved to find out. There's still hope for me yet! (I bet he even put his pants on one leg at a time…)
Another surprise highlight was the work of Will Eisner, who created The Spirit and is credited as one of the first to experiment with the graphic novel. I must say that I have never been a big fan of the early comic books, and today I realized why. The production values were horrible. The printing was often not clear, and because of the limited color palette, they always seem to remind me of a gaudy circus sideshow — or an aisle in Wal-Mart. No sense of subtlety whatsoever. But when I saw the original uncolored, full-sized line art of Will Eisner, I was blown away. I almost wept they were so good. So detailed. So precise. So emotional. I can only imagine it must be like what it feels like for a emerging young chef to eat at one of the best restaurants in New York or Paris. You're just captivated by the level of excellence and professionalism.
I also dug seeing the artwork from George Herriman, who created Krazy Kat and was named by Bill Watterson (Calvin and Hobbes) as a MAJOR influence. But I won't bore you with any more details. (Comic fans, here's a good article about the exhibit.)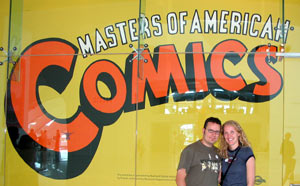 So, as I said, it was a swell day. But it wasn't swell just because I got to see the exhibit. It was made even more swell because we were treated to the event AND lunch by Jim and Marilyn Schoberg (thanks again, you guys!). Marilyn has been a longtime reader and fan of Kim & Jason (which is destined for an upcoming museum exhibition sometime around 2046 or so.) I am struck by how many friends have entered our lives one way or another thanks to this little comic strip. As Kim and I drove home, I offered up a little theory.
I said, "You know, I have not made a ton of money from Kim & Jason. Sometimes I wonder if anyone out there is really reading it, if I'm wasting my time and should be focused somewhere else. But for me, today is a little sign from God that Kim & Jason means something to somebody. Being treated to such a fun day and being able to see the work of some of my heroes is a little reward, a proverbial keep up the good work pat on the back."
I thought that was a neat way to look at it. But then, and I don't know how it happened, God reminded me yet again of how He is the master of the free prize. Life is FILLED with little free prizes, sort of a wink and a smile to those who take the time to slow down to notice. In the course of our discussion, Kim and I realized that today is 8/8/06… the exact six year anniversary of the first Kim & Jason comic strip being published online. We both got goosebumps — a sure sign that you've just noticed one of God's free prizes.
Pretty swell indeed.
[tags]Milwaukee Art Museum, comics, Charles Schulz, Peanuts, E.C. Segar, Chester Gould, Jack Kirby, Will Eisner, George Herriman[/tags]