Sales Servant Jenna pointed me to a very cool blog called 37days. The author of the blog was led to ask herself, "What would I do if I only had 37 days to live?" after her stepfather was diagnosed with lung cancer and died 37 days later.
Why is it so easy to take the time we have for granted? Are we so afraid of death that we avoid thinking about it at all? Or are we so vain that we think we'll be the first one to escape death's inevitable calling? In either case, I can say with almost certain assuredness that you — yes, you, the person reading this — probably figures you've got plenty of time left. Be honest, don't you? (Don't feel bad, we all do.)
So, what would you do if you only had 37 days to live? The question istelf is likely to summon a pretty generic answer. Something to the effect of, "Oh, I'd spend more time with the people I love." That's a no brainer. (And yet how often to we actually live like we mean it?) But what would you DO? Travel? Write? Play? Sing? Create?…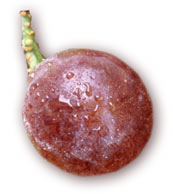 Patti (the author of 37days) has commited to asking herself the question every morning. I know of no better way to maintain perspective in your life.
Another of Patti's posts completely nails the art and essence of delighting in the little things. Here is a snippet of her talking about her daughter Tess:
A few weeks ago, Tess and I had a snack of grapes [red, seedless, organic, expensive], and she was quite delighted (shriekingly so) when she found a teeny tiny grape, an aberrant one, a miniscule grape in the bunch. "Lookeeeee!" she screamed, running through the house naked with her teeny tiny grape held high. "Lookeeee! Awwww, it's a teeny tiny cute weency bitty grape!" she said in a little, high voice, her head cocked to the side, smiling, her shoulders pulled up as if to envelope her neck. "Isn't it sweeeeet?" she asked, holding it gently with two tiny fingers an inch from my nose. "It's very fragile," she informed me.

Like the soap, her grape goes everywhere with her. She took the plastic top off an empty bottle of bubbles and made a grape bed inside the lid with toilet paper, gently placing little grape on it. Over the weeks since, eeny bitty cute weency teeny grape shrank even more. Now microscopic, he still lives on that little bottle top bed, carried like native royalty from room to room with her, a loyalty rare in this throw-away world, indeed.
The entire post is filled with examples of little Tess holding similarly, um, trivial (from a grown-up's perspective, that is) items in equally high esteem. Tiny grapes. Hotel hand soap. Porcelain candy dishes. Patti's challenge to all of us is this:
Be thrilled by small things, fragile things, wee tiny things—carry them with you, honor and protect them, but don't keep them from other people…In a world in which the cardboard box has been inducted into the National Toy Hall of Fame, let's learn from the children—they can sense the possibilities inherent in simple things: boxes, bars of Hampton Inn soap, a tiny grape, an egg rimmed in gold.
I couldn't have said it better myself. And yet it can't be said enough. In life (which WILL be shorter than you think it will), the biggest things are the little things. The little things matter most. It's easy to miss them when you're running your engine at 100 miles per hour. But something tells me that if you really only had 37 days to live (and maybe you do), those little things would have a way of becoming much more obvious.
So…what would you do if you only had 37 days to live?
[tags]little things, 37 days, perspective, death, dying, grapes[/tags]