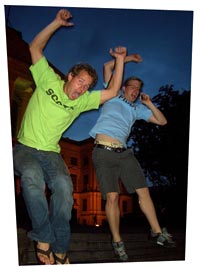 Talk about escaping adulthood. May I introduce you to Matt "Fiddy" Fidler and Scotty MacDonald, two recent graduates hitchhiking their way to all 50 state capitals — in 50 consecutive days or less. Their web site, Hitch50, documents the entire journey. From their own words:
Why are we doing this? We both just graduated college and didn't exactly pursue the typical business jobs our classmates were chasing, so we needed something to do. Something fun to do, which involved traveling and meeting people and sharing experiences with them. So… we decided to hitchhike to every state capital, in 50 days or less. This gives us the opportunity to meet fun people and see fun places all over the USA. During the process we'll also get the opportunity to neglect sleep, nutrition and exercise for almost two months….which is awesome.
They have a map at the top of their blog that shows their EXACT current location. So far they've gotten a lot of media attention.
Not long ago, Kim and I watched the movie Elizabethtown, by Cameron Crowe. I don't think it got the greatest reviews, but we both thought it was a pretty good flick. Maybe it caught me in a peculiar mood, maybe it has a similar effect on everybody who watches it, but while the credits rolled, I had an overwhelming desire to just chuck everything and go on one of those life-altering, who-knows-where-you're-going-it's-all-about-the-journey type road trips. Kim and I already do a lot of traveling to speaking gigs, but it's all very structured. It would be nice to not have to worry about paying rent and phone bills and keeping up on e-mail and updating the site every day.
We still might do something like that…maybe next spring. A mini-one at least. Who knows. Have you ever had a trip like that? Any tips?
In any case, for the time being, it's kind of nice to live vicariously through Fiddy and Scott. God speed, gentlemen!