Good humor has an element of truth to it. Really good humor stems from tragedy. (Think about Lucy endlessly pulling the football away from Charlie Brown.) Check out this article from this week's Onion:
Area Man Achieves Your Dream

CHARLOTTE, NC—After almost two decades of dreaming on your part, 34-year-old Stephen Hochenko achieved your goal of opening up a small bookstore and café last Thursday, coincidentally in the exact location you had planned to open yours.

"This proves that no matter what your dreams are, someone out there can achieve them if they just do a little homework, save their money, and believe in themselves," said a satisfied Hochenko as he arranged tables and chairs for a Monday night wine tasting and reading featuring acclaimed author Neil Gaiman. "I'm happier than you can even imagine or will probably ever experience yourself." (Read the full article.)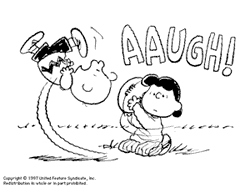 Funny? Yes.
True? You bet. (Everyone has had a moment when they said, "Hey, I thought of that years ago!")
Tragic? Sadly, yes. Almost everyone I know has a few big dreams deep down in their heart. They lay buried for one reason or another (only you know what your reasons are.) One of the things that spurred me on to chase this crazy dream of mine was a conversation I had with myself shortly after graduating college. I came to the conclusion that I didn't want to wake up some morning in the future, sixty years old, wondering why in the heck I didn't go after my dreams. The fear and pain of regret ended up being worse than any fear or uncomfortability I'd experience along the way.
It hasn't always been easy (see here and here for some tales), but at least I don't have to wake up to the morning paper announcing that an area man has achieved my dream. So dream big, and get busy chasing them.