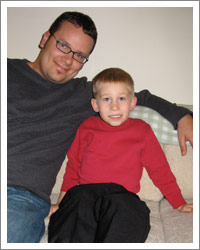 I had the honor and pleasure of meeting one of Kim & Jason's biggest little fans this past weekend while in Virginia. Joey is four-and-a-half, and has been reading Kim & Jason since he was three. (You may remember Joey; he has appeared previously on this blog here and here.) His mom invited us over for dinner when she learned that we'd be in the area.
During dinner, Joey's dad admitted to having read the annuals to his son at least five times each. The books themselves are, shall we say, very well-loved. I had the chance to draw a few pictures for Joey, and included a cartoon version of him standing with the regular cast of Kim & Jason. I hope I was able to stem the tide of his previous disappointment…
You see, when Joey first learned that he'd be meeting the "real" Kim and Jason, he was ecstatic. Then one day, after talking to his mom about the upcoming visit, he became quite crestfallen. The light bulb went off as he realized that the Kim and Jason he'd be meeting were not, in fact, his age. Visions of embarking on grand adventures with the pint-sized characters in the comic strip went up in smoke.
He didn't seem to show as much disappointment when we actually arrived, although near the end of the evening, Kim thought she caught Joey telling his dad, "Well, her hair is longer, but at least it's blonde…" All in all, it was a fun evening, and I was quite flattered by the compliments on the strip. Thank you, Ellie and Andrew, for the kind invitation and wonderful dinner.
And to Joey: "Candy hands lead to candy walls and candy doorknobs!" [an inside joke]