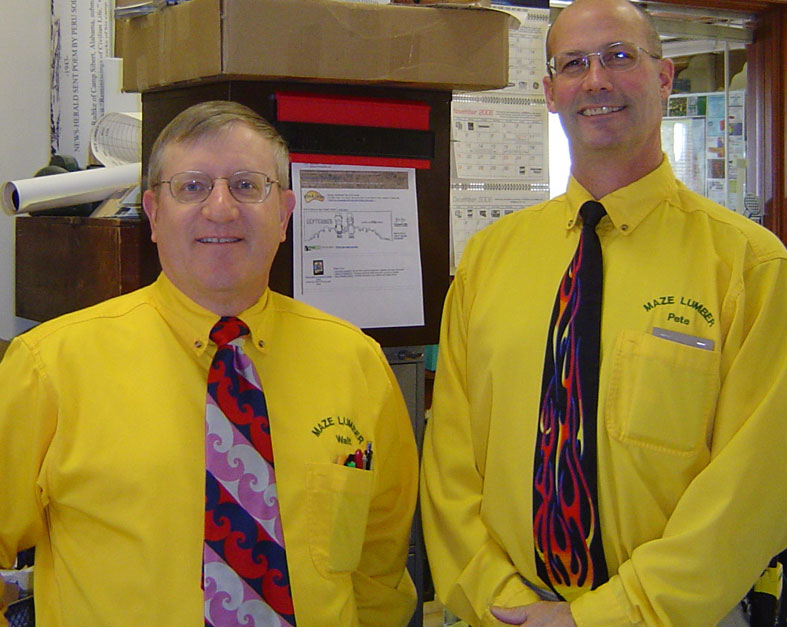 Back in February when we were finishing up The Escape Plan Jason shared on his blog about the long-lasting effects of Challenge #36, which was born out of some happenings from Challenge #33. Basically Jason's Dad, Walt, who was an active participant in the 40-Day Challenge, wore a bow tie to work and it was a big hit. It even helped him land a big sale. The Escape Plan Challenge was: Accessorize your wardrobe today with a touch of childhood.
(Sidenote: I really looked forward to reading Walt's comments each day, sharing how he accomplished each challenge. If you haven't read them, start with Challenge #1 here.)
As Jason shared in his blog following-up with this, Tie Day was born. Jason posed these two questions: What little sliver of childlike spirit can you introduce to your home or workplace? And what kind of momentous effect might it have?
The momentum continues to build at Maze Lumber. I'm happy to report that to this day, on any given Thursday, if you happen to find yourself at Maze Lumber in Peru, IL you will also find a couple of men proudly sporting ties, in all shapes, colors and sizes. STILL. Thursday is Tie Day. Here it is nine months later and the fun continues. Customers and coworkers expect it and enjoy it. It has turned into a playful and fun routine that doesn't seem to be going anywhere anytime soon. In fact, one of the participants just went out and bought a bunch of new ties and I noticed on Walt's Christmas list that he is asking for bow ties and neckties. It is such an important part of that week that last week a management decision had to be made about the fact that Thanksgiving was Thursday and they would've missed Tie Day. They had a meeting and decided to move Tie Day to Wednesday instead.
This whole thing reminds me of part of Jason's programs. He shares,
"Inside everyone there is a little kid just dying to get out. That little kid is aching for a little silliness."
This follow-up story is living proof of that! It's safe to say that Walt and Pete (in the picture above) are trying their hardest to keep Adultitis away from their historic lumberyard.
Way to tie fun and work together! (no pun intended)
[tags]The Escape Plan, Maze Lumber, ties, bow ties[/tags]