My dad works at a lumber yard. It's a small town place; been around since 1848. In a sea of gigantic, homogenized lumber yards which feature discount prices (and employees with discount experience) Maze Lumber stands out because of its knowledgeable employees and non-crappy building materials.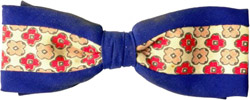 You'd think this would be enough to stand out in the marketplace. However, price competition is a seductive mistress and it can be easy to be intimidated by the Big Boxes (i.e. Wal-Mart, Menards, etc.) and slip into the belief that you must compete on their terms. This ill-fated belief is why so many mom and pop shops go under. You can't beat the big boys at their own game. But they can't beat you at yours, either.
A funny thing (among many) has come out of my dad's decision to undertake The Escape Plan. It all started with Challenge #33 in which he purchased two bow ties from a local men's clothing store. Then for Challenge #36, he wore one of the ties to work:
So this morning I stood in front of the bathroom mirror and I clipped on the large goldish bow tie. I snapped it into its place and boy did that bring back childhood memories! I wasn't actually sure if I would wear it all day long especially since I had to go out with our newest salesman to do final measuring of some Marvin windows. This order would be in the $50,000.00 range and I didn't want to make a bad impression. In the end I decided to just go for it and it was a HUGE success. I think my appearance just tore down the wall of apprehension and it went well. I think that they thought if this guy would wear "that" in public….well whatever.

Back at the shop the customers had plenty of comments when they spotted the bushy bow tie. It just put everyone in a playful mood…I also think that some of our regular customers thought either I was nuts or gutsy.
I think it is interesting that by bravely adding this little touch of childhood to his wardrobe actually helped my dad land the deal. Sure, it went against "societal norms," but societal norms are largely laced with Adultitis anyway. The bow tie helped break down the barriers that typically arise in standard sales situations. But that's not the end of this story.
Since the first "Bow Tie Day" was such a success, a tradition has emerged. A smorgasboard of ties have been collected and more people are getting in on the act:
Just letting you know that today, Thursday is tie day. The employee response has been huge! Besides myself, Pete, Chadd, Ray, and Todd sported ties and we had our picture taken! The customer response has also been very positive and we are considering other "special" days including Kilt day, dress day for guys only, and thong day. I'll keep you posted.
Talk about exterminating Adultitis from the workplace! But thanks to this interjection of childhood fun, the team at Maze Lumber now has an even greater opportunity before them. I think they should market Tie Day around the community, and in their ads. Any customer who comes in wearing a tie could save 10% off their order, or get a free box of nails, a free doughnut, or whatever. Maze could take pictures of the tie-wearers, and post them in the office, creating a Tie Wall of Fame. Maybe they could start a contest, in which the customer who comes in wearing the craziest/oddest/most colorful tie wins a fun prize, and THEIR picture ends up in the next Maze newspaper ad. Lots of potential, if you ask me.
The biggest thing it does, besides increasing the comradery and productivity of the employees, is get people thinking and talking about Maze Lumber. It reminds them that these are fun people to do business with. It gives customers an experience. The Big Boxes may have lower prices, but they also have a perception of being sterile, generic, and uncaring. Tie Day can underscore the exact opposite perception for Maze Lumber.
Just a little free advice for the folks down in Peru. But the real question, dear readers, is this: What little sliver of childlike spirit can you introduce to your home or workplace? And what kind of momentous effect might it have?
[Tags]Ties, bow ties, Maze Lumber, Adultitis, marketing, Wal-Mart, lumberyard, sales[/Tags]