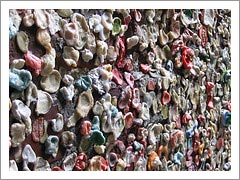 In my travels around the country, I have encountered an exorbitant amount of people who feel stuck. Stuck in dead-end jobs. Stuck in good jobs that don't excite them anymore. Stuck in jobs that never excited them but have benefits too good to pass up. Stuck in jobs that have them living for the weekend and missing their kids.
The good news is that every single one of these people is not really stuck. They just think they are.
We all have options. We all make choices. We all have the choice to stick with the current job, or to unstick ourselves from it. Most if the time, it's way easier to just stick with the current job. The other option is usually much harder, giving us the impression that we're stuck.
If you are one of those people living for the weekend and missing the kids, I recommend you check out the blog Success from the Nest. It's written by a guy named Tony D. Clark, a work at home dad of 9 years. The site is geared toward parents who want to work from home so that they have more time for their family. More specifically, the site would be of interest to any of the following:
Dads who are tired of missing everything in their kids' lives and who want to be at home more.
New parents who can't stand the thought of returning to work after maternity or paternity leave.
Moms (and Dads) who left the working world when their kids were born and want to do something now that the kids are in school, but DO NOT want return to the rat race.
Current work-from-home parents who are looking for tips, resources, and some help in running their businesses. Pro Nesters who may already be pretty successful, but are looking for some new ideas for marketing, technology, organization, etc.
Parents who want to pass on the importance of doing something you enjoy, being there for your family, and the meaning of true success to their children.
Maybe you fall into one of those camps. Maybe Tony's blog will be just what you need to give you some ideas on how to get unstuck.
"Many men can make a fortune but very few can build a family." –J. S. Bryan
[tags]Success from the Nest, Tony D. Clark, parenting, work at home parents, work at home[/tags]