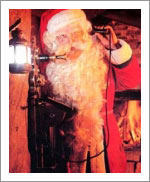 And it is 1-800-972-6242. I'm not sure what his e-mail is.
Call that number anytime before December 24th, and you can hear a message from jolly ol' St. Nick himself. (He records a new message everyday!) He reminds children to be good and thoughtful to others and all that jazz. It's perfectly free and perfect for kids of all ages.
It would be nice to have a full-blown conversation with the big guy, but I guess he is pretty busy this time of year.