When you're scheduled to speak to a group of people on two consecutive nights, you pray that the ones who attend the first night will come back for the second night. If the majority of them do, that's a victory.
But when someone not only shows up for the second night, but shows up wearing your t-shirt… that sort of feels like winning the Super Bowl. (Although I've never actually won a Super Bowl.)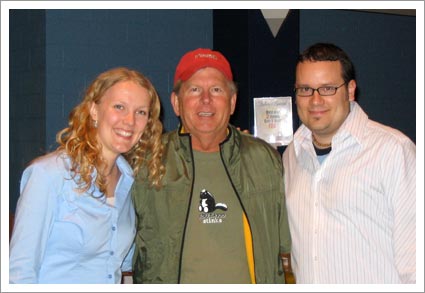 Kim and I returned from Atlanta today. By bus.
We were greeted at the airport this morning by the news that our flight had been canceled — enough with the snow already! — and had been re-booked on a flight scheduled for tomorrow. Considering that we only have one full day in the office before we fly down to Florida on Friday, that option didn't sound too appealing. So we were able to get on a plane that would at least take us to Chicago, where we hopped on a bus that took us the rest of the way home to Madison. A series of near-miracles got us home only an hour after our original (canceled) flight was scheduled to arrive. Hooray!
The time in Atlanta was awesome. It was mostly a speaking and working trip, but we did squeeze in some time to finally check out the Georgia Aquarium and grab some Southern cookin' at Mary Mac's Tea Room. I love the people in Atlanta. That old Southern hospitality is still alive and well, at least in my experience.
Thanks to all of the folks at St. Thomas More and St. Jude — you guys rock! And thank you to Paul for proudly wearing your Adulthood Stinks shirt! (The check is in the mail.)
[tags]Atlanta, Mary Mac's Tea Room, Georgia Aquarium, southern hospitality[/tags]