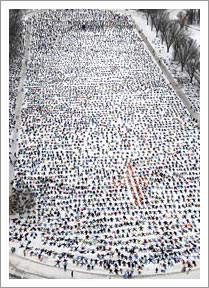 Gotta love this picture. It's an aerial view of thousands of people — almost 9,000, to be exact — in North Dakota trying to break a world record… for the most snow angels ever made.
Awesome. Looks like the city of Bismarck has a pretty good handle on Adultitis.
One of the snow angel makers was Pauline Jaeger, who on her 99th birthday, according to the AP story by James MacPherson, was making her very first snow angel.
"It's fun," Jaeger said. "I feel just like a kid."
When a 99-year-old lady says something like that, you KNOW it's never too late to have a second childhood.
(Thanks for the link, Marci!)
[tags]snow angels, Guinness, Bismarck, North Dakota, Adultitis, world record[/tags]