Kim and I just got home from San Diego late last night. We've had a crazy busy past few months on the speaking circuit, and are happy to be home and looking forward to a week off. On Wednesday, we had a chance to visit the world-famous San Diego Zoo. We got to see pandas for the first time and collected some great footage for an upcoming episode of Escape Plan TV.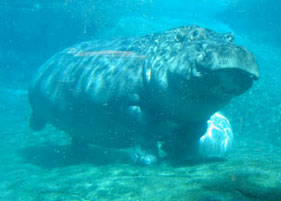 I love zoos. Every time I go to one, I always find myself thinking, "Man, God is awesome." I have always been a big fan of God's boundless creativity (big surprise coming from an artist, huh?). One of the latest entries in the "He Thought of Everything" category is a little tidbit I picked up from the tour guide about vultures. She said that most birds of prey have bald heads, which helps keep them from picking up disease-carrying bacteria while digging in to their meal.
And here I thought it was because they were big Stone Cold Steve Austin fans.
Another thought that came to mind as Kim and I marveled at things like anteaters, meerkats, and hippos was how obvious it was that God sure had fun with his creation. It shows in his work.
And I wonder how many of us can have the same said about us.
Do you enjoy your work? Are you having fun? Does it show?
[tags]San Diego Zoo, pandas, hippos, meerkats, anteaters, vultures, God, faith, fun[/tags]