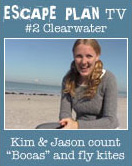 In this episode of Escape Plan TV, filmed in Clearwater, Florida, Kim and Jason demonstrate several fun and exciting ways to annihilate the Adultitis in your life. The ideas are all based on the world-famous Escape Plan.
In this installment of Escape Plan TV, the duo conducts a silly experiment, tries to fly a kite, and throws a spontaneous party.
Become a K&J Insider and we'll let you know when new episodes are released!
A video used to be embedded here but the service that it was hosted on has shut down.
Learn how to bring Kim & Jason in to speak to your group
for a dynamic, entertaining presentation about living life with less stress
and more fun that won't soon be forgotten!
[tags]escape plan tv, stress, escape adulthood, Adultitis, Kim & Jason, Clearwater, Florida, beach, kites[/tags]