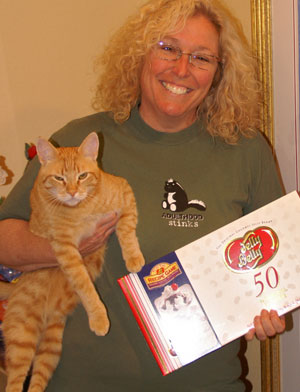 This month's featured fan is Judy Irené, who was our April Club K&J S.W.E.L.L. prize winner. She shares,
"I'm a type A who works really hard to keep the kid and joy in my life. When I discovered Kim & Jason and the Escape Adulthood theme, I knew I had found an ally in living my life to the fullest."
• Hometown… I live 1hr north of SF, 30min from the ocean and redwoods surrounded by 200 vineyards and wineries in Santa Rosa, CA. With clients 30-80 miles away, my motto is "Live where you want to, work where you need to.
• My biggest dream… To live life fully in each moment! For me that meant leaving "corp America" after 20yrs and starting my own web agency to have a WHOLE life doing what I love and working with people I enjoy.
• My inspiration… My cats. They have an uncanny way of putting life into perspective. It's easy to get too intense about work so I always use the phrase "Hey, chill a little, we're not saving lives here!" Cats demonstrate living in the moment every day!
• When I was a kid, I… had a large collection of marbles that formed Marble Town. Each color stood for a different profession like farmers, bankers and firemen. The big marbles were the "parents" and there was this special yellow marble and a green one that were the princess and the prince. I had a whole little make-believe world there. Oh yeah, I still have that marble collection…
• One way I stay childlike is… my husband and I give each other "Tuesday gifts". Something small (like the cool stuff at the Lemonade Stand) that we surprise each other with "just because." But best of all, for 12 years we have celebrated annual "Princess" and "Hero" day. These are our made-up holidays where we serve cookies and milk, create homemade cards and give each other 12 little gifts – one for each month of the year to let each other know that I am his Princess and he is my Hero.
• What I know so far is… that every day I can learn or discover something new. I will never say, "That's just the way I am" because tomorrow always brings new treasures, discoveries and delights.
• My favorite thing about "Kim & Jason" is… Stinky!!! Stinky just "gets it". I have my own small collection of stuffed animals that have attitude and Stinky definitely has it!