by Kim Kotecki
A few years ago for our anniversary, Jason and I rented a cabin at Devil's Lake in Baraboo, WI. We now affectionately refer to that cabin as the hobbit house, as we had to duck to get through the front doorway. Jason and I are tall, but we're not considered giants.
One of the things we were really looking forward to doing was building a campfire outside the cabin, gazing up at the stars, and of course making smores. Romantic, right?!
It rained the whole weekend.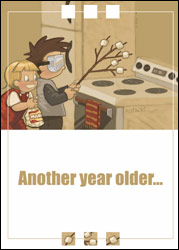 Did I say rained…I mean poured! We ended up reading a few books and getting a lot of rest, but were pretty bummed about getting jipped out of the campfire and smores.
We made the best of it, however. (Please note: Firefighters, stop reading now!) Jason had the idea of making our smores inside using the small flame on the gas stove. So we enjoyed our sticky treats while standing over a very old stove in our teeny hobbit-like cabin. We laughed and laughed.
I bet you didn't think this birthday card we offer was actually inspired by true events. (I'm so glad we didn't burn down that little house.)
Everyone who claims the title of U.S. citizen is familiar with the ingredients for your average smore. I found some fun recipes that will help mix up your smore routines.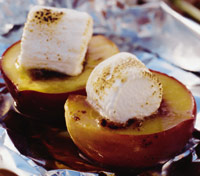 Peachy Caramel Smores
This seemingly healthy but fun recipe is from FamilyFun.com. Find the whole recipe here.
"It's summer, and peaches are abundant, ripe, and heavy with juice–just right for making this campfire dessert that tops off the natural flavor of fresh fruit with a light caramel sauce and toasted marshmallow."
I also found an article written by Kelby Carr. She gives a bunch of ideas that will transform your everyday smore into something quite unique. Here are some of her variations:
Nilla Wafer, White Chocolate and Banana Smores
Put a half-banana on a stick and hold over campfire. Take two vanilla, or 'Nilla, wafers, insert chocolate and banana. Tasty, and even kind of pretty.

Healthy and Happy Strawberry, Dark Chocolate and Oatmeal Cookie Smores
Get (or bake ahead) a whole wheat version of oatmeal cookies, which you can often find at organic and whole food stores. Bring fresh strawberries. Add dark chocolate, which is known to contain powerful antioxidants. Combine, cook and enjoy!

Chocolate Chip Cookie, Marshmallow and Caramel-Filled Ghirardelli Smores
Get downright indulgent with this mix of oh-so bad but oh-so good ingredients. Heat your marshmallow over the fire. Place Ghirardelli or other caramel-filled and thin chocolates onto two oversized chocolate chip cookies. Place your marshmallow on top of one, and close like a sandwich. That is an extreme smore!
Our seventh anniversary is a month away. I hope Jason gets me a smore keyboard.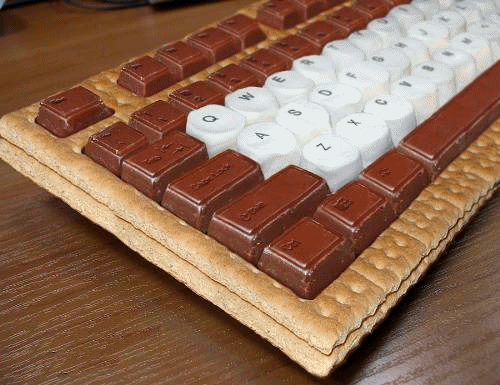 Club K&J members: share YOUR recipes, strategies, victories and challenges in your quest to escape adulthood!