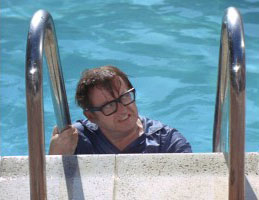 Summer is just around the corner. If you're not careful, it can be monopolized by all kinds of outdoor activity, good food, and relaxing afternoons spent in the warm sun. Needless to say, anyone with a healthy case of Adultitis wouldn't want any of that happening! So here are five foolproof ways to make sure your summer stays sub par:
1.) Stay inside. That's right, lock the doors, bolt the windows, and jack up the air conditioner full blast. No need to risk getting swept up in any spontaneous temptations that typically occur outdoors, like cookouts, carnivals, or neighborly chitchat.
2.) Complain. A lot. Try and make as many daily disparaging remarks about the weather — especially the heat — as you can. (Another reason why tip number one is so important — thank God for air conditioning!) On a related note, be sure to also mention to anyone who will listen (and even those who won't) how outrageous your air conditioning bill is these days. Hopefully that can lead into long-winded rants on global warming, stupid politicians, and the neighbor kids. It's easy once you get the hang of it.
3.) Watch a lot of TV. Summer is the best time to watch all of your favorite shows — again! Relive those funny and/or dramatic moments of last fall and spring with your closest fictional friends. It's way better than wasting time to learn something new or try a new activity. Not with this humidity!
4.) Focus on work. While many of your other coworkers are off taking frivolous vacations to God-knows-where, you owe it to your employer — and the nation's economy — to stay focused. That work's gotta be done by somebody, it might as well be you. Plus, let's face it, the only kind of vacations worth taking are expensive ones to those places they show on the Travel Channel, and you don't have that kind of money (no thanks to that outrageous bill from the price-gouging electric company!)
5.) Stay Inactive. This falls right in line with Tip #1, but the longer days may tempt you to sneak outside for a little exercise. Big mistake. At the risk of stating the obvious, prolonged activity outdoors in the summer can lead to sunburn, mosquito bites, sweaty clothing, heat stroke, poison ivy outbreaks, firecracker injuries, and over-cooked hamburgers. Why risk it?
(This has been a friendly public service reminder and a Top 5 Group Writing Project contribution.)
[tags]Adultitis, summer tips, complaining, air conditioning, global warming, mosquito bites, sunburn[/tags]