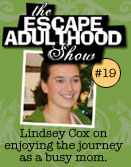 In this episode, brought to you from studio 203 in Madison, Wisconsin, we interview Lindsey Cox, mother of three and author of the blogs Enjoy the Journey and Finding Contentment in the Suburbs, about how busy moms can slow down, stress less, and stay sane. We also talk about lifestyle sabbaticals, alternatives to watching TV, and a new action figure for moms.
Show Notes…
• A Year of Cappuccino – Lifestyle sabbaticals give busy lives a whole new perspective (Newsweek)
• Moms Get Their Own Action Figure (CNN Matthews)
• Get more ideas for escaping adulthood — watch Kim and Jason have fun with giraffes.
• Stop by Bernie DeKoven's Junkyard Sports Community, based on the way you played with kids in your neighborhood, in the back yard, the living room, on the way to school.
Win Stuff: Linda Westphal-Buth won a $20 gift certificate to the Lemonade Stand for answering the question, "What's the weirdest thing you believed about God when you were a kid?" You can win a $20 gift certificate to the Lemonade Stand by letting us know, "What was something you enjoyed doing at HOME as a kid?" Leave a comment!
Show Music: Coyote Sleeps by Ethan Elkind
Show Length: 54 minutes, 9 seconds
Shout Outs: Thanks to Lindsey Cox and Linda Westphal-Buth!