Yesterday, Kim and I celebrated our seventh wedding anniversary. As some may know, we have taken up the tradition of doing something childlike to commemorate each anniversary. I'm happy to say that the tradition is still going strong.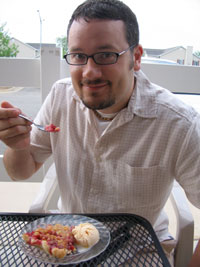 On Saturday night, Kim took it upon herself to surprise me with the events of the evening. First, we ate dessert, naturally. The Door County Cherry Crumb pie at LMNO'Pies made my mouth dance with joy. After killing time at Target (at which I got myself a sweet new superhero t-shirt featuring Spiderman, The Hulk, Wolverine, AND Captain America), we tried out a restaurant that came highly recommended by some friends. Specializing in New Orleans cuisine, Louisianne's was AWESOME. (I had the Seafood Au Gratin, kicked up a few notches.)
On Sunday, we intended to go to a matinee (which we hardly ever do) and splurge on popcorn and soda and candy (which we never do), but were disappointed to find that the movie we wanted to see was only playing at night. So we did the next best thing. We decided to camp out in the living room and watch the season finales of our favorite shows, which we had collected on tape. I whipped up some homemade Twix ice cream, we popped up some movie-style popcorn, and cooked up a Papa Murphy's pizza. Nothing too fancy, but after a busy week, it was like heaven.
Sometimes I feel the pressure that because we're the "real" Kim & Jason, we have to do these wildly fantastic stunts of childlikeness. But then again, that wouldn't be very real at all. It's sometimes easy to forget that when we started dating 12 years ago, there were no prospects of business plans, comic strips, or our names becoming registered trademarks.
There was just a simple connection. A shared spark between two childlike spirits. We had a certain playful affinity for childhood, a common interest, if you will. We mainly kept it to ourselves, and didn't really think too much about it. It wasn't a big deal. I was just who were were.
I see now that this common childlike bond was actually a gift from God, transforming us, building us up, carrying us through the hard times and helping us to see the wonder and beauty of life. I think if we were apart, that aspect of each of us would fade a bit. But when we're together, this childlike spark feeds off itself, giving us joy and making us better people. It's a joy that seems to be infectious, and way too big for us to keep to ourselves. Which is why the trademarked version of Kim & Jason exists today.
But behind all the bells and whistles, it really is still about the simple idea that LITTLE things, like dessert first and a day spent vegging out with your best friend, are among the BEST things life has to offer.
Kim, thanks for the best seven years ever.
[tags]anniversary, traditions, cherry pie, Twix, Kim & Jason, childlike spirit[/tags]