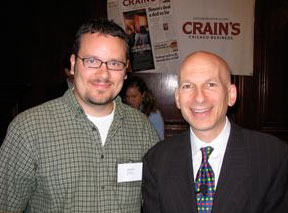 Yesterday I had a chance to meet up with one of my business heroes, Seth Godin. He was in Chicago for a book tour, and gave a presentation on his latest in a line of bestsellers, The Dip.
Ever since reading Unleashing the Ideavirus, I have been a big fan of Seth's blog and books. Yesterday, it finally clicked why I think he's so cool (and successful).
He's endlessly curious.
He himself was very humble in saying during his presentation that he is merely someone who notices things. The real work, he said, is done by the person who is able to take these observations and do something with them. Maybe so, but the reason he is able to notice things is because he's always asking questions.
"Hmmm…what made that work?"
"Why do people do things that way?"
"How come this phenomenon led to this failure, but helped make that a success?"
Seth is remarkable because he's asking questions that other people are afraid to ask, or don't even think of asking. He is curious about a great many things, and not just things relating to business or marketing. He may very well be someone who merely notices things, as he says. But his childlike ability to ask questions and notice things — especially the little things — are one of the main reasons he is so in demand.
Do you know someone who is endlessly curious? I'd wager a bet that he or she is pretty successful, too.
Now the biggie: are YOU endlessly curious?
[tags]Seth Godin, The Dip, marketing, curiosity, curious, success[/tags]