1. Start the day with an early morning energizing walk.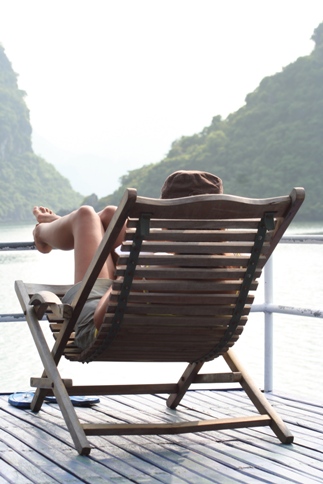 2. Sleep under the stars.
3. Turn your cell phone off on the evenings and weekends.
4. Find water and sit by it. (It's that simple.)
5. Dine outside at the local eatery.
6. Walk barefoot in the grass.
7. Send a card or write a letter to a friend (not an email).
8. Go for ice cream after dinner.
9. Invite your colleagues to an impromptu lunch in the grass.
10. Go fishing.
11. Check out books from the library.
12. Start a garden and play in the dirt.
13. Have a bonfire and make smores.
14. Reassess your goals.
15. Eat watermelon and spit the seeds on the ground.
16. Go on a bike ride.
17. Do a cannon ball off the high dive at the local swimming pool.
18. Lay in the grass and star gaze with a friend or honey.
19. Get up early on the weekend and enjoy the morning quiet.
20. Call a relative and relive fond memories together.
21. Listen to your music on the back porch.
22. Proactively schedule weekends to "just be."
23. Climb a tree.
24. Go on a road trip.
25. Dream.
26. Don't check email on the weekends.
27. Catch fireflies.
28. Have a full-fledged picnic…with the basket and checkered blanket.
29. Look at old photos.
30. Mow the lawn with some tunes and enjoy that fresh cut grass smell.
31. Go to a baseball game and get a hot dog.
32. Read poetry.
33. Watch the grass grow.
34. Write in your journal.
35. Blow bubbles.
36. Have a BBQ.
37. Take a nap in the shade.
38. Go to a drive-in movie or create your own at home.
39. Swing.
[tags] summer, slowing down, relaxing, escaping adulthood[/tags]