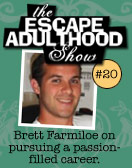 In this episode, brought to you from studio 203 in Madison, Wisconsin, we interview Brett Farmiloe, founder of Pursue the Passion, about his experience interviewing influential professionals who are propelled by a love for their work.
We also talk about how to find passion in your work, the price of passion, and how to get free ice cream.
Show Notes…
• Read all of the interviews conducted by Brett and his team at PursuethePassion.com. Plus, don't miss the free e-book, Timeless Advice for the Aspiring Individual.
• To Find Passion in Your Work, Look in the Mirror (Indianapolis Business Journal)
• Price of Passion (News14.com)
• Download the inaugural FREE issue of the Escape Adulthood magazine.
Win Stuff: Karla Feeney won a $20 gift certificate to the Lemonade Stand for answering the question, "What was something you enjoyed doing at HOME as a kid?" You can win a $20 gift certificate to the Lemonade Stand by letting us know, "What were you most passionate about as a kid?" Leave a comment!
Show Music: Coyote Sleeps by Ethan Elkind
Show Length: 48 minutes, 57 seconds
Shout Outs: Thanks to Brett Farmiloe and Karla Feeney!